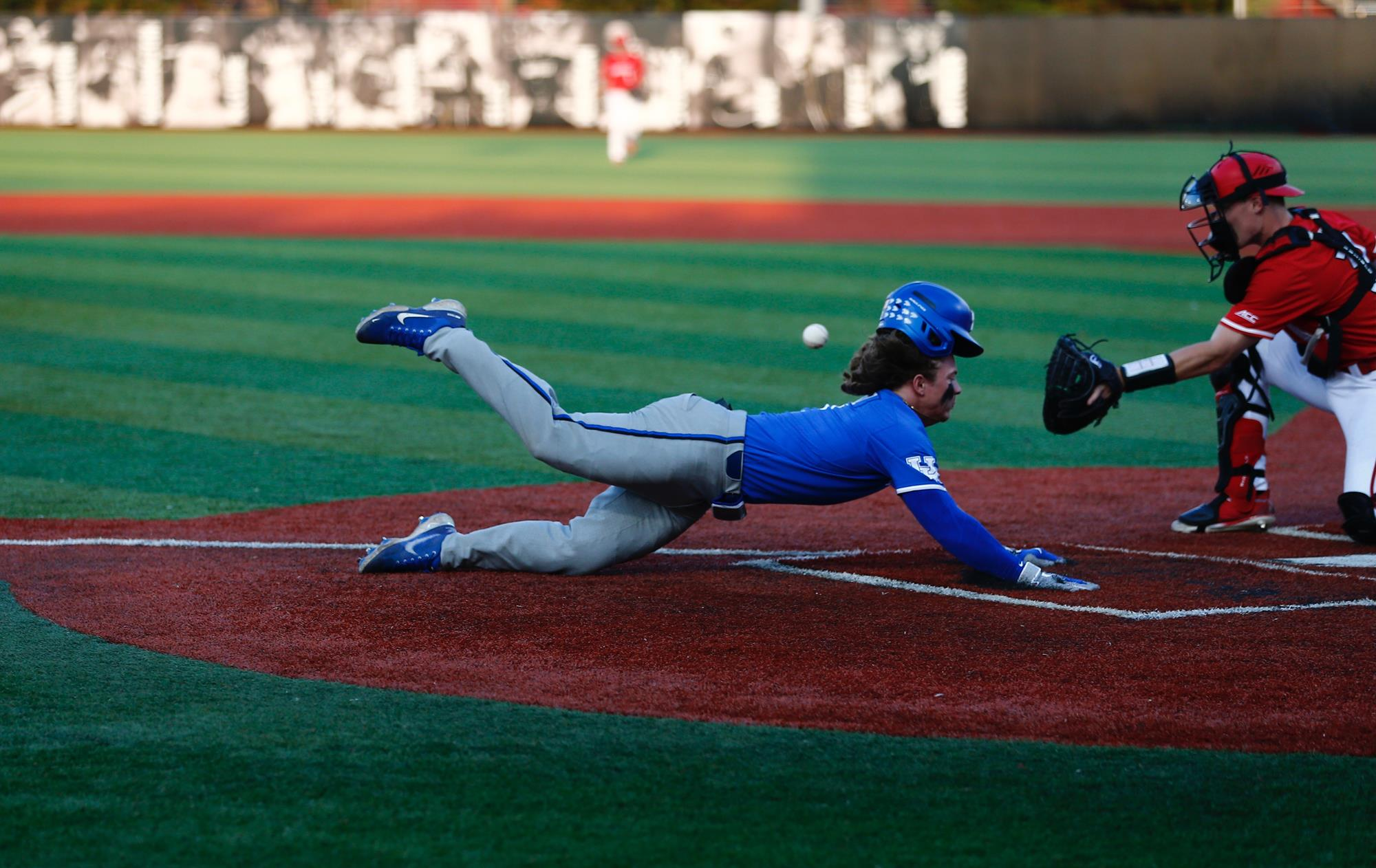 LEXINGTON, Ky. – Fueled by a rivalry victory earlier this week the Kentucky baseball team returns home to host traditional power LSU this weekend, the first time in three weeks the Wildcats are at Kentucky Proud Park for a Southeastern Conference series.
 
Friday evening's first pitch is scheduled for 6:30 p.m. ET, while Saturday is a 2 p.m. start and Sunday's series finale is at 1 p.m. Saturday's game will air nationally on the SEC Network. Friday and Sunday's games will stream live on Watch ESPN/SEC Network+. All three games are available on radio on 630-AM WLAP (Lexington) and 1080-AM WKJK (Louisville) or UKathletics.com.
 
On Tuesday the Wildcats (19-7, 5-4 SEC) made the short trip west along Interstate 64 and knocked off No. 5 Louisville 11-7 in the Derby City. It was the first win over the Cardinals on their home field since 2014, the first road win against a top five opponent since 2017 and first win of any kind against a top five foe since 2019. The Cats took the lead for good in the third inning on sophomore shortstop Ryan Ritter's second big hit of the night as he drove in a career-high six runs with a home run, double and single while also delivering three incredible defensive plays.
 
Now the attention to turns to LSU, which has struggled to a 1-8 start in conference play against three teams – Mississippi State, Tennessee and Vanderbilt – who all are currently in the top 10. The Tigers boast a strong offense centered around inexperienced players, as well as a pair of impressive starting pitchers in Landon Marceaux and AJ Labas. Like Kentucky with Mason Hazelwood, LSU recently lost weekend starter Jaden Hill to injury.
 
 
LSU (18-11, 1-8) at KENTUCKY (19-7, 5-4)
Friday, April 9 vs. LSU   
     6:30 p.m. ET; Kentucky Proud Park (Lexington, Ky.)
     TV: SEC Network+; Radio: UK Sports Network (630 AM, Lexington; 1080 AM Louisville)
     Pitchers: UK – RHP Cole Stupp (3-1, 1.91); LSU – RHP Landon Marceaux (2-3, 2.01)
 
Saturday, April 10 vs. LSU           
     2 p.m. ET; Kentucky Proud Park (Lexington, Ky.)
     TV: SEC Network; Radio: UK Sports Network (630 AM, Lexington; 1080 AM Louisville)
     Pitchers: UK – RHP Ryan Hagenow (1-1, 2.11); LSU – RHP AJ Labas (1-0, 3.26)
 
Sunday, April 11 vs. LSU
     1 p.m. ET; Kentucky Proud Park (Lexington, Ky.)
     TV: SEC Network+; Radio: UK Sports Network (630 AM, Lexington; 1080 AM Louisville)
    Pitchers: UK – RHP Zack Lee (2-2, 4.18); LSU – TBA