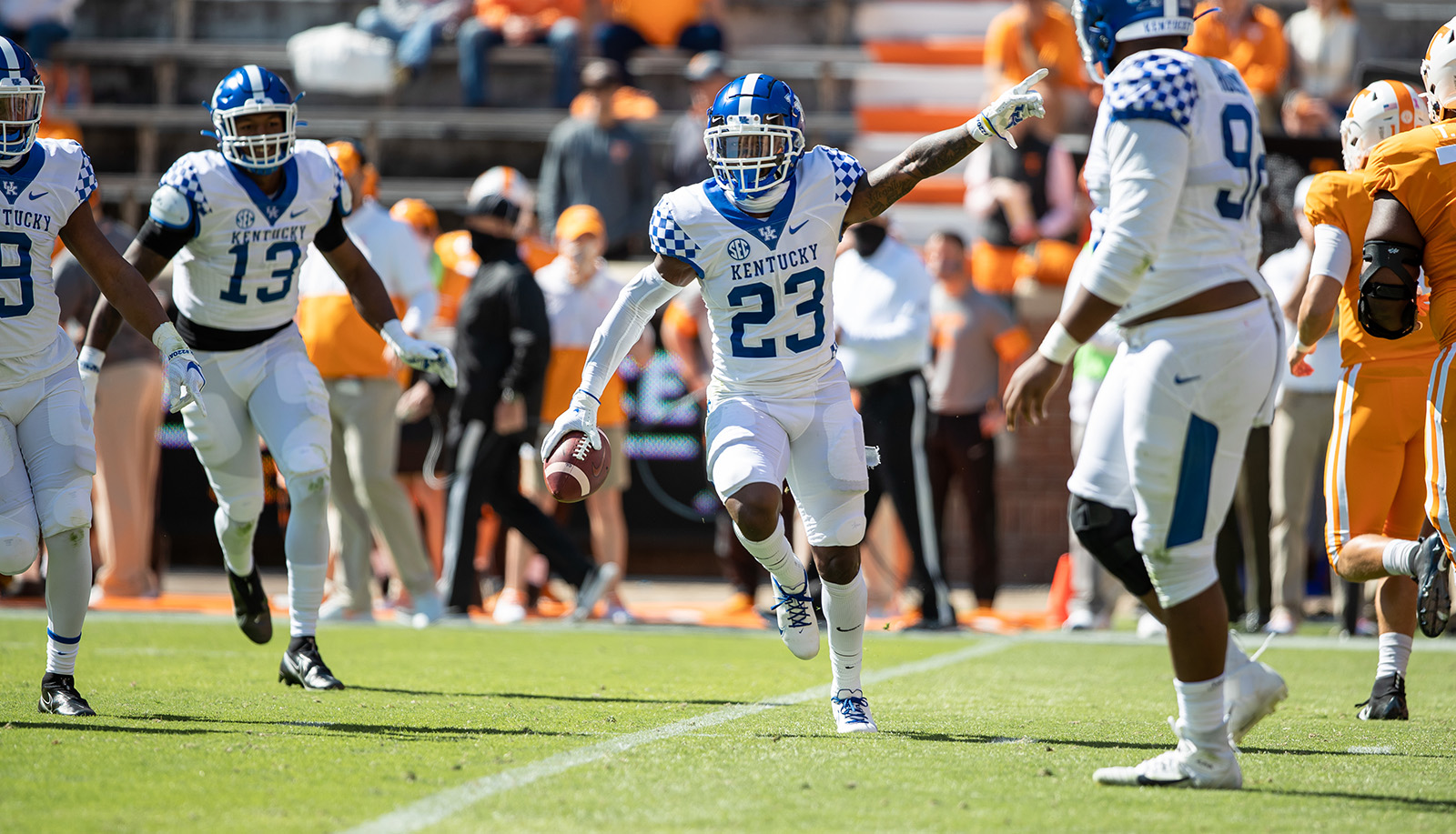 Tyrell Ajian has shown steady improvement each year for the Kentucky football team. Now a senior, Ajian will be called upon to take on an even bigger role for the UK defense. It's a role he's ready to assume.
"Last year, as the season went on, just getting more comfortable, confident playing with everybody," Ajian said. "This year, just stepping into a bigger leadership role in all ways. Better teammate, getting more detailed in the playbook, helping people out that I can help out. Everything, really."
How does he plan on becoming more of a leader this season?
"It starts with our coaches and the leaders in our group. Just making sure we can keep that type of energy. Always come in wanting to work, wanting to get better."
Ajian finished last season in a very strong way. In UK's Citrus Bowl win over N.C. State, Ajian had a career-high seven tackles and blocked a field goal. For the season, he had 48 tackles, an interception, a pass break-up and a forced fumble.
He knows that the UK secondary lost some key pieces but has players who are ready to step in.
"Losing Bradin (Echols) and Kelvin (Joseph) was big, but the corners that are playing now still are guys who have had experience, been playing through the past couple of years," Ajian said. "You think about Cedric Dort, think about Carrington Valentine, even being a younger guy, he got to play quite a bit last year. We have Quandre (Mosely), who has been doing a lot of corner, came in as a corner, only played one season at safety, he's moving back to corner."
Ajian and Yusuf Corker have played together in the UK defensive backfield for four seasons, which Ajian knows is a big help to the entire defense.
"When it comes to me and Yusuf playing together, it's just something I'm used to now," Ajian said. "If I forget something little, he'll correct me or mention something or vice versa. In a way, we're like the quarterbacks of the defense back there. Both of us being vocal, trying to make sure everybody's in the right places, it definitely helps a lot."
The UK defense has been challenged this spring facing the new Kentucky offense. Ajian has enjoyed facing a new look on the other side of the ball.
"It's been a lot of fun," Ajian said. "Seeing such a different type of offense and seeing things we haven't seen before, it helps us as a defense."
While Ajian is among the more experienced players on the defense, he has been impressed with a few of the younger defensive Cats.
"Some of the younger D-line guys like Josaih (Hayes) and Ox (Octavious Oxendine), just noticing the work they've been putting in and the way that their games are growing on the field," Ajian said. "When it comes to the secondary, Jalen Geiger and Dort, each day, those guys want to learn more."
Ajian will be counted on even more this season and he's ready to step into a bigger leadership role.