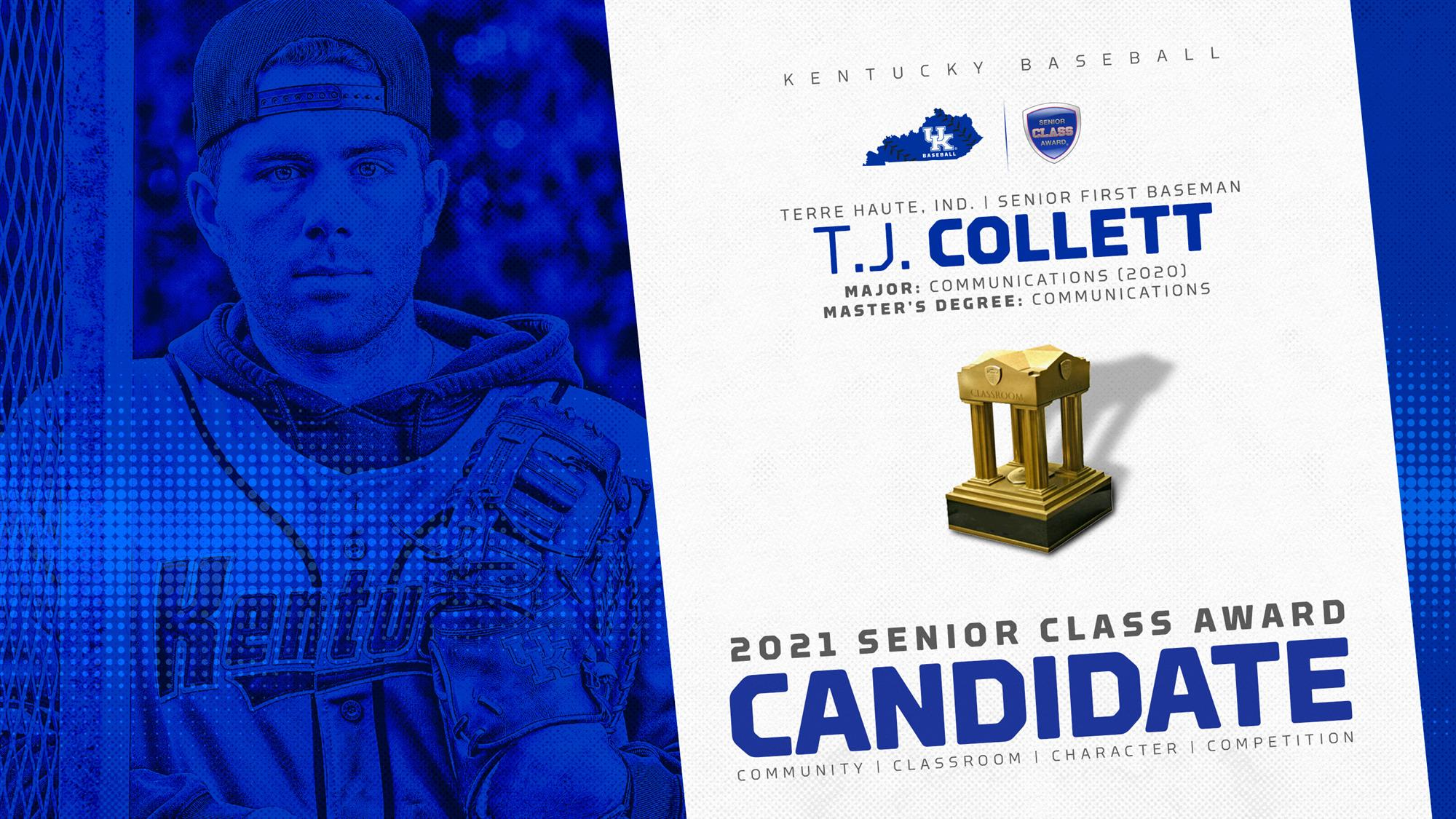 Kentucky senior first baseman T.J. Collett was named one of 30 candidates for the 2021 Senior CLASS Award for baseball, it was announced Thursday. The award honors seniors who excel both on and off the field of play.
 
Collett, from Terre Haute, Indiana, has exemplified Kentucky baseball's core values of being a student, person and player through his talent on the field and commitment to the betterment of others off it.
 
"T.J. has been an indispensable member of our program from the moment he stepped foot on campus, as much because of who he is off the field as his talent on it," UK coach Nick Mingione said. "He has been a tremendous teammate, an exceptional student and displayed a relentless servant's heart in his work in the community. He is all that's right with college athletics."
 
To be eligible for the award, a student-athlete must be classified as an NCAA Division I senior and have notable achievements in four areas of excellence: community, classroom, character and competition.
 
An acronym for Celebrating Loyalty and Achievement for Staying in School®, the Senior CLASS Award focuses on the total student-athlete and encourages students to use their platform in athletics to make a positive impact as leaders in their communities. 
 
Collett has proven to be one of the nation's premier power hitters during his career. He already has nine home runs this season and his 35 career blasts make him the Southeastern Conference's active leader and seventh among all Division I players. He also needs just six more to pass former Golden Spikes Award winner AJ Reed for second on UK's career list.
 
The 6-foot-1, 220-pounder is a two-time National and Southeastern Conference Player of the Week who has hit .277 with 58 extra-base hits, 128 RBI and a .550 slugging percentage in 144 career games.
 
Collett also has starred off the field while at UK, being named the athletic department's Mr. Wildcat and being inducted into the prestigious Frank G. Ham Society of Character for his work in the community. He is a 2020 SEC Brad Davis Community Service Award recipient and a two-time member of the SEC Community Service Team who has been instrumental in UK baseball's community outreach and service initiatives. He is heavily involved with the NEGU/Jessie Rees Foundation, whose mission is connecting with families of young cancer patients, bringing awareness to their stories, offering them a network of helpful resources and sending the entire family encouragement throughout their journey.  
 
NEGU, which stands for Never Ever Give Up, has worked with Collett on bringing children and their families to UK home baseball games to experience pregame activities on the field and in the dugout, as well as be announced during the game. As part of his work with NEGU, Collett has spearheaded an effort where members of the UK baseball team delivery Joy Jars to young cancer patients. The jars are stuffed with toys, games, and other things to brighten patients' days while fighting the disease.  
 
The 30 candidates will be narrowed to 10 finalists in May, and those 10 names will be placed on the official ballot. Ballots will be distributed through a nationwide voting system to media, coaches and fans, who will select one candidate who best exemplifies excellence in the four C's of community, classroom, character and competition. The Senior CLASS Award winner will be announced during the 2021 College World Series® in June.