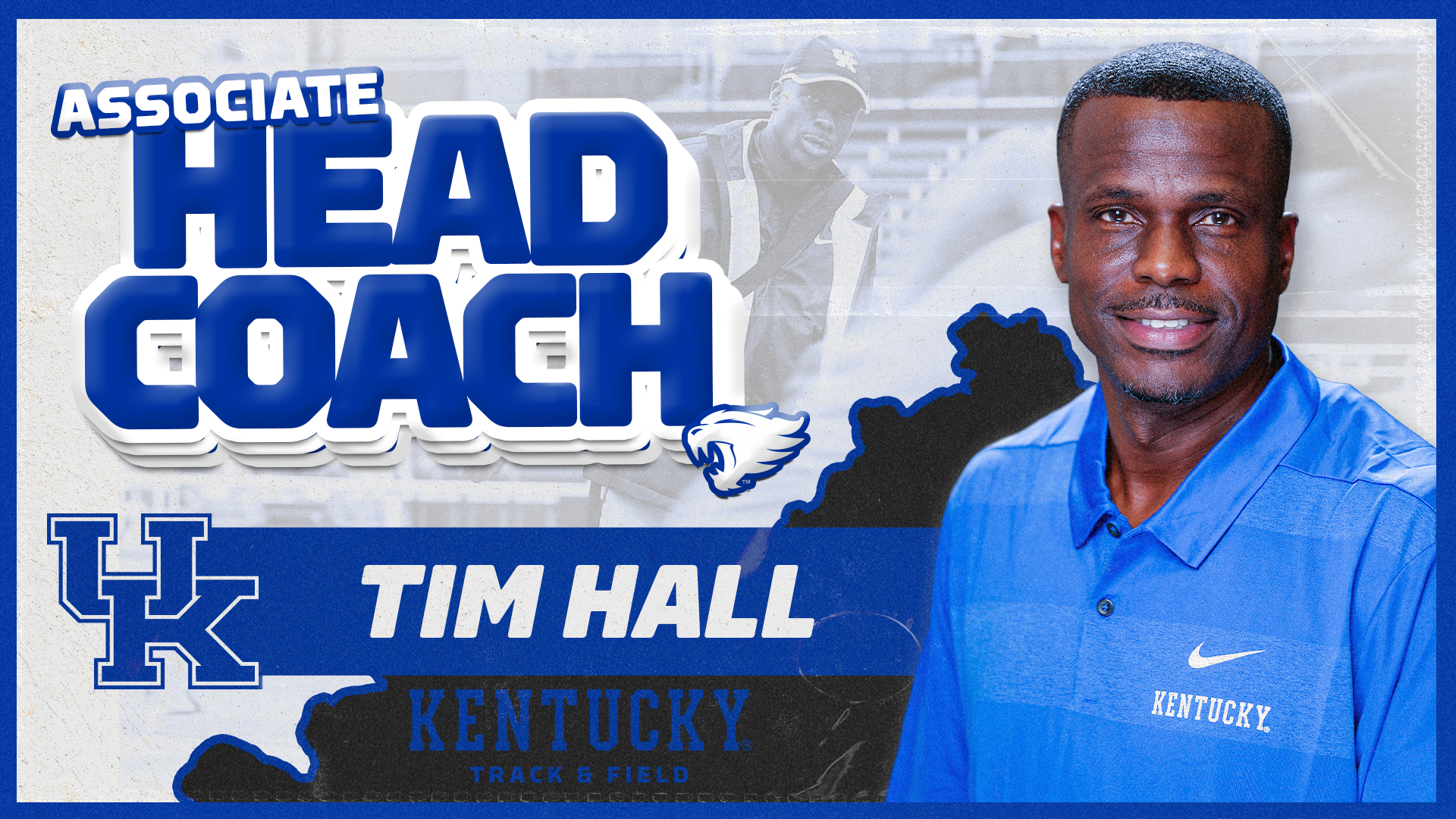 Tim Hall Promoted to Associate Head Coach of Kentucky Track and Field
LEXINGTON, Kentucky – Among the nation's foremost sprints and hurdles coaches, Tim Hall has been promoted to associate head coach of the Kentucky men's and women's track and field teams, head coach Lonnie Greene announced Wednesday. 
"The body of Coach Hall's work speaks for itself," Greene said. "He is excellent in his approach – he works hard, has the right demeanor in everything he does. This is well-deserved and it's due."
Hall is in his third year in his current term at Kentucky, covering the 2019-21 indoor seasons, the 2019 outdoor season, and the young '21 outdoor campaign.  During that time, he has helped coach eight UK school-record performances – Abby Steiner in the 200-meter dash and the 4x400m relay in women's indoor; Daniel Roberts in the 60m dash, Langston Jackson in the 200m dash, Dwight St. Hillaire in the 400m dash and the 4x400m relay in men's indoor; and Roberts in the 110m hurdles and St. Hillaire in the 200m dash in men's outdoor.  He also has helped coach seven men's and women's indoor/outdoor freshman record performances.
In March, Hall was named Women's Indoor Team Assistant Coach of the Year for the Southeast Region. Coaching UK's sprinters and hurdlers, and also working with Greene on the 4×400 relay, the female athletes under Hall's guidance had six performances on UK's all-time top-10 lists in the '21 indoor season, including Steiner, who won the NCAA championship in the 200m dash, tying the NCAA indoor record and the fifth-fastest indoor time in world history.  Hall has won five Regional Coach of the Year awards while at UK.
"I want to thank (director of athletics) Mitch Barnhart and, of course, Coach Greene for valuing my work," Hall said. "This is definitely an honor that I take very seriously and cherish. My family and I are so grateful for this recognition and couldn't be more thrilled.  We will continue to be good stewards of our student-athletes and this program to yield tremendous results on and off the track."
Hall's remarkable career at Kentucky, Tennessee, Clemson and Charlotte includes numerous All-Americans, NCAA champions and medalists, and conference champions, along with Olympians and two winners of The Bowerman, signifying the top men's or women's athlete in collegiate track and field.  He has won several Regional Assistant Coach of the Year awards and one National Assistant Coach of the Year honor from the United States Track & Field and Cross Country Coaches Association.