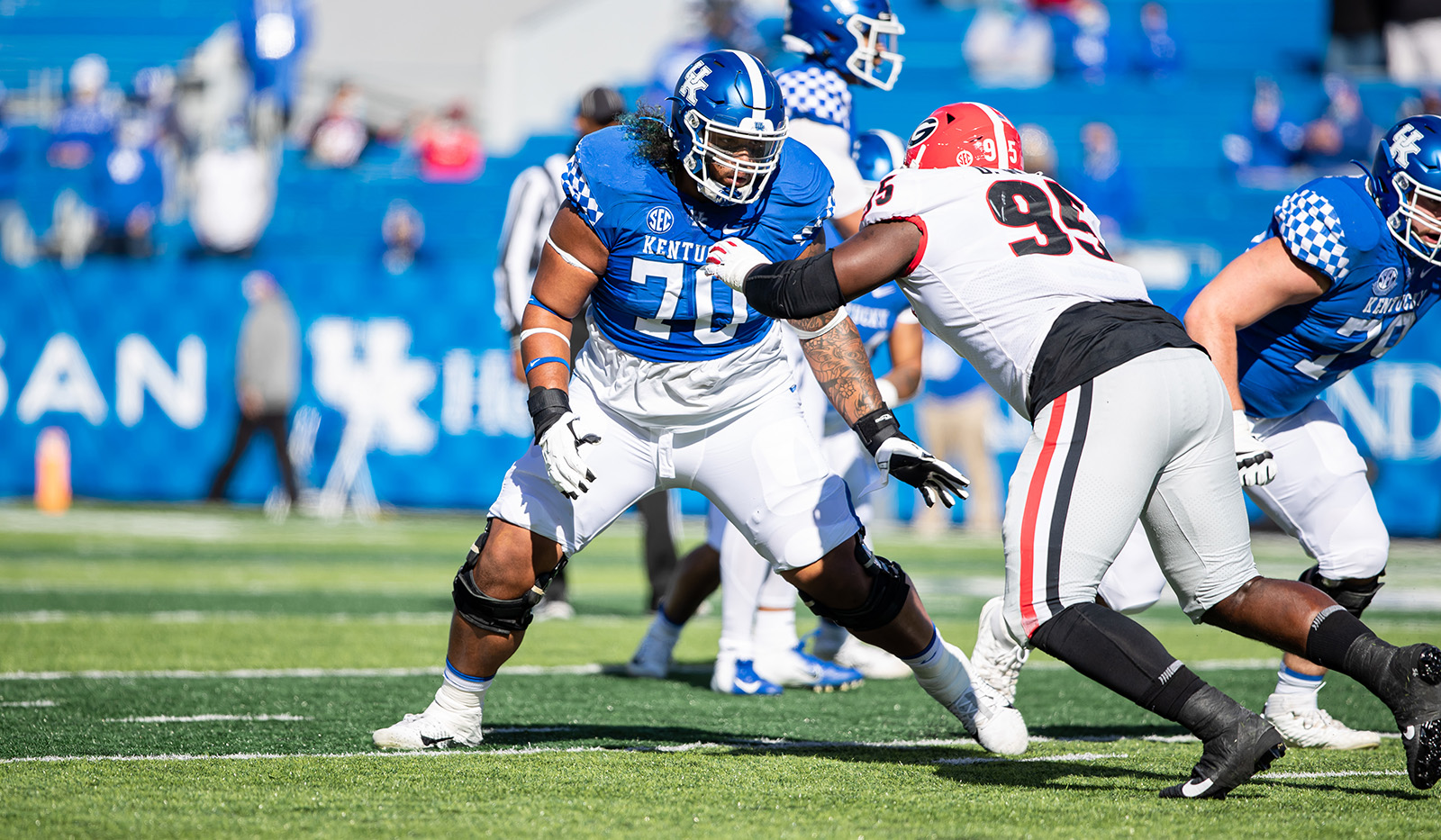 Kentucky football offensive lineman Darian Kinnard could be preparing for the NFL Draft right now. Instead, he is in spring practice with the UK football team, preparing for another season.
After watching some of his teammates go through Pro Day on campus last week, Kinnard could have had regrets about not being one of the players showing off his talents for the NFL scouts. Instead, Kinnard is  happy for his former teammates while also focused on what he needs to do to be there next year.
"The biggest thing is excitement. I'm excited to make sure I come back and do what I need to do as a player and become a better teammate," Kinnard said. "It makes me happy that those guys are succeeding and doing what I've dreamed of. But I know my time is coming and I've got to be patient with it."
Kinnard's return will also allow him to experience a new offense, under the direction of new UK offensive coordinator Liam Coen. Kinnard and his teammates are still working out some of the kinks.
"It's a little bit of an adjustment, especially starting to go more outside zone," Kinnard said. "As an offensive line, we're more comfortable with downhill so we're putting an emphasis on getting better with the outside zone."
While Kinnard knows that the offense is complex and will require a lot of studying, he also thinks it's a nice fit for this team.
"It's pretty complicated. I wouldn't say it's as complicated as an NFL playbook," Kinnard said of the UK offense. "It's a great playbook to have. I feel like it's a perfect fit for us."
Another adjustment for Kinnard will be a move to left tackle this season. He has played right tackle the past couple of seasons but feels like he's returning to his natural spot on the line.
"Feels comfortable. I got recruited there as a left tackle," Kinnard said. "Freshman year, I kind of rotated back and forth. It feels good being back at left. It feels comfortable. I've just got to get used to it again."
New offensive line coach Eric Wolford has taken over this spring and has already made a big impression on Kinnard and the rest of the Big Blue Wall.
"He's a very exciting guy. Great role model as a coach," Kinnard said. "He's a great teacher. He wants to make sure we have what we need to succeed."
Having Kinnard returning this season will be a big boost for the Cats' offensive attack. And while the NFL is still on his radar, Kinnard is solely focused on making himself and his teammates better during this year's spring practice.