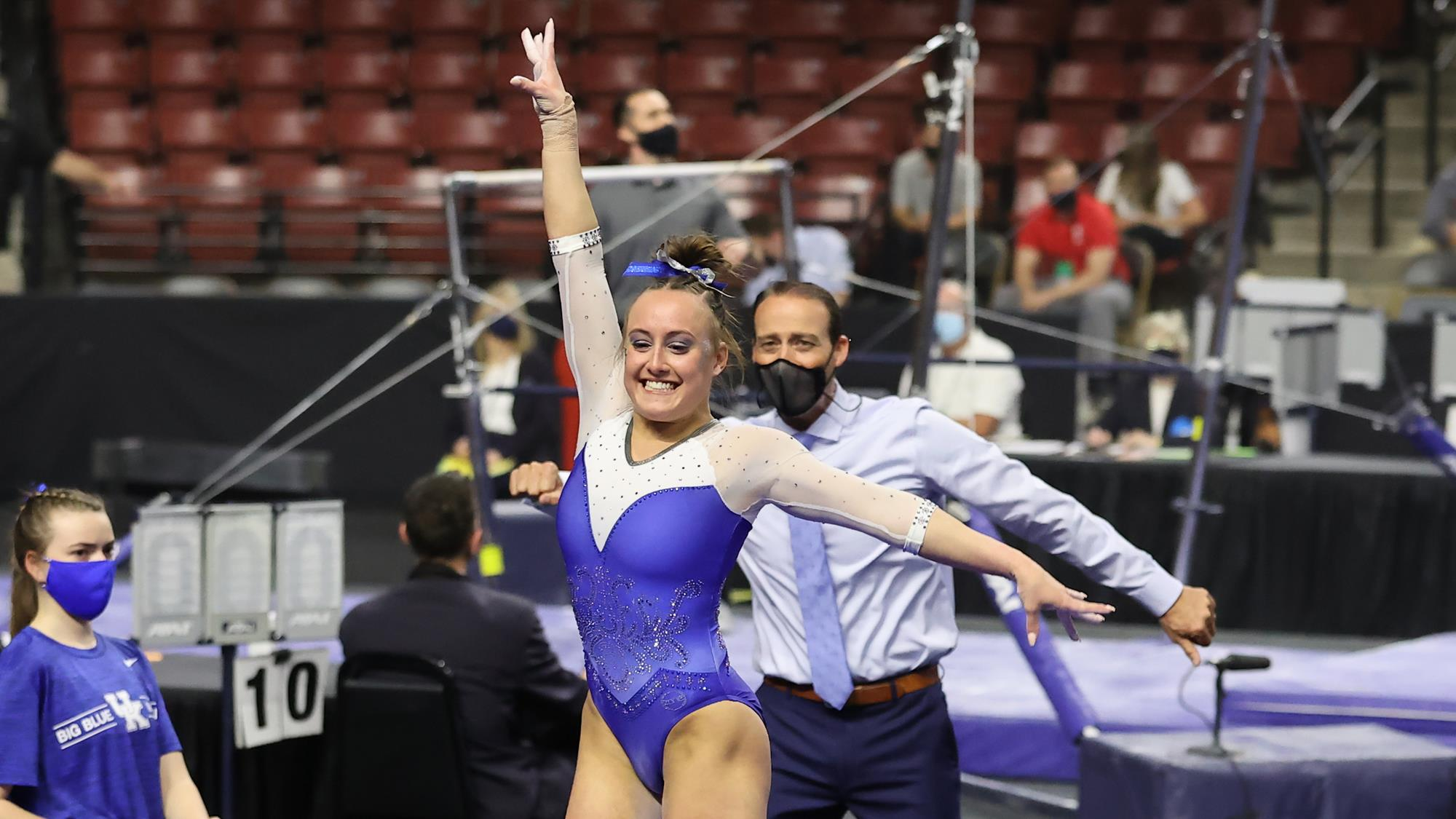 Cats Tie Record Performance in Season Finale
SALT LAKE CITY – No. 14 Kentucky concluded its 2021 season with a 197.600 performance at the NCAA Salt Lake City Regional final, matching the best team score in program history.
 
Tying No. 11 Arizona State but falling to No. 6 Utah (197.600) and No. 3 LSU (197.750), the Wildcats end the year with a 9-6-1 (4-3 Southeastern Conference) head-to-head record.
 
Sophomore Women's Collegiate Gymnastics Association Regular Season All-American Raena Worley earned a share of four event titles—including the competition's outright all-around crown—while All-SEC junior Josie Angeny notched a first-place-tying finish on balance beam.
 
"It would be impossible to compress my thoughts about the season or this team into a few words, so I won't try," said head coach Tim Garrison. "I will say that this group is very special to me and my staff. They have a beautiful combination of talent, attitude, discipline and competitiveness, among other things."
 
Kentucky navigated the night in Olympic order, beginning with a vault rotation that saw Worley tie a career-high 9.900 from the third spot in the lineup. Junior Cally Nixon matched Worley's output from the fifth slot, and all six competing Wildcats landed routines of 9.800 or better.
 
Freshman Hailey Davis led off on uneven parallel bars with a season-high-tying 9.825, setting the tone for six more routines of at least 9.800. Worley matched a career high set the night before with a 9.950 from the anchor position, ultimately tying Utah's Maile O'Keefe and Arizona State's Cairo Leonard-Baker for the victory on the apparatus.
 
Despite equaling the second-best team bars score in school history (49.400), Kentucky trailed all three of its opponents midway through the meet.
 
Momentum shifted drastically during the third rotation, however, as the Wildcats turned in the best beam performance (49.525) the program has ever seen. All six Cats matched or surpassed the best individual beam scores of their respective careers, starting with Raina Albores (9.850) and followed by Isabella Magnelli (9.850), Arianna Patterson (9.825), Bailey Bunn (9.925), Worley (9.950) and Angeny (9.950).
 
The latter two would go on to tie Utah's O'Keefe, Cristal Isa and Abby Paulson, as well as LSU's Sami Durante, for the event win, catapulting Kentucky to second place with a running total of 148.250.
 
Though Kentucky's potential NCAA-Championship-qualifying placement did not hold true, its final go-round on floor exercise ended with three consecutive scores of 9.900 or better and a 49.350 total. Anna Haigis earned the first 9.900 from the third position, while Angeny equaled the mark for a new career high. Worley anchored Kentucky's last appearance of the season with a career-high-tying 9.950, splitting the floor title with O'Keefe and Sydney Soloski of Utah and Kiya Johnson of LSU.
 
Worley's career-high all-around total of 39.750 was the best all-time mark by any Kentucky gymnast other than eight-time NCAA champion Jenny Hansen. Angeny's all-around career-high of 39.550 was the third-best of the night, while Bunn finished in sixth place with a total of 39.325.
 
"Tonight, we are disappointed, and there will be no relief from it," Garrison said. "Tomorrow, we will wake up knowing full well that our future is incredibly bright, and we will set out after it. Sleep well, (Big Blue Nation). Your Cats are just getting started."
 
For the latest on the Kentucky gymnastics team, follow @UKGymnastics on Twitter, Facebook and Instagram, as well as on the web at UKAthletics.com.