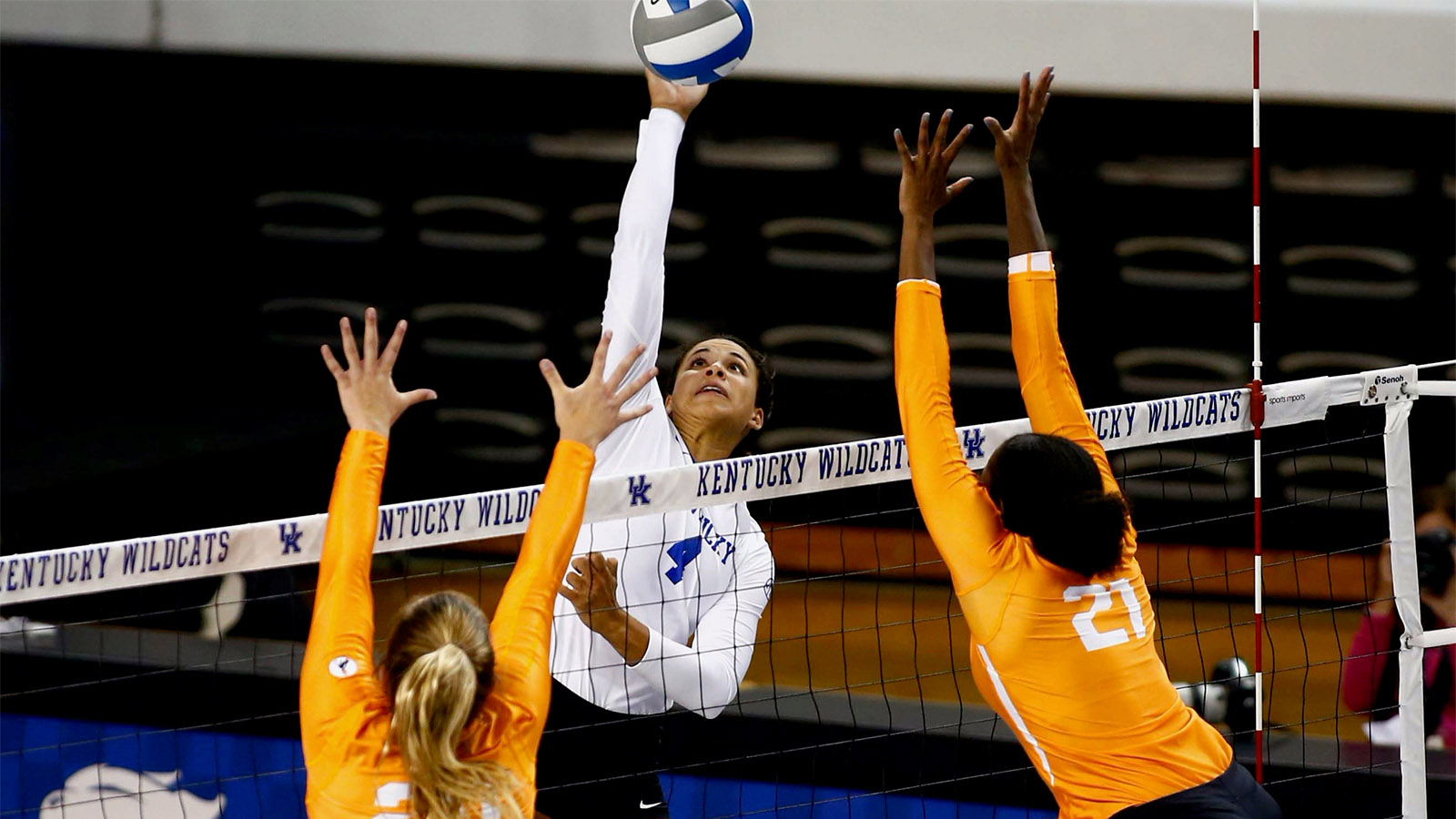 Kentucky Volleyball Prepared for Challenge of NCAA Tournament
In 2017, the Kentucky volleyball program earned the number four overall seed in the NCAA Tournament on their way to an Elite Eight appearance. On Sunday, the Cats topped that showing by earning the second overall seed in the 2020-21 NCAA Tournament.
The common thread between those two Kentucky teams is this year's UK senior class, comprised of Gabby Curry, Madison Lilley, Kendyl Paris and Avery Skinner. As freshmen, that group played a key role in getting the Cats to the Elite Eight. Now, as seniors, they hope to take UK to new heights, which would include getting to the Final Four or anything beyond that point.
UK head coach Craig Skinner knows that his seniors have been on a mission since arriving on campus and he knows his team is ready for this year's postseason.
"If they don't have nerves or they're not looking forward to the excitement, then they wouldn't care," Skinner said. "But I know these guys care an unbelievable amount about the game, about each other. They've been on a mission since August. Will we encounter pressure situations? Will we encounter adversity? Absolutely. You never go through an NCAA Tournament without those things. We've already been through a lot of those things, both in the regular season and in tournament in the past. There's not a whole lot these seniors haven't seen. They're excited to play."
The Cats will open NCAA Tournament play on April 15, facing the winner of the first-round match between Illinois State and UNLV.
Skinner had not been able to scout either team at the time of Sunday's press conference, but he knows, generally, what he will get from either team and what his team must do in response.
"What happens in the NCAA Tournament, everybody hits the ball harder, everybody is physical, everybody is athletic," Skinner said. "So, are we better at scoring points when it's not how you drew it up? We're trying to create scenarios in practice that are things maybe we haven't seen or done. Are there things we may see or encounter that we haven't seen a ton in the season. We have to assume at some point we're not going to play perfect. And if we're not playing as well as we can, what adjustments do we make or how do we win in those situations because every team is good."
This will be an NCAA Tournament unlike any before. In past years, earning the second overall seed would have given Kentucky the right to play at home through the regionals. Now, the entire tournament will be played in a bubble in Omaha, Nebraska. How will this year be different?
"I think the biggest change for us, and all of the teams there, it's going to be a different game day," Skinner said. "We've never played matches like this, in a convention center. There's going to be four courts, it's a great setup. But the match day routine is going to be very different from what all teams are used to and I think that will probably be the biggest challenge for teams going out to Omaha."
How will the Cats handle the change in routine?
"You've got to lean on your seniors, you've got to lean on your upperclassmen," Skinner said. "We can tell them everything they need to look out for but there might be a curve ball at the last second. I think that's why we feel very fortunate we do have a great upper-class group, including the juniors. But these seniors and upperclassmen have adjusted well to this point and we're going to continue to trust them."
Skinner knows that his team has responded to adversity all season long and he doesn't expect that to change now.
"I have never worried about our team being ready for the next challenge, from August 4th until now," Skinner said. "You wonder how they're going to handle coming back in shape over quarantine, you wonder how they're going to come back after the holidays, when we had the big long break, to play our first match against Arkansas. But now, they've just been prepared each time they needed to be ready so I feel like that will be a consistent theme coming up here."
With a high national seed and high hopes, the Kentucky volleyball team is ready for another challenge in an already challenging season.