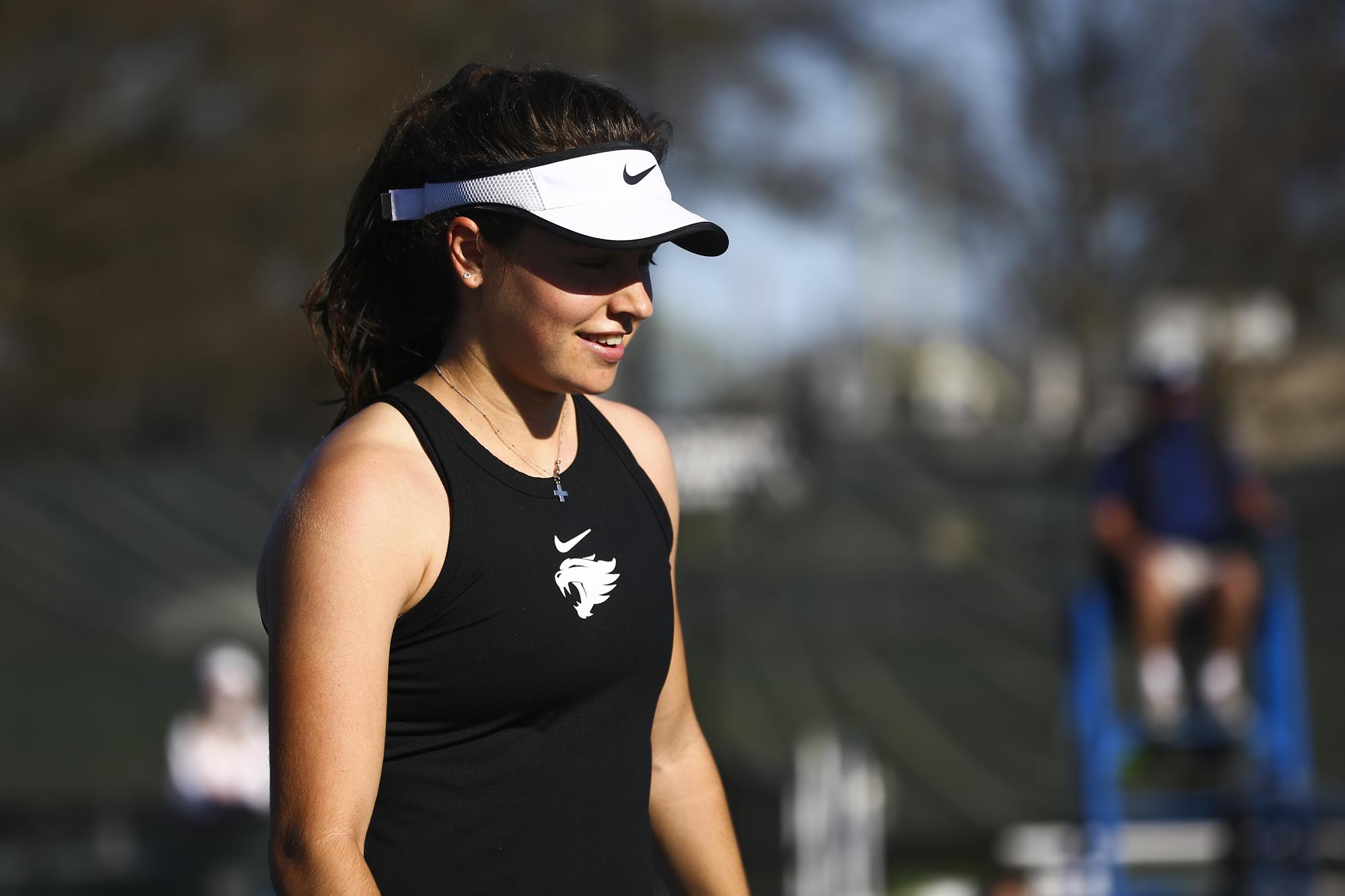 No. 21 Kentucky Drops at South Carolina, 4-2
COLUMBIA, S.C. – Despite equalizing the dual match at 2-2, the No. 21 University of Kentucky women's tennis team dropped to South Carolina in a 4-2 decision in Columbia, South Carolina, on Saturday afternoon. The dual match marked the second contest in a four-game road stretch, as UK moved to a 13-6 record, including a 5-6 mark in the Southeastern Conference and a 2-3 mark on the road.
 
The Wildcats gave up the doubles point for just the third time this season, dropping matches on the second and third courts. On No. 2, Carla Girbau and Elizabeth Stevens fell to Silvia Chinellato and Emma Shelton in a 6-2 decision. Then, both Nos. 1 and 3 forced a simultaneous tiebreak, as Lesedi Jacobs and Anastasia Tkachenko fell to Ana Cruz and Allie Gretjowski in a 7-6 (5) decision.
 
Akvile Paražinskaite and Fiona Arrese, the eighth-ranked duo in the nation, recorded an unfinished match, 6-6, on the first court.
 
South Carolina carried its momentum into the singles competition, winning the first match and earning a 2-0 lead. Gamecocks' Silvia Chinellato defeated Carla Gibau in a 6-4, 6-4 outcome on the fourth court.
 
Arrese broke the seal for Cats, as the freshman got past Allie Gretkowski in a 6-4, 7-5 decision on the fifth court. Then, No. 47 Paražinskaite rallied from behind to tie the dual match at 2-2, after the graduate student upset No. 39 Mia Horvit in a 2-6, 6-2, 6-1 decision on the first court. It marked the fifth ranked foe Paražinskaite has defeated, moving to 15-4 on the first court this season, including 5-3 against ranked foes.
 
However, the Gamecocks would go on to win two straight matches on courts Nos. 2 and 3 to close the match in their favor, despite Kentucky's efforts to bounce back. On the second court, No. 46 Megan Davies defeated Carlota Molina, 3-6, 6-2, 6-3. Following that, on the third court, No. 108 Emma Shelton defeated No. 71 Jacobs, 7-6, 4-6, 6-0.
 
Kentucky will continue its road stretch, concluding the regular season at Mississippi State and at Ole Miss on Thursday, April 8 and Saturday, April 10, respectively.
 
No. 21 Kentucky 2, South Carolina 4
April 3, 2021
Carolina Tennis Center
Columbia, S.C.
 
Singles competition
Akvile Parazinskaite (#47) def. Mia Horvit (#39) 2-6, 6-2, 6-1
Megan Davies (#46) def. Carlota Molina 6-3, 2-6, 6-3
Emma Shelton (#108) def. Lesedi Jacobs (#71) 7-6 (3), 4-6, 6-0
Silvia Chinellato def. Carla Girbau 6-4, 6-4
Fiona Arrese def. Allie Gretkowski 6-4, 7-5
Ana Cruz vs. Maialen Morante 5-7, 6-1, 5-0, unfinished
 
Doubles competition
Fiona Arrese / Akvile Parazinskaite (#8) vs. Megan Davies / Mia Horvit (#16) 6-6, unfinished
Silvia Chinellato / Emma Shelton def. Carla Girbau / Elizabeth Stevens 6-2
Ana Cruz / Allie Gretkowski def. Lesedi Jacobs / Anastasia Tkachenko 7-6 (5)
 
For the latest on the Kentucky women's tennis program, follow @UKWomensTennis on Twitter and on Instagram, on Facebook and on the web at UKathletics.com.