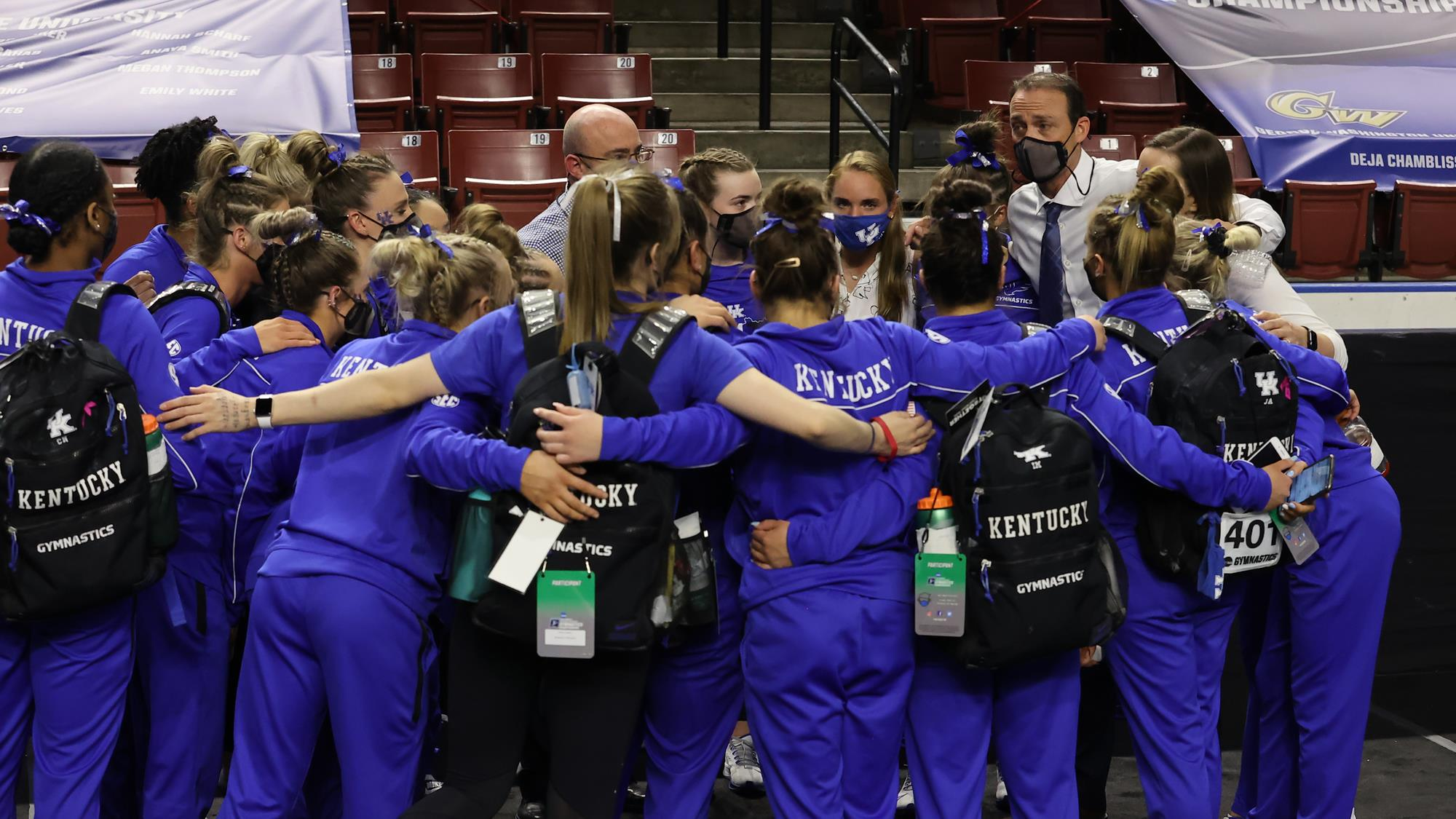 Wildcats Advance to NCAA Salt Lake City Regional Final
SALT LAKE CITY – No. 14 Kentucky continued its impressive start to the postseason with a season-best 197.125 performance in the NCAA Salt Lake City Regional second round on Friday, securing a spot in Saturday's regional final.
 
The Wildcats defeated No. 3 LSU (197.025), No. 22 Utah State (196.025) and No. 34 Arizona (196.025) head-to-head, placing only behind host No. 6 Utah (197.500) overall.
 
The Utes defeated No. 11 Arizona State (196.600), No. 21 Southern Utah (195.975) and No. 17 Boise State (195.825) in Friday's opening second-round session. Kentucky will face Utah, LSU and Arizona State on Saturday with two spots in the NCAA Championship semifinals on the line.
 
With scores compared across both of Friday's quad meets, 2021 Women's Collegiate Gymnastics Association Regular Season All-American Raena Worley was the only Wildcat to earn an event crown. The sophomore from Riner, Virginia, claimed a share of the uneven parallel bars title alongside LSU's Sami Durante and Arizona State's Cairo Leonard-Baker for her career-high 9.950.
 
Worley's feat on bars spearheaded a 49.475 rotation for Kentucky that tied the best team mark on the event in school history and ignited what would be a wire-to-wire victory in the meet.
 
In total, the Cats matched or surpassed eight season-high routines and five career highs by non-freshmen.
 
Kentucky's previous best score of the season came in a 197.100-196.800 head-to-head win over a second-ranked LSU team on Feb. 26.
 
Saturday's action will be broadcast live on ESPN3 with Bart Conner and Kathy Johnson Clarke on the call.
 
For the latest on the Kentucky gymnastics team, follow @UKGymnastics on Twitter, Facebook and Instagram, as well as on the web at UKAthletics.com.