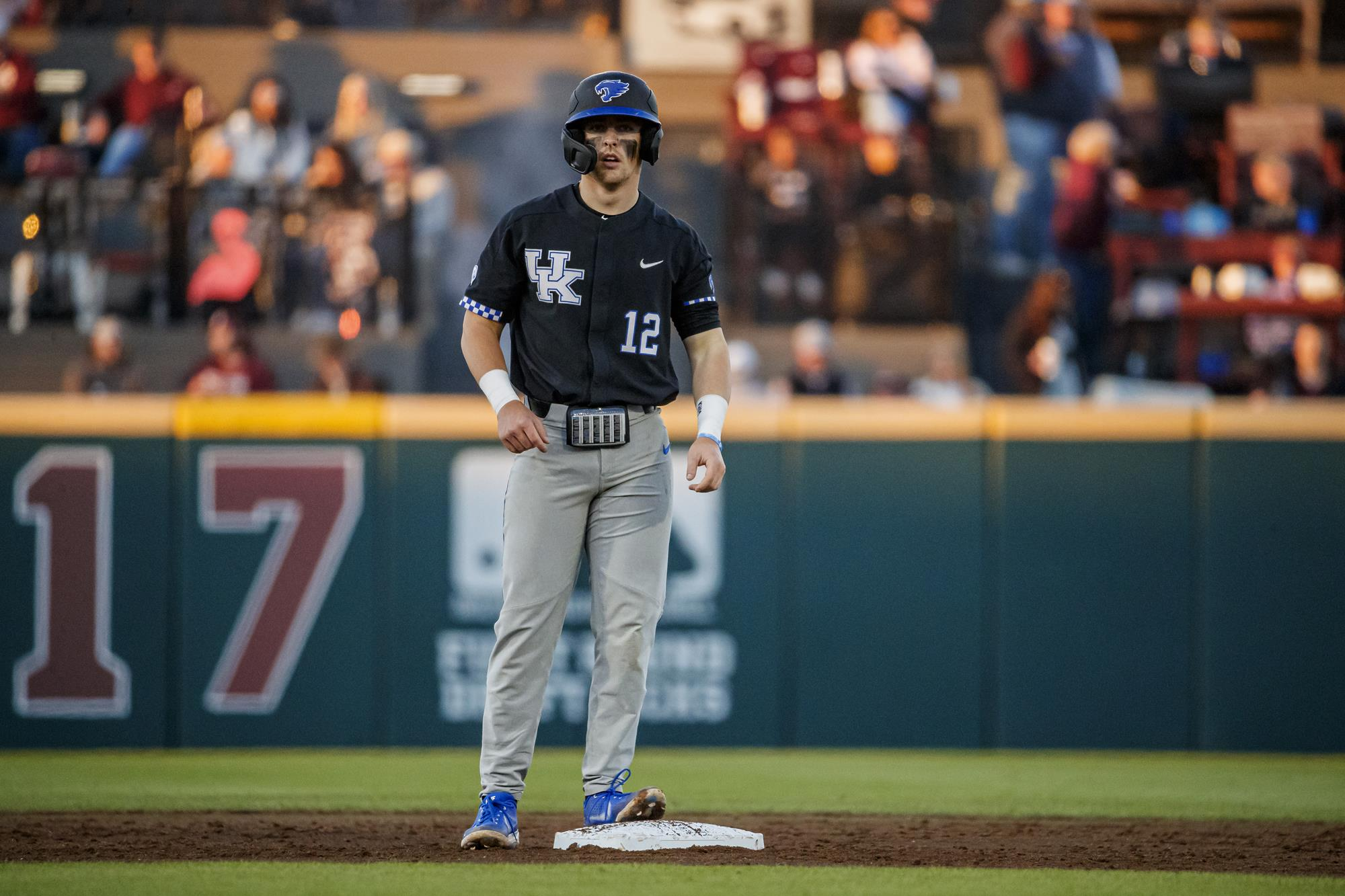 STARKVILLE, Miss. – Kentucky's second road trip in as many weekends produced resilience, if not results, as it dropped consecutive one-run games to end the series at No. 5 Mississippi State. On Saturday, the Wildcats fought back from an early three-run deficit before ultimately falling 4-3 at Dudy Noble Field.
 
For the second straight day the elements played a significant factor in the outcome. A cloudless afternoon produced a brutal sun field for defenders on any ball hit in the air and Mississippi State took advantage right away when its second batter of the game saw a routine fly to centerfield turn into a triple when it was lost in the glare. That turned into a run and an inning later a skied pop-up in the infield fell for a double that opened led to another run.
 
The Wildcats (18-7, 5-4 SEC) did not fold and fed off a brilliant relief outing from junior lefty Dillon Marsh to claw their way back into the game. Cam Hill drew a walk with two outs in the fifth and scored on Austin Schultz's double and Schultz later scored after leading off the eighth inning with his second hit of the day to pull the Cats within one.
 
In the ninth, the Cats put the tying and go-ahead runs on base with two outs but could not draw even. The tight contests continued a pattern as nine of the past 10 games have been decided by one or two runs. UK is 6-3 in those decisions.
 
 
GAME SCORING
Bottom 1st – Jordan tripled on a fly ball lost in the sun and scored on Allen's SAC fly to RF. Miss. State1, UK 0.
 
Top 2nd – Oraj Anu doubled on a fly ball lost in the sun and scored on Chase Estep's single up the middle. UK 1, Miss. State 1.
 
Bottom 2nd – Hancock homered to RF. Tanner reached on an infield double after pop up lost in sun and scored on Forsythe's single through the left side. Miss. State 3, UK 1.
 
Bottom 4th – Tanner homered to RF. Miss. State 4, UK 1.
 
Top 5th – Cam Hill drew a two-out walk and scored on Austin Schultz's double to RCF. Miss. State 4, UK 2.
 
Top 8th – Schultz singled through the infield and advanced to third on T.J. Collett's single to RF. Schultz scored on Jaren Shelby steal attempt. Miss. State 4, UK 3.
 
 
NOTES
UK is 18-7 overall, 5-4 in SEC play.
The Cats are 3-3 on the road this season.
The Cats now are 5-4 in one-run games this season.
The UK pitching staff has struck out at least seven in 36 of the past 39 games, including 25 with 10 or more.
The UK pitching staff has struck out 252 batters and walked just 82 this season.
UK's streak of perfection on stolen base attempts to open the season ended at 33.
Sophomore OF John Rhodes was removed early from the game due to injury and saw his reached base safely streak end at 23 games.
Senior 1B T.J. Collett went 1-for-2 with two intentional walks.

Collett has reached base safely in 24 of 25 games this season.

Junior IF/OF Austin Schultz went 2-for-3 with a run, a walk and an RBI double.

Schultz has reached base safely in 78 of 85 career games.
Schultz has a hit in 19 of his last 21 games.
Sophomore LHP Dillon Marsh pitched 3.2 scoreless innings in relief. He allowed just one hit, walked none and struck out three.
 
ON DECK
The Cats face another Top 10 team in Louisville on Tuesday at Jim Patterson Stadium. First pitch is set for 6 p.m. ET on the ACC Network. The radio call will be on the UK Sports Network.