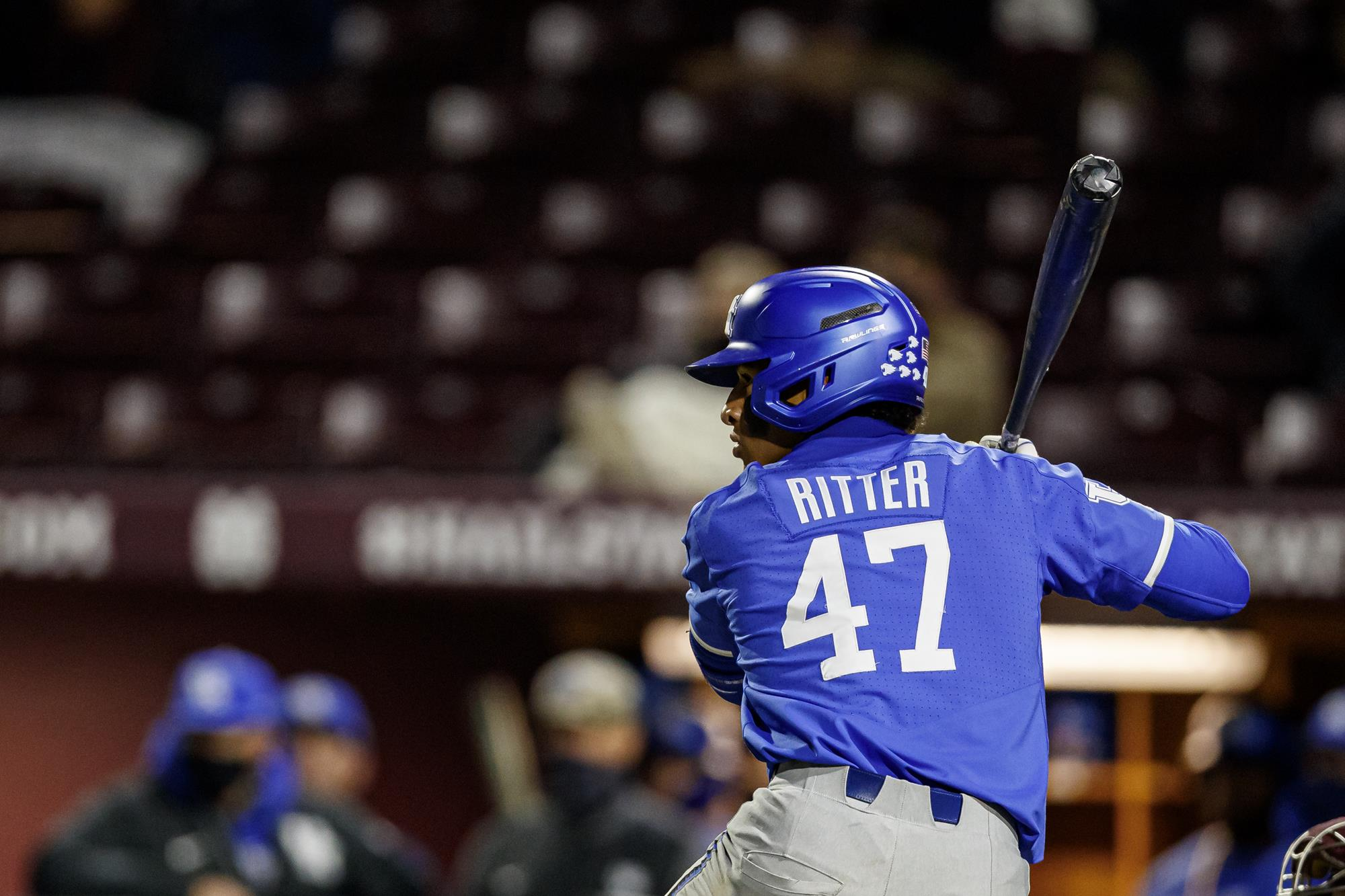 STARKVILLE, Miss. – T.J. Collett blasted a two-run home run and Cole Stupp was excellent on the mound but the twilight sky undid Kentucky as it fell 3-2 to No. 5 Mississippi State at Dudy Noble Field on Friday night.
 
The Wildcats (18-6, 5-3 SEC) led 2-0 after five innings on Collett's majestic blast off Mississippi State ace righty Will Bednar. The senior's 35th career home run went to straightaway centerfield after John Rhodes had doubled off the right field wall.
 
For a while it looked like that would be all the Cats needed, as Stupp was efficiently and effectively slicing through the State lineup, throwing just 48 pitches through five innings. After a long top half of the sixth he issued a leadoff walk to open the bottom half of the inning but immediately coaxed a routine fly ball to left field off the bat of Rowdy Jordan. The twilight sky hid the ball just long enough for it to find a patch of grass, bringing the crowd of 3,912 to life.
 
A single through the infield brought home Brayland Skinner from second, but only after the Bulldogs' leadoff man executed a flying slide around the Cats' catcher despite the throw home beating him to the plate. Jordan then scored the tying run on a sacrifice fly and, later, the winning run on another sacrifice fly in the eighth inning.
 
UK had a chance in the ninth inning after Collett's leadoff single and a sacrifice bunt put a runner at second, but a hard bouncer back up the box was stabbed by closer Landon Sims and turned into a game-ending double play.
 
 
GAME SCORING
Top 4th – John Rhodes doubled to RF and scored on T.J. Collett's home run to CF. UK 2, Miss. State 0.
 
Bottom 6th – Skinner walked to open the inning. Jordan reached on a single on fly ball lost in the lights. Allen singled to RF, Skinner scored, Jordan to third. Hancock hit a SAC fly, scoring Jordan. UK 2, Miss. State 2.
 
Bottom 8th – Jordan singled to lead off the inning and Allen was hit by a pitch. Both runners advanced on a wild pitch. Hancock hit a SAC fly, scoring Jordan. Miss. State 3, UK 2.
 
NOTES
UK is 18-6 overall, 5-3 in SEC play.
The Cats are 3-2 on the road this season.
The UK pitching staff has struck out at least seven in 36 of the past 38 games, including 25 with 10 or more.
The UK pitching staff has struck out 247 batters and walked just 82 this season.
UK is 33-for-33 on stolen base attempts this season.
Sophomore OF John Rhodes singled in the first to extend his reached base safely streak to 23 games. He finished 2-for-4 with a double.
Senior 1B T.J. Collett went 2-for-3 with a home run and two RBI.

Collett has reached base safely in 23 of 24 games this season.
The home run was his 35th career blast. He now ranks 8th on UK's career list, tied with Mark Blythe (1986-89) and Randy Gipson (1976-79).
It was his ninth homer of the season. He already has two double-digit homer seasons to his credit (2018 and 2019).
Sophomore RHP Cole Stupp pitched 7.0 innings, allowing six hits, three runs, one walk and five strikeouts. He threw 65 of 88 pitchers for strikes.
 
ON DECK
The Cats will try to get back on track Saturday afternoon. First pitch is set for 3 p.m. ET on the SEC Network. The radio call will be on the UK Sports Network.