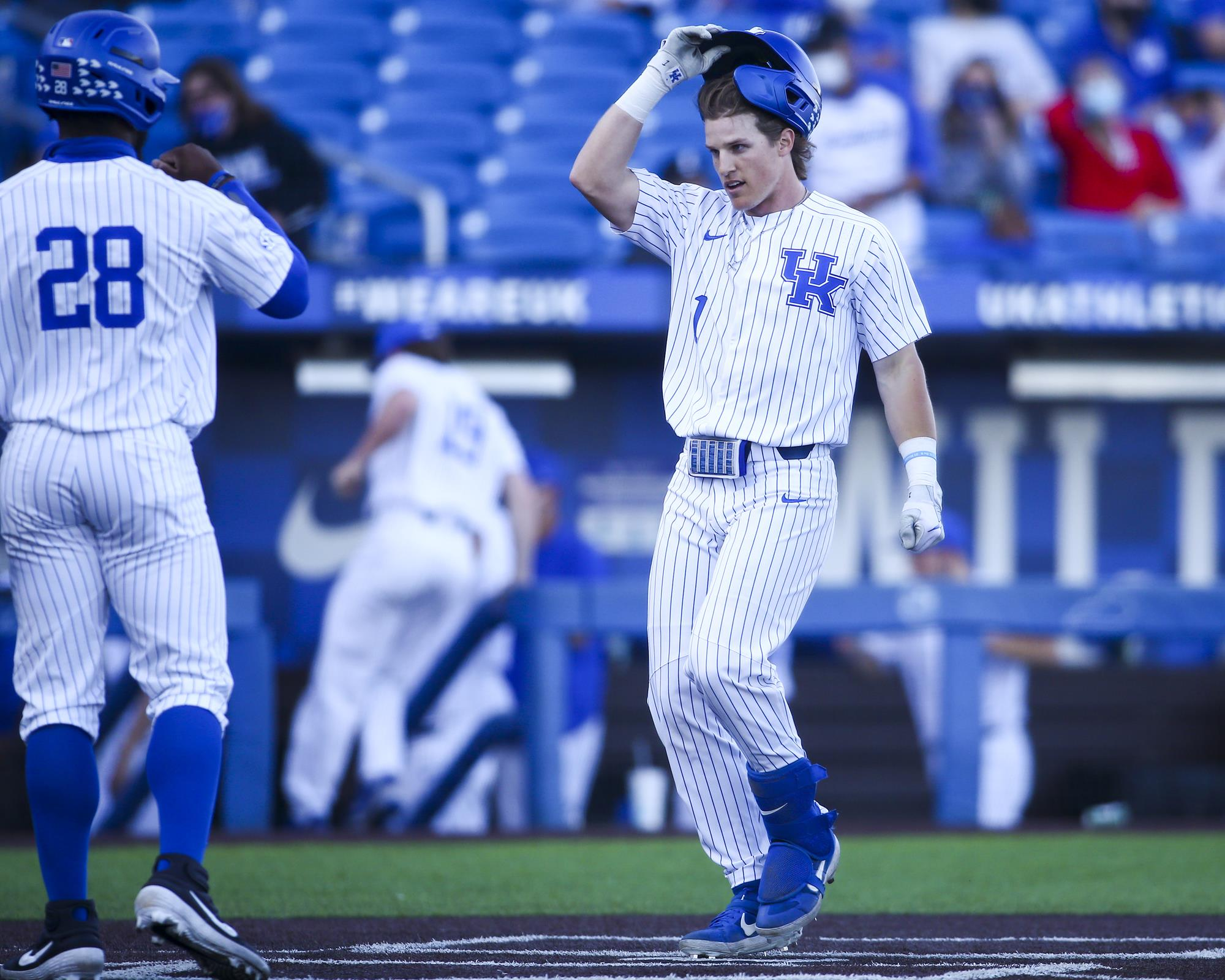 LEXINGTON, Ky. – John Rhodes cranked a first inning home run and Chase Estep scored a pair of runs as Kentucky defeated Bellarmine, 4-3, on a glorious Tuesday night at Kentucky Proud Park.
 
The Wildcats picked up their 18th victory of the season in front of 1,453 fans, the largest crowd of the season, in an efficient two hours and 48 minutes. After yielding a solo home run in the top of the first the Cats (18-4, 5-1 SEC) took the lead for good on Rhodes' no-doubt blast to the back of the concourse in left field in the bottom half of the inning. The sophomore outfielder nearly delivered a grand slam an inning later but settled for a sacrifice fly to the wall, capping his three-RBI evening.
 
Meanwhile, sophomore infielders Chase Estep and Ryan Ritter produced the Cats' other run at the bottom of the order. Estep double and tripled, coming home after the three-bagger on Ritter's single up the middle that gave each of them two-hit nights.
 
On the mound, junior right-hander Alex Degen earned the victory in his first start of the season, while freshmen righties Wyatt Hudepohl (2.0 innings, five strikeouts) and Seth Logue (2.0 innings, three strikeouts) lent a hand. Logue earned the first save of his career by closing out the Knights (8-14).
 
Kentucky now will head to No. 5 Mississippi State for a series that begins on Thursday night at Dudy Noble Field, where UK head coach Nick Mingione spent eight years as an assistant coach before arriving in Lexington.
 
 
GAME SCORING
Top 1st – Mehlbauer homered to LF. Bellarmine 1, UK 0.
 
Bottom 1st – Oraj Anu reached on an error and scored on a John Rhodes home run to LF. UK 2, Bellarmine 1.
 
Bottom 2nd – Chase Estep doubled down the LF line, Austin Schultz walked and Anu singled to load the bases. Rhodes hit a SAC fly to deep LF, Estep scored and Schultz advanced to third. UK 3, Bellarmine 1.
 
Top 4th – Crane doubled to CF and scored on Dilz's double to LF. UK 3, Bellarmine 2.
 
Bottom 6th – Estep tripled off the wall in LCF and scored on Ryan Ritter's single up the middle. UK 4, Bellarmine 2.
 
Top 7th – Sproul walked, stole second and scored on throwing error by the catcher on the steal attempt. UK 4, Bellarmine 3.
 
 
NOTES
UK is 18-4 overall, 5-1 in SEC play.
UK is 42-22 at Kentucky Proud Park under Mingione.
UK is 87-29 vs. non-conference opponents under head coach Nick Mingione.

The Cats are 76-11 vs. non-Power Five conference opponents.
The Cats are 68-12 in non-conference home games.

The UK pitching staff has struck out at least seven in 35 of the past 36 games, including 25 with 10 or more.
The UK pitching staff has struck out 234 batters and walked just 73 this season.
UK is 33-for-33 on stolen base attempts this season.
Sophomore IF Chase Estep went 2-for-4 with two runs, a double and a triple.
Senior 1B T.J. Collett saw his reached base safely streak end at 21 games.
Junior IF/OF Austin Schultz has reached base safely in 76 of 82 career games.
Sophomore OF John Rhodes extended his reached base safely streak to 21 games.

Rhodes finished 1-for-3 with a two-run home run and a third RBI on a SAC fly.

Senior C Coltyn Kessler reached base twice in four trips to the plate. He now has reached safely in 24 of his past 36 plate appearances.

Kessler also threw out a runner trying to steal second in the ninth inning. The runner represented the game-tying run.

Junior RHP Alex Degen pitched 3.0 innings in his first start of the season. He allowed just one hit – a solo home run – walked one and struck out three.
Freshman RHP Seth Logue earned the first save of his career, striking out three in two innings.
 
ON DECK
The Cats hits the road again for a three-game series at No. 5 Mississippi State that opens Thursday night and runs through Saturday. First pitch is set for 7:30 p.m. ET on ESPNU on Thursday. The radio call will be on the UK Sports Network.