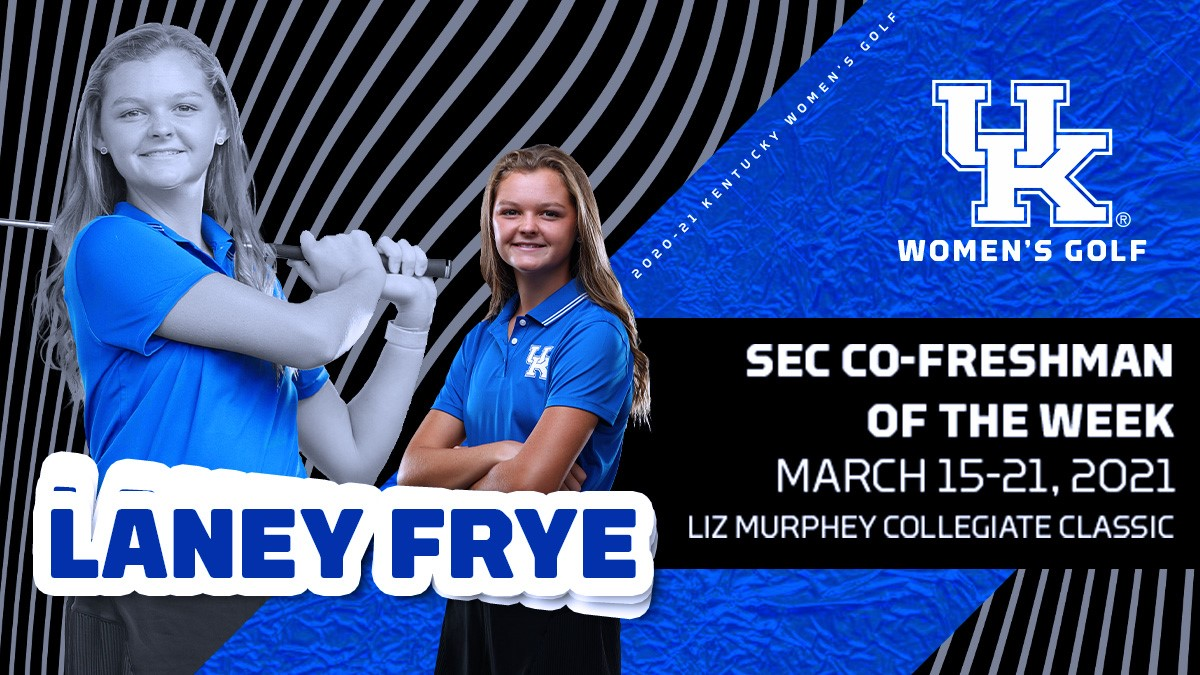 March 24, 2021 - 01:07 PM
UK Women's Golf's Frye Named SEC Co-Freshman of the Week
BIRMINGHAM, Ala. – Kentucky women's golfer Laney Frye was named Southeastern Conference Co-Freshman of the Week on Wednesday following a standout performance at last weekend's Liz Murphey Collegiate Classic.
 
Frye shared honors with Auburn's Anna Foster. The freshmen tied for seventh place at the SEC-dominated tournament in Athens, Georgia, with scores of 3-over par.
 
It was Frye's second top-10 finish and third top-20 showing in seven events in her debut season. The Lexington native shot a 219, just two strokes off her 54-hole career best and one spot behind her sixth-place performance at the Blessings Collegiate Invitational to begin her college career.
 
Frye carded a 2-under-par 70 in the first round, a 75 in the second round and a 74 in the finale. Her 70 on the first day was her team-leading eighth round of par or better this season and tied her 18-hole collegiate low.
 
The performance led Kentucky to a third-place showing in an impressive field in the Liz Murphey, UK's best finish of the season. The event featured nine top-25 teams and four top-10 squads (Golfstat rankings) – with the Wildcats finishing ahead of all but No. 1 South Carolina and No. 6 Ole Miss.
 
Although she is only a freshman, Frye has been UK's top performer in 2020-21. She leads Kentucky in virtually every major statistical category, including a team-best 73.6 stroke average. After the performance in Georgia, she has led the Wildcats in scoring in three of seven events. The team has used her rounds in 19 of 21 opportunities.
 
Frye is the fourth player in program history to win SEC Freshman of the Week honors and the first since teammate Casey Ott won the award on Feb. 27, 2019. All four SEC Freshman of the Week winners have been under head coach Golda Borst's 11-season watch, including another current member, Josephine Chang, on March 21, 2017.
 
Frye joined the program this season with high expectations after winning the 2018 Kentucky High School Athletic Association state championship and finishing in second place in 2019. She anchored back-to-back team state titles for Lexington Christian Academy in 2018 and 2019 was a two-time Kentucky Miss Golf winner (2018 and 2019) and three-time All-State First Team selection (2017-19).
 
Even with those credentials, Frye was joining a deep and talented UK team that enjoyed a breakthrough 2019-20 season. She has fit right in with no 54-hole score worse than 7-over par and she is currently ranked No. 80 nationally in the Golfstat rankings.
 
Frye and the Wildcats will return to competition April 6-7 at the LSU Tiger Golf Classic in Baton Rouge, Louisiana. The event will conclude the 2020-21 regular-season schedule for UK. The SEC Championship will be April 14-18. The Wildcats, ranked No. 28 in the latest Golfstat rankings, will then turn their attention to NCAA Regionals in May.
 
For the latest on the Kentucky women's golf team, follow the team on Twitter, Facebook, and Instagram, as well as on the web at UKathletics.com.