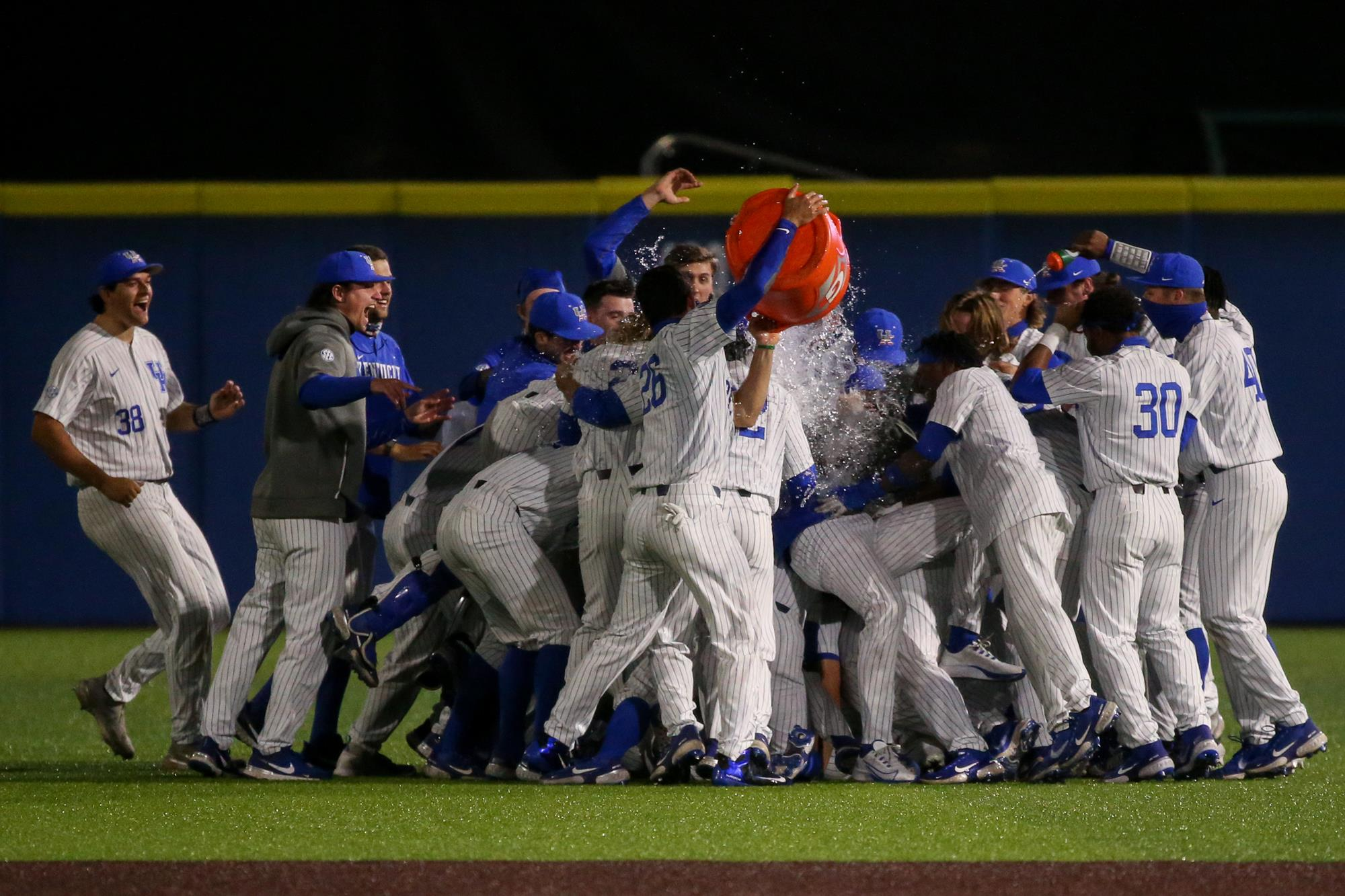 LEXINGTON, Ky. – Kentucky is starting to become pretty good at the whole walk-off win thing.
 
The Wildcats scored four runs in the bottom of the ninth to defeat Butler, 6-5, at Kentucky Proud Park on Tuesday night, the team's second walk-off victory in the past three games. The Cats (14-4) now have eight walk-off wins since Nick Mingione took over as head coach before the 2017, closing their 18-game homestand to open the season in style.
 
"I told our team we needed a come from behind win," Mingione said. "You want them to experience everything. We needed that one."
 
Trailing 5-2 and down to their final three outs the Cats finally broke through on what had been a frustrating night to that point. Oraj Anu opened the inning with a double before John Rhodes took a 3-2 pitch off the thigh. T.J. Collett walked to load the bases to set up Trae Harmon's two-run, line drive single to centerfield to pull within one run.
 
Zeke Lewis, who was inserted as a pinch runner for Harmon, stole second to put the winning run in scoring position and watched as Coltyn Kessler battled to a full count before lacking a high fly to deep left-centerfield. When the ball ricocheted off the glove of a diving centerfielder Lewis raced home from second, setting off a wild celebration that streamed across the infield and out toward Kessler at second base.
 
"Just trying to pass a good at-bat to the next guy," Kessler said. "I got a good, hanging pitch to hit and put a good swing on it."
 
The Cats now head to Auburn for their first road trip of the season and will do so with soaring confidence.
 
 
GAME SCORING
Bottom 1st – Austin Schultz doubled to LCF and scored on Oraj Anu's single up the middle. UK 1, Butler 0.
 
Bottom 3rd – John Rhodes doubled down the LF line, advanced to third on a wild pitch and scored on Coltyn Kessler's single to LF. UK 2, Butler 0.
 
Top 6th – Steinhart walked, moved to second on a groundout and scored on Bennett's grounder through the right side. UK 2, Butler 1.
 
Top 7th – McGrath homered to LF. Orn walked, advanced on a throwing error by the catcher and to third on single by Gargano. Matos doubled into the RF corner, scoring Orn. Steinhart singled, Gargano scored, Matos to third. Butler 4, UK 2.
 
Top 8th – McGargar homered to LF. Butler 5, UK 2.
 
Bottom 9th – Anu doubled to LCF, Rhodes was hit by a pitch and Collett walked to load the bases. Trae Harmon lined a single to CF, scoring Anu and Rhodes. Jaren Shelby and Zeke Lewis pinch ran for Collett and Harmon. Lewis stole second. Kessler doubled to deep LCF, scoring Shelby and Lewis. UK 6, Butler 5.
 
NOTES
UK is 14-4 overall, 2-1 in SEC play.
This was the second walk-off win in the past three games and eighth under coach Nick Mingione.
UK is 41-22 at Kentucky Proud Park under Mingione.
UK is 86-29 vs. non-conference opponents under head coach Nick Mingione.

The Cats are 75-11 vs. non-Power Five conference opponents.
The Cats are 67-12 in non-conference home games.

The UK pitching staff struck out nine batters in the game and now have punched out at least seven in 31 of the past 32 games, including 24 with 10 or more.
The UK pitching staff has struck out 199 batters and walked just 53 this season.
UK is 26-for-26 on stolen base attempts this season.
Senior 1B T.J. Collett extended his reached base safely streak to a team-best 18 games.
Junior IF/OF Austin Schultz went 1-for-4 with a double and a run.

Schultz has reached base safely in 73 of 78 career games.
He currently has a career-long 14-game hit streak.

Senior 1B T.J. Collett extended his reached base safely streak to a team-best 18 games.
Senior C Coltyn Kessler went 2-for-5 with three RBI and the game-winning double.

He has reached base 14 of the past 19 times to the plate.
Freshman RHP Ryan Hagenow pitched 4.0 innings, allowing two hits, no runs and three walks while striking out two.

Hagenow lowered his season ERA to 1.00 in five starts (18.0 innings).
 
ON DECK
The Cats embark on their first road trip of the season this weekend, traveling to Auburn. First pitch on Friday is set for 7 p.m. ET. The game will be aired SECN+. The radio call will be on the UK Sports Network.