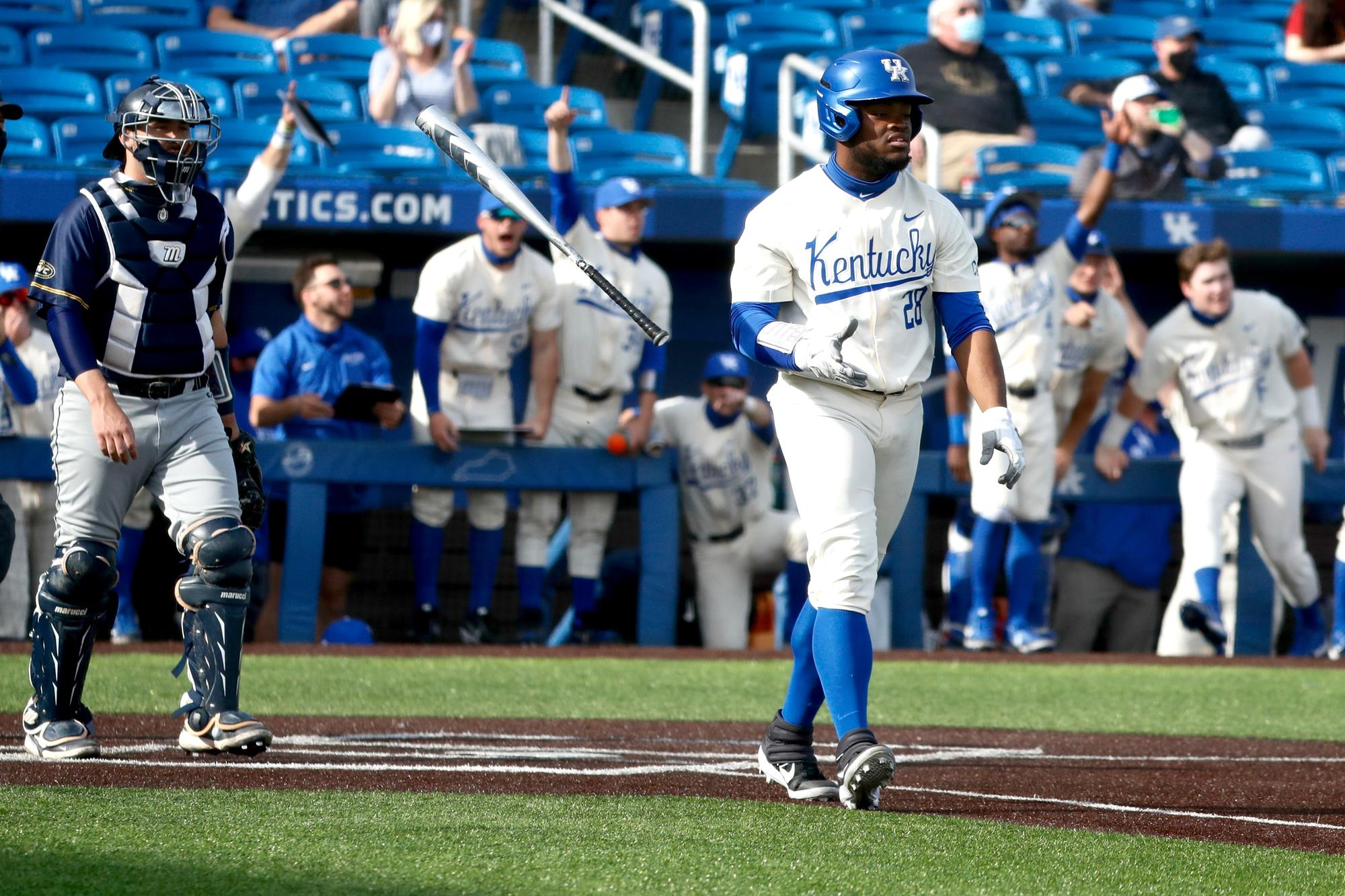 LEXINGTON, Ky. – T.J. Collett hit a pair of opposite field home runs, Ryan Ritter had four hits and Oraj Anu blistered a 440-foot home run but it was not enough for Kentucky, who fell 13-8 to Murray State at Kentucky Proud Park on Tuesday in a final non-conference tune-up.
 
Collett has been five-alarm fire hot for the Wildcats, homering in four consecutive games for the second time in his career and clubbing five total over that span. He now has 32 career home runs, moving him into 13th on the school's all-time list and he remains in the top 10 among active Division I players. He leads the team with 18 RBI.
 
Despite Collett's heroics, Anu's tape-measure blast and Trae Harmon's missile for his second home run of the season, the Wildcats (11-3) were undone by 11 two-out runs scored by the Racers (8-8). Murray State took a 4-0 lead in the third inning when a two-out error proved costly and led to four unearned runs, then blew the game open with seven runs in the sixth, all coming after two were out and nobody was on base. A walk, an infield hit and another walk gave the Racers life before four straight hits were capped by Brock Anderson's second home run of the game.
 
The Cats battled back to within 11-8 after seven on John Rhodes and Collett's back-to-back blasts but could get no closer, as the Racers exacted a small measure of revenge for the Cats' walk-off win over them last season.
 
UK now will look to re-group before opening Southeastern Conference play vs. Missouri on Friday. It will be the first time the program has started conference play at home since the 2012 season.
 
 
GAME SCORING
Top 3rd – McCullough blooped a double into LF, Slunder walked. Cozart reached on a two-out error, McCullough scored. Anderson homered to RF, scoring Slunder and Cozart. Murray State 4, UK 0.
 
Bottom 3rd – Ryan Ritter singled up the middle and Austin Schultz singled to RF. Oraj Anu homered to RF. Murray State 4, UK 3.
 
Bottom 5th – T.J. Collett and Trae Harmon hit back-to-back home runs. UK 5, Murray State 4.
 
Top 6th – With two outs, Booth walked, McCullough singled and Holly walked. Slunder doubled, scoring a pair. Perkins singled, scoring Holly and Slunder. Cozart doubled, scoring Perkins. Anderson homered to RF, scoring Cozart. Murray State 11, UK 5.
 
Bottom 7th – Anu singled and scored on a home run by John Rhodes. Collett homered to LF. Murray State 11, UK 8.
 
Top 9th – Woosley reached on an error and scored on Crump's HR to LF. Murray State 13, UK 8.
 
 
NOTES
UK is 85-29 vs. non-conference opponents under head coach Nick Mingione.

The Cats are 74-11 vs. non-Power Five conference opponents.
The Cats are 66-12 in non-conference home games.

The Cats hit back-to-back home runs twice in the game and now have done it three times this season.
The UK pitching staff has 28 consecutive games with seven or more strikeouts, including 23 with 10 or more.
The UK pitching staff has struck out 162 batters and walked just 32 this season.

The staff entered the game fourth the nation in strikeout-to-walk ratio.
Junior IF/OF Austin Schultz went 1-for-5 with a run.

Schultz has reached base safely in 69 of 74 career games.
He currently has a career-long 10-game hit streak.

Senior 1B T.J. Collett went 2-for-5 with a pair of home runs.

It was his second career two-homer game.
Collett homered in a fourth straight game, the second time in his career he's done that.
Collett now has five home runs in the past four games.
Collett has a team-best 14-game reached base safely streak.
Collett now has 32 career home runs, 13th all-time in school history.

Sophomore INF Ryan Ritter went a perfect 4-for-4, setting a career-high for hits.

The last Wildcat to have four hits was Matthew Golda vs. Appalachian State on 2/23/20.

Senior OF Oraj Anu went 2-for-5 with two runs and a three-run home run.
Junior 1B/DH Trae Harmon went 2-for-3 with a run, two walks and a solo home run.

Harmon now has four multi-hit games in five starts and five extra-base hits out of his nine total.
 
ON DECK
The Cats open SEC play on Friday night when Missouri comes to Kentucky Proud Park. First pitch is set for 6:30 p.m. ET. The game will be aired on SECN+. The radio call will be on the UK Sports Network.