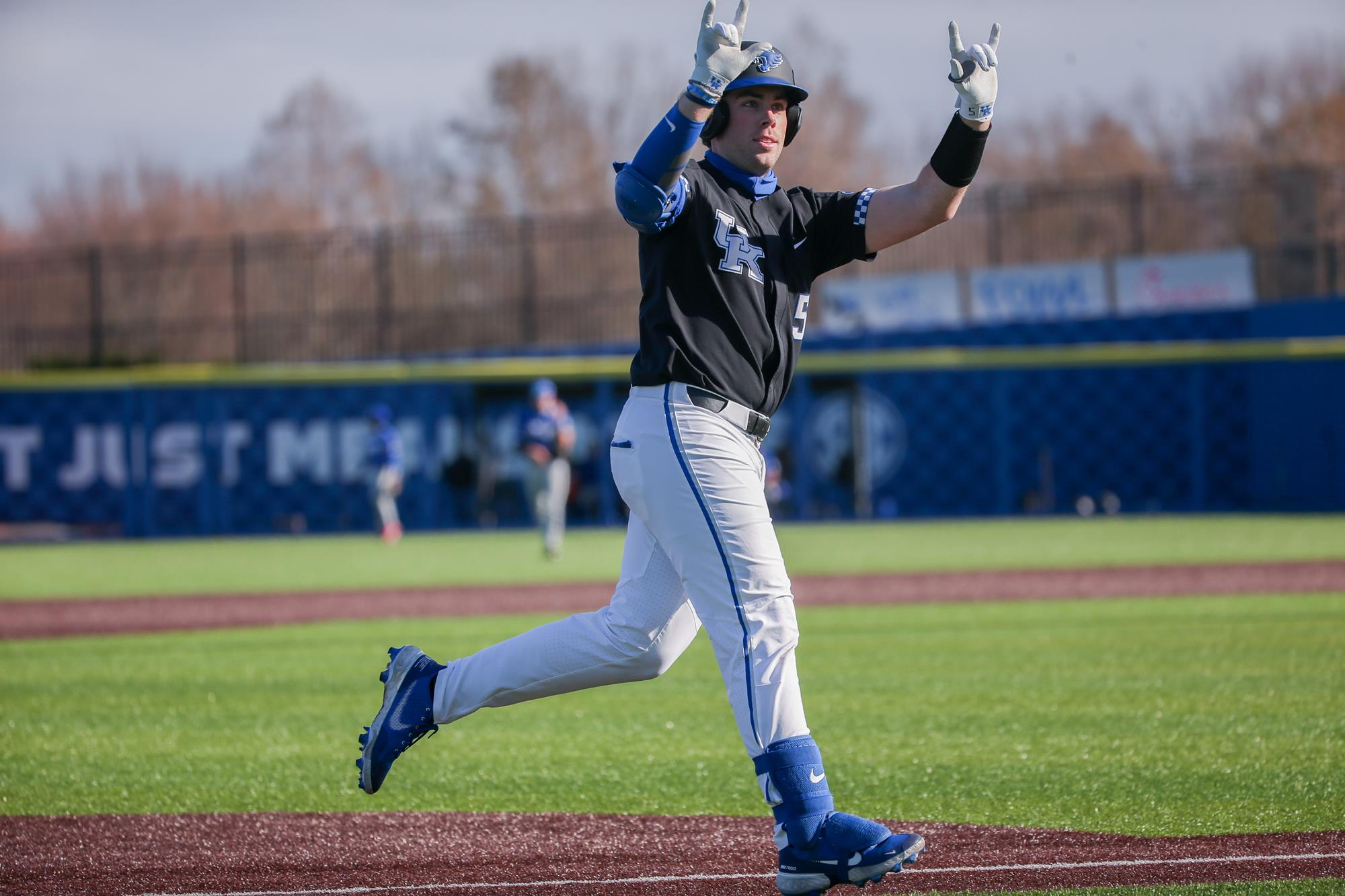 LEXINGTON, Ky. – The runs came early, then often, as the Kentucky baseball team walloped Georgia State, 16-1, in the series opener at Kentucky Proud Park on Friday. It was the Wildcats' largest margin of victory since a 15-0 win over Western Kentucky on Mar. 13, 2019.
 
T.J. Collett cracked a two-run home run in the first inning, the 28th of his career, before the Cats (9-2) settled in for a six-run second inning that put the game away early. John Rhodes hit a soaring three-run home run in the second and Chase Estep capped his career effort with a three-run double to RCF to complete the scoring.
 
The Cats jumped all over Georgia State, which had played all 14 of its games against ranked teams coming into the contest, with seven players registering multiple hits and three driving in three runs. Eight of the nine starters had a hit and all nine scored against the Panthers (4-11).
 
On the mound, sophomore right-hander Cole Stupp continued his impressive start to the season, giving up just one run and striking out seven in six innings. He threw 62 of his 86 pitches for strikes and scattered six hits. Freshman righty Wyatt Hudepohl and junior righty Alex Degen closed out the final three innings.
 
 
GAME SCORING
Bottom 1st – John Rhodes singled up the middle with two outs and scored on T.J. Collett's home run to RF. UK 2, Georgia State 0.
 
Top 2nd – Cheney lined a two-strike single to CF and scored on Ashby's two-strike double to RCF. UK 2, Georgia State 1.
 
Bottom 2nd – Trae Harmon doubled to RCF and Chase Estep singled. Alonzo Rubalcaba bunted for hit, Harmon scored on throwing error by the pitcher, Estep to third, Rubalcaba to second. Ryan Ritter singled up the middle, scoring Estep and moving Rubalcaba to third. Rubalcaba scored on a wild pitch. Austin Schultz reached on an error. Rhodes homered to LF, scoring Ritter and Schultz. UK 8, Georgia State 1.
 
Bottom 3rd – Harmon singled to LF and advanced to second on Estep's groundout. Rubalcaba reached on a throwing error, Harmon to third. Ritter and Schultz walked, Harmon scored. Rubalcaba scored on a balk, Ritter and Schultz advanced. Ritter scored on Oraj Anu's groundout. UK 11, Georgia State 1.
 
Bottom 4th – Reuben Church tripled to RCF and scored on Harmon's SAC fly. UK 12, Georgia State 1.
 
Bottom 5th – Anu reached on a fielder's choice and Rhodes walked. Collett singled up the middle, scoring Anu. Church was hit by a pitch to load the bases. Estep doubled to RCF, scoring three.  UK 16, Georgia State 1.
 
 
 
NOTES
The 16 runs scored were the most since scoring 16 vs. Xavier on Mar. 19, 2019.
The 15-run margin of victory is the largest since a 15-0 win over Western Kentucky on Mar. 13, 2019.
UK is 83-28 vs. non-conference opponents under head coach Nick Mingione.

The Cats are 72-10 vs. non-Power Five conference opponents.
The Cats are 64-11 in non-conference home games.

The UK pitching staff has 25 consecutive games with seven or more strikeouts, including 20 with 10 or more.
The UK pitching staff has struck out 119 batters and walked just 21 this season.

The staff entered the game third the nation in strikeout-to-walk ratio.
Junior IF/OF Austin Schultz went 2-for-3 with a run, an RBI and a walk.

Schultz has reached base safely in 66 of 71 career games.
He currently has a seven-game hit streak.

Freshman IF Reuben Church went 2-for-4 with two runs and a triple.

Church has a hit in all 10 games of his career.
Church has a team-leading two triples this season.
Church has a team-leading seven multi-hit games.
Church's 10-game hit streak to open his career is the fourth-longest for a freshman dating to at least the 2006 season.

Sophomore OF John Rhodes went 2-for-3 with three runs, three RBI and a home run.

Rhodes now has a career-long 10-game hitting streak.
The three runs tie his career high.

Sophomore IF Chase Estep went 3-for-5 with a run, three RBI and a double.

Estep set new career-highs for both runs and RBI.

Senior 1B T.J. Collett went 2-for-4 with two runs, three RBI and a home run.

It was Collett's 28th career homer and second this season.
Collett has a team-best 11-game reached base safely streak.

Sophomore RHP Cole Stupp pitched 6.0 innings to get the win. He allowed six hits, one run, walked none and struck out seven.
 
ON DECK
The Cats return to Kentucky Proud Park on Saturday looking to win the series vs. Georgia State. First pitch is set for 1 p.m. ET. The game will be aired on SECN+. The radio call will be on the UK Sports Network.