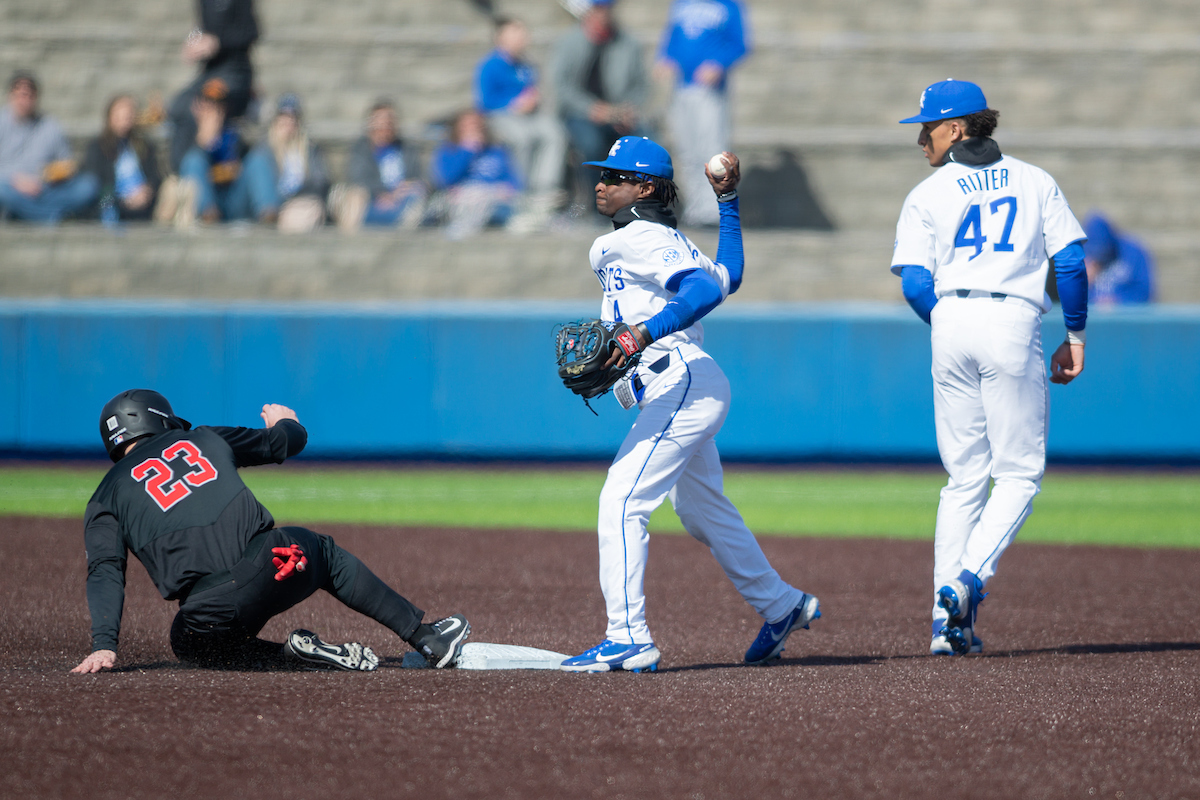 LEXINGTON, Ky. – The Kentucky baseball team engaged in another tense affair on Sunday, falling 4-3 to Ball State and dropping a series that was dominated by pitching. Both defeats came by a single run as the Wildcats were unable to find the clutch hit needed at critical junctures.
 
Sunday's rubber game looked eerily similar to Friday night's defeat for the Cats, who fell to 7-2 on the season. The Cats took an early lead with a run in the first inning but could not tack on before being bitten by a strange sequence of events in Ball State's half of the sixth.
 
UK starter Zack Lee cruised through the first five innings but found trouble the third time through the Cardinals' order. After a leadoff double and an out, Lee hit Ross Messina in the helmet with a two-strike pitch, his first after the game was halted for a few moments when Messina fouled a ball of his knee and was tended to by trainers. Lee had two strikes on the next batter and appeared to have caught him looking for strike three but did not get the call and then allowed a single on the next pitch to load the bases, ending his afternoon with a career-high eight strikeouts.
 
Cole Daniels entered and walked home the tying run before giving way to Jimmy Ramsey, who yielded a two-run single through the infield to make it 4-1. The Cats did not allow another hit – and held the Cardinals to a .163 batting average and .196 slugging percentage for the series – the rest of the way but could not claw all the way back.
 
UK made it interesting, scoring a run in the seventh and another in the eighth when Austin Schultz's blast to left-centerfield clanged off the top of the wall for an RBI double, narrowly missing what would have been a game-tying home run.
 
 
GAME SCORING
Bottom 1st – John Rhodes singled to CF, advanced to second on T.J. Collett's walk and third on a fielder's choice. Reuben Church singled up the middle, scoring Rhodes. UK 1, Ball State 0.
 
Top 6th – Navarro lead off with a double to RCF. Messina was hit by a pitch. Quartermaine singled to CF to load bases. Sebby hit by a pitch, Navarro scored. Powell walked, forcing in a run. Peltier singled through the left side, scoring Quartermaine and Sebby. Ball State 4, UK 1.
 
Bottom 6th – Rhodes walked and scored from first on Collett's single that fell untouched behind second base. Ball State 4, UK 2.
 
Bottom 8th – Coltyn Kessler doubled down the RF line. Kirk Liebert pinch ran. Austin Schultz doubled off the LCF wall, scoring Liebert. Ball State 4, UK 3.
 
 
NOTES
UK is 81-28 vs. non-conference opponents under head coach Nick Mingione.

The Cats are 70-10 vs. non-Power Five conference opponents.
The Cats are 62-11 in non-conference home games.

The UK pitching staff has 23 consecutive games with seven or more strikeouts, including 19 with 10 or more.
The UK pitching staff has struck out 100 batters and walked just 17 this season.
The staff held Ball State to a .163 batting average on the weekend and .196 slugging percentage.
Junior IF/OF Austin Schultz went 1-for-4 with an RBI double.

Schultz has reached base safely in 64 of 69 career games.

Freshman IF Reuben Church has a hit in all eight games of his career.
Sophomore RHP Zack Lee struck out a career-high eight in 5.1 innings.
Junior LHP Dillon Marsh made his season debut and struck out three in two perfect innings.
Senior RHP Sean Harney struck out a pair in a perfect inning of work.

For the season he has struck out 10 and allowed just one hit in 5.0 innings.
 
 
ON DECK
The Cats return to Kentucky Proud Park on Tuesday to take on Western Kentucky. First pitch is set for 4 p.m. ET. The game will be aired on SECN+. The radio call will be on the UK Sports Network.