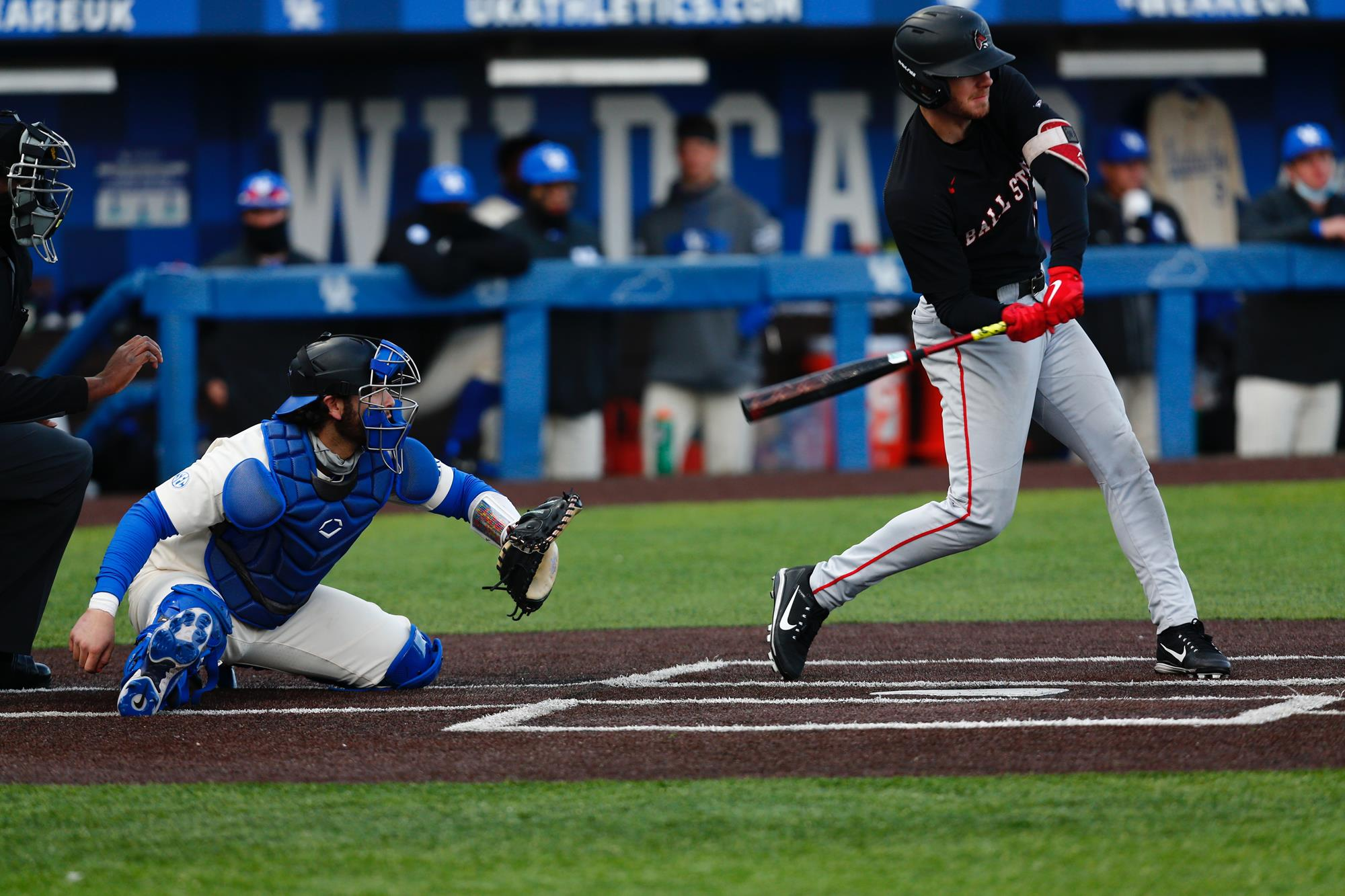 LEXINGTON, Ky. – There will be no undefeated season.
 
The Kentucky baseball team fell 3-2 to Ball State in Friday's series opener at Kentucky Proud Park, ending its season-opening winning streak at six games. The Wildcats (6-1) left 11 men on base and couldn't find a hole at critical times, most notably as Austin Schultz's potential game-winning, bases loaded drive into the win in the eighth inning was run down at the warning track.
 
The Cats took an early 2-0 lead against hard-throwing Ball State right-hander Chayce McDermott but left the bases loaded instead of tacking on, which would come back to haunt them in the end. The Cardinals – who already had two wins over a ranked Arizona team to open the season – chipped away with single runs in the fourth and seventh innings before taking the lead by manufacturing a run in the eighth. A leadoff walk, sacrifice bunt and groundout put a runner at third with two outs before an opposite field double just inside the right field line by Ross Messina proved to be the deciding run.
 
Despite the loss, the Cats got a career-best outing from sophomore righty Cole Stupp. The Georgia native pitched a career-high 6.2 innings, allowing four hits, two runs, one walk and striking out five without factoring in the decision.
 
The Cardinals (5-3) pulled out all the stops to secure the win, using staff ace and 2019 Mid-American Conference Pitcher of the Year John Baker for the final two innings. Baker, who survived Schultz's blast, was scheduled to start Saturday afternoon's game for the visitors.
 
 
GAME SCORING
Bottom 3rd – Austin Schultz singled up the middle and moved to third on John Rhodes' single to RF. T.J. Collett lined a single to RF, scoring Schultz, Rhodes to third. Oraj Anu singled to RF, scoring Rhodes. UK 2, Ball State 0.
 
Top 4th – Quartermaine doubled to RF, advanced to third on Messina's single to RF and scored on Powell's SAC fly to RF. UK 2, Ball State 1.
 
Top 7th – Sheffler walked, stole second and scored on Sebby's two-out single to LF. UK 2, Ball State 2.
 
Top 8th – Conant walked to lead off the inning, advanced to second on Navarro's SAC bunt and third on Quartermaine's groundout to 2B. Messina hit a two-out double to RF, scoring Conant. Ball State 3, UK 2.
 
 
NOTES
UK is 80-27 vs. non-conference opponents under head coach Nick Mingione.

The Cats are 69-9 vs. non-Power Five conference opponents.
The Cats are 61-10 in non-conference home games.

UK saw its 12-game winning streak dating to the 2020 season end.
The UK pitching staff has 21 consecutive games with seven or more strikeouts, including 17 with 10 or more.
The UK pitching staff has struck out 74 batters and walked just 12 this season.
Sophomore RHP Cole Stupp pitched a career-high 6.2 innings, allowing just four hits and two runs while walking one and striking out five.
Junior IF/OF Austin Schultz has reached base safely in 62 of 67 career games.

Schultz went 2-for-5 with a run and a stolen base.
Schultz has four multi-hit games this season and 19 in his career.
Freshman IF Reuben Church went 2-for-4.

Church has a hit in all six games of his career.
He has five multi-hit games.
 
ON DECK
The Cats return to Kentucky Proud Park on Saturday afternoon to continue the series vs. Ball State. First pitch is set for 1 p.m. ET. The game will be aired on SECN+. The radio call will be on the UK Sports Network.