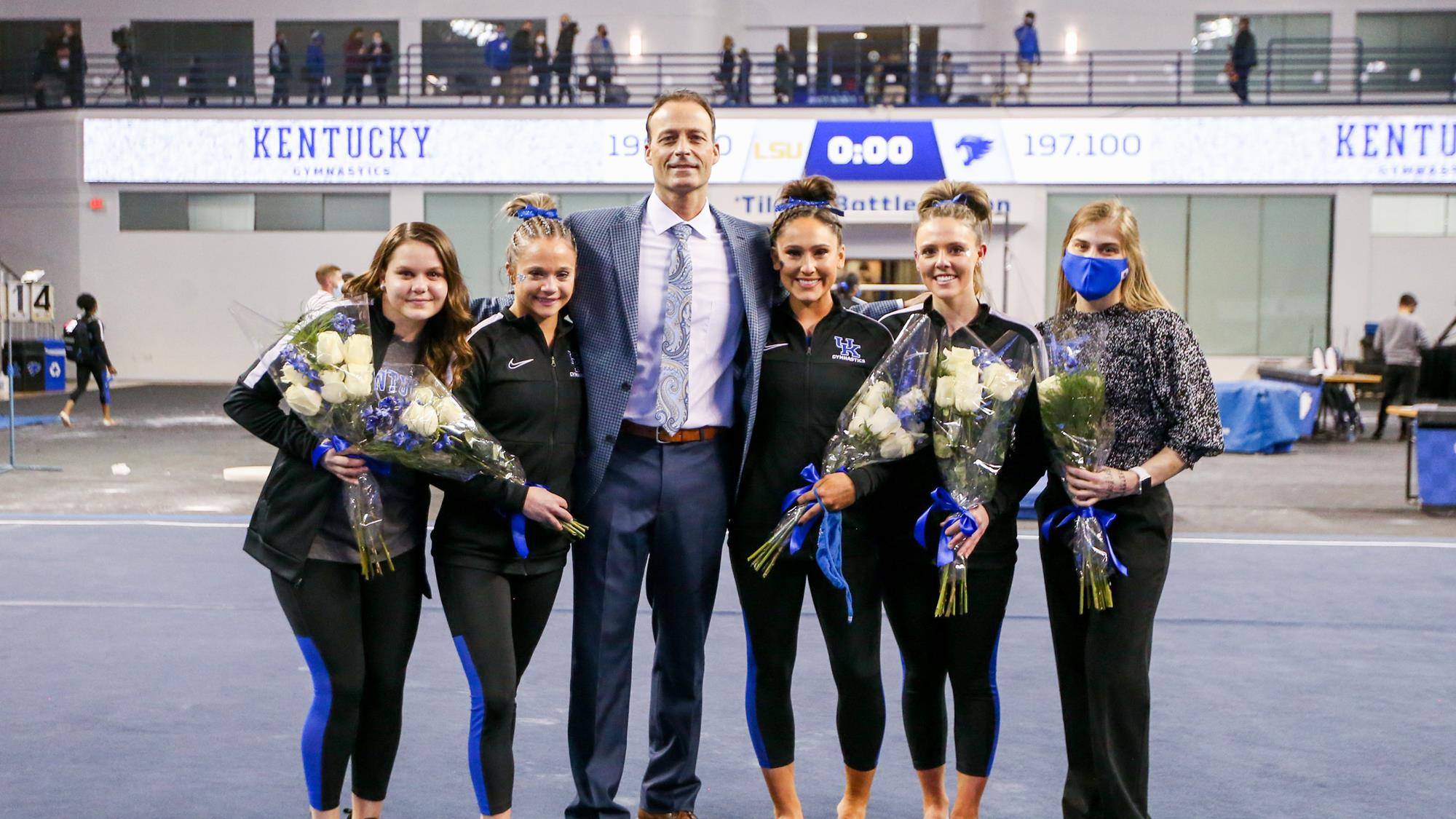 February 27, 2021 - 03:18 AM
Cats Beat Second-Ranked LSU 197.100-196.800 on Senior Night
LEXINGTON, Ky. – No. 14 Kentucky (4-3, 4-2 Southeastern Conference) ended its 2021 home slate on its highest note yet, sending its senior class out with a 197.100-196.800 victory over No. 2 LSU (4-3, 3-3 SEC) on Friday.
 
Kentucky's season-high performance and second time surpassing the 197-point threshold brings its season record at home to 3-1, all against top-10 opponents. The win also marks the Wildcats' second straight against a top-five team at home, as well as their second consecutive victory over LSU at Memorial Coliseum, dating back to 2019.
 
Raena Worley led the way as Friday's all-around champion, while Cally Nixon earned her first win on uneven parallel bars since her freshman campaign by tying eight-time NCAA champion Jenny Hansen for the best score on the event in program history.
 
Kentucky's prolific night began with a vault rotation of 49.375, its best of the season. Nixon, freshman Isabella Magnelli and junior Josie Angeny scored 9.900 apiece, marking personal bests for the latter two. Freshman Bailey Bunn tied her season high with a 9.850.
 
The Wildcats' bars rotation of 49.375 was also their best go on the event this season. All five counted scores were 9.825 or better, with Nixon's nearly perfect 9.975 blowing away the competition from the third spot in the lineup.
 
Kentucky's only deficit of the night came briefly after the third rotation, in which the Cats managed a 49.050 on balance beam against the Tigers' floor exercise of 49.325. However, trailing 147.975-147.800 heading into the final event, Kentucky swung momentum back in its favor.
 
All five counted floor scores were 9.825 or better, as well, guided by a 9.925 from Worley and a season-high 9.900 from Bunn. Sophomore Raena Albores led off with her first appearance on the apparatus this season to the tune of a 9.725, all coming together for a 49.300 rotation.
 
"We got off to a great start tonight on vault and bars and then showed tremendous toughness fighting through a beam rotation that could have derailed our night," said head coach Tim Garrison. "Floor was solid, as we have come to expect from this group, and we were able to pull off the upset."
 
Worley's fourth all-around win as a sophomore came by way of a 39.500 total. Bunn produced a season-high sum of a 39.450, while Angeny—the meet's remaining all-around competitor—finished at 39.375.
 
"Overall, I am most pleased with the resolve of this group," Garrison said. "They are finding ways to be successful when they struggle. It is a good sign that they can stay focused when things aren't going as planned. They aren't letting doubt creep in and affect performance. It was a big night for the program, and the win was only part of why. This team just proved to the most important group that they belong competing against the best this conference has to offer—themselves."
 
Kentucky's regular season is scheduled to come to a close next week on the road, facing No. 15 Georgia (2-5, 1-5 SEC) on March 5 at 7 p.m. ET, live on SEC Network.
 
For the latest on the Kentucky gymnastics team, follow @UKGymnastics on Twitter, Facebook and Instagram, as well as on the web at UKAthletics.com.