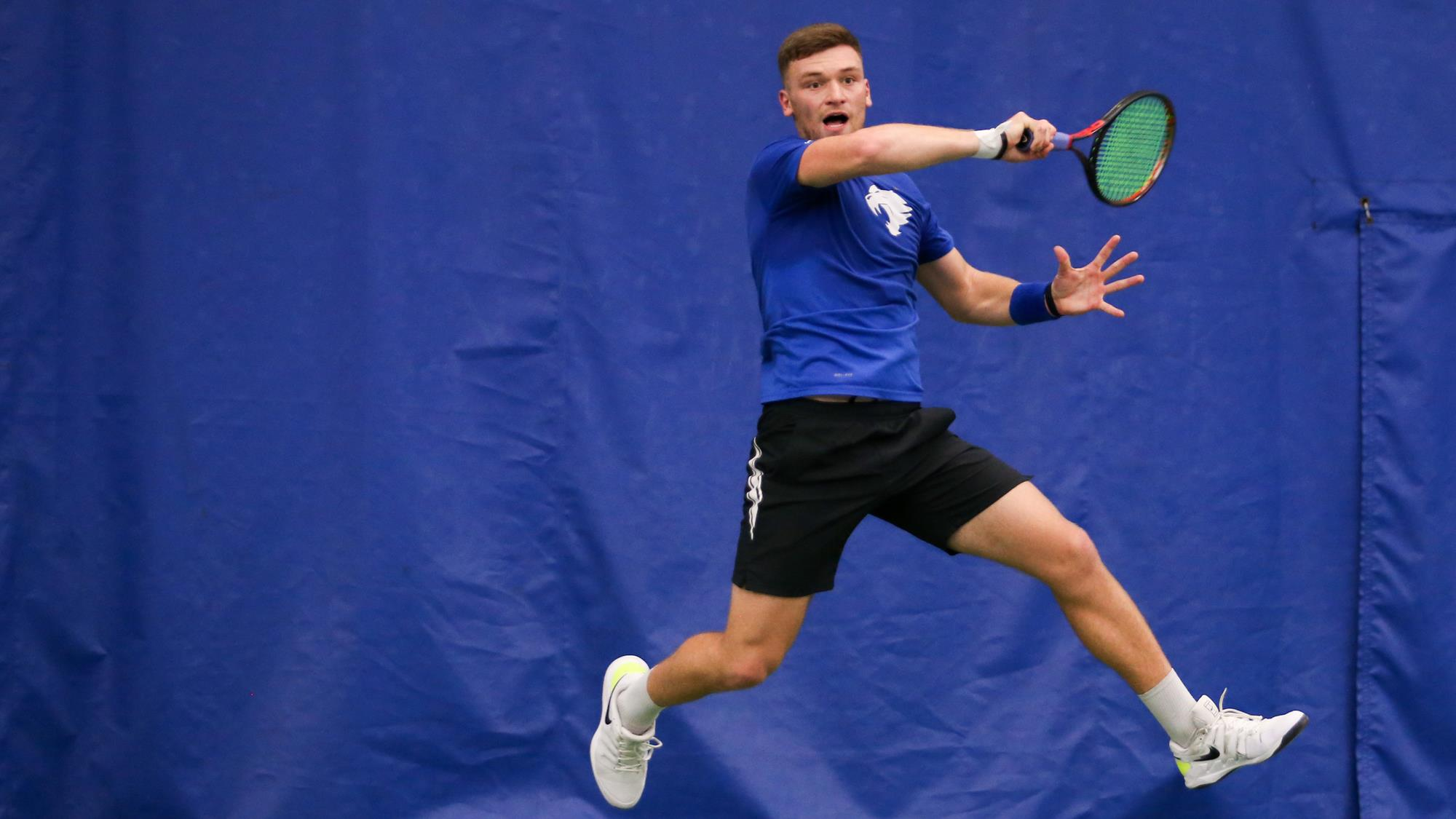 February 27, 2021 - 04:46 AM
Wildcats Drop 4-3 Heartbreaker at Alabama
TUSCALOOSA, Ala. – In the second contest of a three-match road stretch, No. 15 Kentucky (11-3, 1-2 Southeastern Conference) fell 4-3 to Alabama (9-4, 1-2 SEC) on Friday at Alabama Tennis Stadium. 
Freshman Yasha Zemel dropped a 6-7 (4-7), 6-1, 6-1 three-set match to Alabama graduate student Alexey Nesterov on court No. 6, breaking what was a 3-3 tie and clinching the victory for the Crimson Tide. 
Alabama opened the match with a 2-1 win on the doubles court. Millen Hurrion and Zemel moved to 4-0 as a duo on the season with a 6-3 win over Gabriel Diaz Freire and Zhe Zhou on court two to claim the only doubles win of the night for the Wildcats. 
César Bourgois and Gabriel Diallo came up short in a close contest on court one, falling7-6 (7-4) to Patrick Kaukovalta and Riccardo Roberto. Liam Draxl and Joshua Lapadat fell 6-4 to Nesterov and Edson Ortiz on court three. 
However, Draxl quickly recovered in singles on court one. The No. 45 player in the country continued his hot streak by defeating Zhou in two sets, 6-2, 7-5. After suffering his first defeat of the season last Tuesday against Texas A&M, Draxl bounced back versus Alabama to move to 11-1 on court one. 
Hurrion made quick work of Kaukovalta on court No. 3, defeating his opponent in two sets with a score of 6-1 in each set. Hurrion was first to finish in singles, equalizing the score at 1-1. 
Bourgois also came up victorious for Kentucky in singles play, defeating Diaz Friere in two sets, 7-6 (7-2), 6-3. 
On court two, Diallo fell to No. 89 Edson Ortiz, 6-4, 6-3. No. 123 Lapadat also dropped his singles match against Roberto, 1-6, 3-6 on court five. 
Kentucky is set to conclude road stretch on Sunday, taking on Auburn (4-6, 1-2 SEC) at 1 p.m. ET. 
Alabama 4, #15 Kentucky 3 
Singles 
#45 Liam Draxl (UK) def. Zhe Zhou (UA) 6-2, 7-5 
#89 Edson Ortiz (UA) def. Gabriel Diallo (UK) 6-4, 6-3 
Millen Hurrion (UK) def. Patrick Kaukovalta (UA) 6-1, 6-1 
César Bourgois (UK) def. Gabriel Diaz Freire (UA) 7-6 (7-2), 6-3 
Riccardo Roberto (UA) def. #123 Joshua Lapadat (UK) 6-1, 6-3 
Alexey Nesterov (UA) def. Yasha Zemel (UK) 6-7 (4-7), 6-1, 6-1 
Doubles 
Patrick Kaukovalta/Riccardo Roberto (UA) def. César Bourgois/Gabriel Diallo (UK) 7-6 (7-4) 
Millen Hurrion/Yasha Zemel (UK) def. Gabriel Diaz Freire/Zhe Zhou (UA) 6-3 
Alexey Nesterov/Edson Ortiz (UA) def. Joshua Lapadat/Liam Draxl (UK) 6-4 
Order of finish: Doubles (2,3,1); Singles (3,5,1,2,4,6)