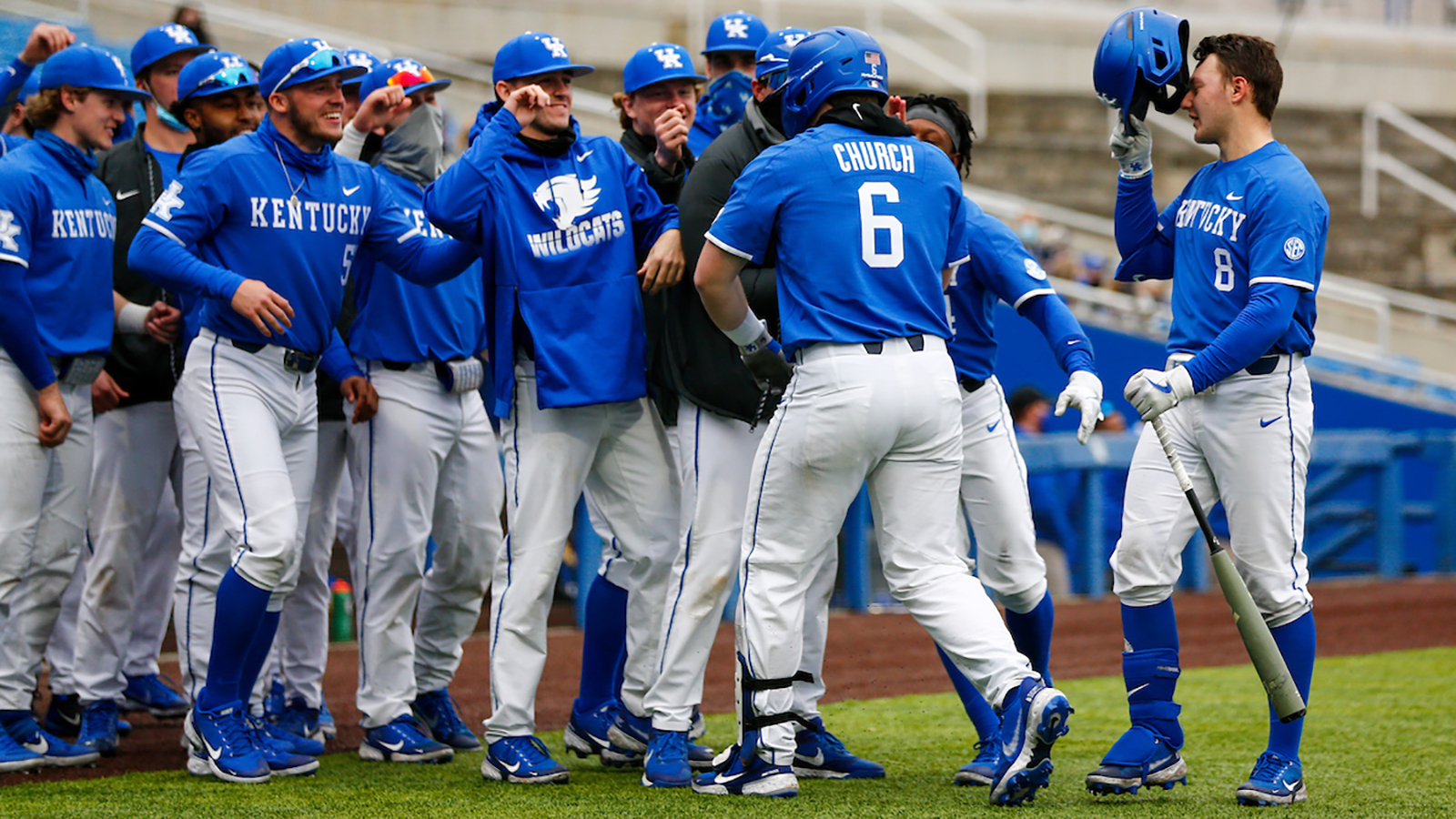 LEXINGTON, Ky. – The Kentucky baseball team completed a clean sweep of its opening week, punctuating the start with two impressive victories over Milwaukee in Saturday's doubleheader at Kentucky Proud Park. The wins give UK a 10-game winning streak dating back to last season.
 
Led by the heavy hitting of freshman infielder Reuben Church, the continued brilliance of sophomore outfielder John Rhodes and a stingy pitching staff, the Wildcats (4-0) took the opening game of the doubleheader, 9-3, and capped the day with a 4-2 victory. Both games were seven-inning affairs.
 
Church, an imposing presence from Maryville, Tenn., made his case for Southeastern Conference Freshman of the Week, going 6-for-10 with four doubles and his first career home run in the three-game sweep of Milwaukee. He leads the Cats in runs (five) and RBI (five) despite not playing in the season opener. He put an exclamation point on his debut with a no-doubt blast to left-centerfield to give the Cats a two-run cushion heading into the final inning of game two.
 
The freshman was hardly alone in doing damage. Rhodes, a preseason All-American, doubled in his first at-bat of both games and crushed a three-run home run to left field in the second inning of the opener, giving UK a lead it wouldn't relinquish. In fact, the Cats did not trail at all during their first four games.
 
On the mound, veterans Zack Lee (5.2 innings, two runs, seven strikeouts) and Mason Mazelwood (4.0 innings, two runs, six strikeouts) each gave solid starts before giving way to the bullpen. Senior transfer Sean Harney was dominant in closing out game two, earning the save with five strikeouts in two innings of work.
 
 
GAME ONE SCORING
Bottom 2nd – Reuben Church reached on an error. Zeke Lewis had a bunt single. John Rhodes homered to LCF. UK 3, Milwaukee 0.
 
Top 3rd – Winter doubled to lead off the inning. Buban singled off the pitcher. Both runners advanced on a wild pitch. Novak doubled to LF, scoring Winter and Buban. UK 3, Milwaukee 2.
 
Bottom 4th – Church and Lewis singled. Austin Schultz walked to load the bases. Rhodes walked, Church scored. T.J. Collett walked, Lewis scored. Oraj Anu grounded out, scoring Schultz scored. Rhodes scored on Alonzo Rubalcaba's SAC fly. UK 7, Milwaukee 2.
 
Bottom 5th – Church doubled to LF and scored on a double to CF by Schultz. UK 8, Milwaukee 2.
 
Bottom 6th – Collett tripled off the CF wall. Jaren Shelby ran for Collett and scored on Anu's single to RF. UK 9, Milwaukee 2.
 
Top 7th – Goodman had a pinch hit single and moved to third on Ferri's single. Novak reached on a fielder's choice, scoring Goodman. UK 9, Milwaukee 3.
 
 
GAME TWO SCORING
Bottom 2nd – Reuben Church doubled into the RF corner and advanced to third on Cam Hill's bunt single. Church scored on Ryan Ritter's safety squeeze bunt, Hill to second. Kirk Liebert singled off the pitcher, moving Hill to third. Zeke Lewis singled to RF, scoring Hill. UK 2, Milwaukee 0.
 
Top 3rd – Cline reached on an infield hit and scored on Seidel's home run to LF. UK 2, Milwaukee 2.
 
Bottom 3rd – T.J. Collett and Church both hit by a pitch. Hill bounced into a fielder's choice and moved to second on a throwing error. Collett scored on the error. UK 3, Milwaukee 2.
 
Bottom 6th – Church homered to LCF. UK 4, Milwaukee 2.
 
 
NOTES
UK is 78-26 vs. non-conference opponents under head coach Nick Mingione.

The Cats are 67-8 vs. non-Power Five conference opponents.

UK currently has a 10-game winning streak dating to the 2020 season.
The UK pitching staff has 18 consecutive games with seven or more strikeouts, including 15 with 10 or more.
UK allowed just six runs in it's four games during opening week, outscoring its opponents 28-6.
Freshman IF Reuben Church went 4-for-6 in the doubleheader with five runs scored, an RBI, two doubles and his first career home run.

In the three-game series he went 6-for-10 with five of the hits going for extra bases (four doubles, 1 home run).
He leads the team in both runs (five) and RBI (five) on the season.
He slugged 1.300 in his first 10 collegiate ABs.
Sophomore OF John Rhodes went 3-for-6 in the DH with two runs, four RBI, two doubles and a home run.

In the opening game he drilled a three-run home run that gave the Cats the lead for good.
He doubled in his first AB in all three games of the series.
Junior UT Kirk Liebert delivered a hit in his first career plate appearance for the Cats.
Sophomore RHP Zack Lee earned the win in the opener. He pitched 5.2 innings, allowing six hits, two runs and one walk while striking out seven.

Lee set new career-highs in innings, strikeouts and pitches (89).
Senior LHP Mason Hazelwood earned the win in the nightcap. He allowed two runs on four hits and struck out six without walking anyone in his 4.0 innings.
Senior RHP Sean Harney made his UK debut after transferring from Massachusetts.

Harney earned his first save with two dominant innings, striking out five.
 
 
ON DECK
The Cats return to Kentucky Proud Park on Tuesday afternoon vs. Eastern Kentucky to open a five-game week. First pitch is set for 4 p.m. ET. The game will be aired on SECN+. The radio call will be on the UK Sports Network.