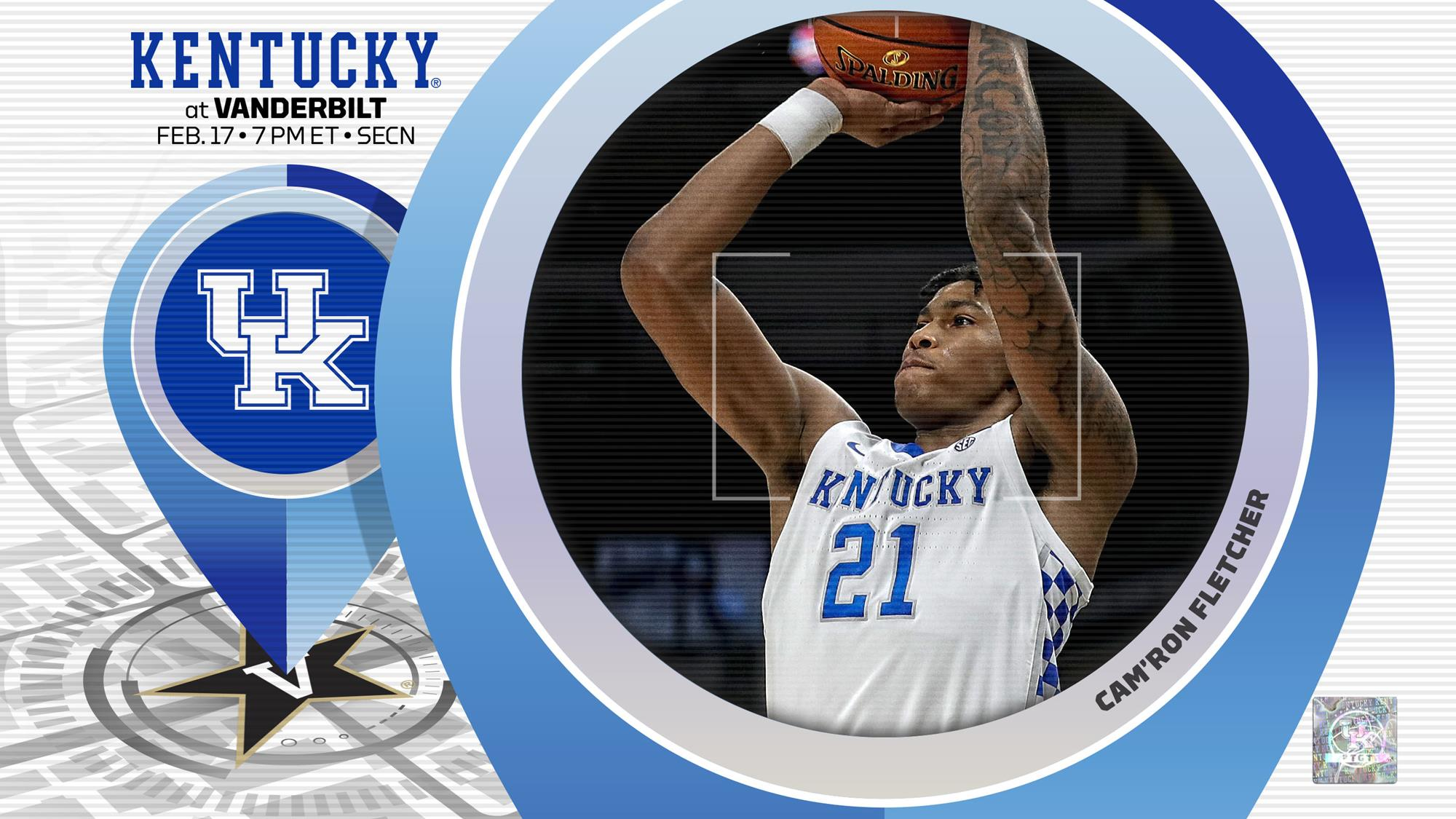 February 16, 2021 - 03:25 PM
Cats Look to Build on Momentum, Facing Vanderbilt
After snapping a four-game losing streak on Saturday, Kentucky looks to make it two wins in a row on Wednesday night at Vanderbilt.
Kentucky (6-13, 5-7 SEC) held off Auburn 82-80 on Saturday at Rupp Arena to win for the first time since Jan. 23. Now, the Cats will look to win back-to-back games for the first time since winning three in a row to start conference play in early January.
Assistant coach Bruiser Flint thinks the Cats are starting to build some momentum.
"I actually told them they had some momentum coming from the Tennessee game," Flint said on Tuesday. "So, we didn't finish it well, but I thought we played better. We did a lot of things that we've been discussing."
And while the end of the Auburn game was not perfect, Flint and the staff were pleased with the outcome.
 
Kentucky at Vanderbilt

Wed., Feb. 17 – 7 p.m. ET
Memorial Gymnasium
Nashville, Tenn.
Game Notes: UK | VU
UK Athletics App

Coverage

TV: SEC Network
Radio: UK Sports Network
Watch
Listen
Live Stats

UK
Stats
VU
6-13
Record
6-10
5-7
Conference Record
2-8
69.2
PPG
73.2
70.6
Opp PPG
72.8
.416
FG%
.435
.409
Opp FG%
.470
38.9
RPG
34.9
.327
3PT FG%
.353
.316
Opp 3PT FG%
.353
11.9
APG
13.5
6.3
SPG
7.2
6.1
BPG
2.7

"I think the guys played a little bit better, although we had our problems at the end of the game," Flint said. "I think our guys didn't think that we were going to lose. They thought we were going to win (against Auburn), so we made some plays at the end of that game that helped us pull out the victory."
Davion Mintz hit the three-pointer with 33 seconds left that put the Cats up for good against Auburn. Mintz knows that Calipari has the confidence in him to take, and make, a big shot like that.
"Coach Cal has an extreme amount of confidence in me," Mintz said. "And sometimes, his confidence is so high that even when I don't feel that I'm open, he feels it."
Mintz also knows that Calipari and his staff are preparing this team to make a late-season run, which they hope will include a strong showing in the SEC Tournament. It's something that Calipari has addressed with the team, according to Mintz.
"Oh yeah, Coach Cal and our coaching staff have been very optimistic," Mintz said. "The faith that they have in us is unbelievable. The spirit is never low. No one is worried about, OK, super down season. OK, how can we still pick up the pieces and try to put this puzzle together? That's been their focus all season. No one is ever pounding our heads, making us lower ourselves because of our current situation. Now, it's like, how can we make a run with what we have and our circumstance? That's what we're trying to do right now."
Now, the Cats must turn their focus to head coach Jerry Stackhouse and his Commodores, who are coming off perhaps their best performance of the season, a 72-51 win at Mississippi State.
When Vandy and Kentucky met at Rupp Arena on Jan. 5, it was Mintz who hit the game-winning three-pointer from the corner to get the Cats in the win column.
Flint knows that the 'Dores will give the Cats everything they've got.
"One, they play really hard. I know they haven't had great results, but those guys really play hard," Flint said. "Some of the other guys other than (Scotty) Pippen have been stepping up a little bit. (Dylan) Disu had a good game against us, and he's been playing better. Maxwell Evans played really well against us. He's been playing pretty good for them."
Three of Kentucky's last four games have been decided by five points or less. Taking that into consideration, along with the teams' first meeting this season, this figures to be a tight game in Nashville on Wednesday.
Cats Snap Skid with Tight Win Over Auburn
On a number of occasions this season, Kentucky has found itself in the lead, or within a possession of the lead, in the second half only to eventually see victory slip away.
Saturday's game against Auburn appeared to be headed down a similar path. After the Cats built a 14-point lead, 63-49, with 10:36 to play, the Tigers began chipping away. Eventually, Auburn would tie the game at 77 apiece with 46 seconds to play on an Allen Flanigan layup.
But this time, things would be different for the Cats. Just 13 seconds after Flanigan's layup, UK's Davion Mintz hit a right-wing 3-pointer to give the Cats an 80-77 advantage. The Cats would play solid defense and hit enough free throws down the stretch to win 82-80, snapping a four-game skid in the process.
UK head coach John Calipari has been looking for someone to step up and hit the big shot for the Cats. He was happy with Mintz being that guy on Saturday.
"The one he made today, those are daggers," Calipari said. "It takes a unique guy, and I'll tell you why: They can't be afraid to miss the shot. That's the one that will make it. Yeah, but the dude that's not afraid to miss, I'll deal with the miss, but I'm shooting this and this is a dagger. Proud of him."
Isaiah Jackson scored a career-high 18 points and added 11 rebounds, Brandon Boston Jr. made five 3-pointers and scored 17 points for Kentucky.
Calipari was happy to see his team's hard work pay off.
"They have to have rewards," Calipari said. "We've been making strides for three weeks, but you've got to have a reward at the end. And so, because all the hard work, all the extra conditioning they are doing, and shots, and then sacrificing for the team, you've got to have some reward, and you've got to win somewhere."
Besides what would have been John Calipari's first five-game slide in his 12 years at Kentucky (6-13, 5-8 SEC), the Wildcats prevented their first-ever three-game losing streak at 45-year-old Rupp Arena. They also denied the Tigers (11-11, 5-8) their first season sweep. The Tigers are 2-50 inside Rupp with their last win there coming in 1988.
Jackson, a freshman, had his first career double-double. He and the team were excited to snap the losing streak.
"It's been a heavy burden lately finishing out close games," Jackson said. "We would be up in games and then just lose the lead. But this game we finally put everything together and we got the win today. So, everyone's really happy and excited about the game."
Keion Brooks Jr. added 12 points for Kentucky, which shot 53% in the second half and made 8 of 13 from the arc after going 3 of 11 from long distance in the first half.
Thor was 5 of 6 on 3-pointers in scoring 24 points with nine rebounds for Auburn. Flanigan added 23 points and Sharife Cooper, averaging 20.2 points per game coming in, finished with 14 points and eight assists but on just 6-of-23 shooting. Cooper, the freshman point guard who sat out the first 11 games, has had his two lowest-scoring games against Kentucky. He scored 11 points in a 66-59 victory on Jan. 16.
Boston and Mintz hit consecutive 3-pointers to give Kentucky its first lead. After Cooper replied with a 3-pointer, the Wildcats went on a 19-6 run that included two more Boston 3-pointers and resulted in a 60-47 bulge. Another Boston 3 made it a 14-point lead midway through the second half.
Kentucky missed its first eight shots with Auburn going up nine midway through the first half before the Wildcats scored seven straight. The Tigers again were up nine after Flanigan scored five consecutive points and led 36-30 at the break.
Both head coaches were called for technicals, Calipari in the first and Bruce Pearl in the second.
Vanderbilt Brings Out the Comeback Cats
Kentucky would rather not play with the proverbial fire of falling behind Vanderbilt and coming back as the Wildcats have done so often in the series' recent history, but there's no denying that the Wildcats have made it a habit of late of breaking the Commodores' hearts.
During the current nine-game winning streak vs. Vanderbilt, UK has rallied from at least a nine-point deficit in six of those games, including five of the last six. It's also worth mentioning that the Wildcats came back from a 22-point hole to win 82-79 at Vanderbilt on Feb. 22, 1997.
Kentucky rallied from a nine-point hole in the team's earlier matchup this season. It also marked the fifth straight season that UK overcame a halftime deficit against Vanderbilt.
Here are the recent comeback victories by Kentucky against Vanderbilt:
• Feb. 11, 2020 – The Wildcats trailed by as much as 14 with 4:43 left in the first half
• Jan. 29, 2020 – UK came back from a 10-point second half hole
• Jan. 12, 2019 – The Wildcats rallied from 12 down in the first half to win
• Jan. 30, 2018 – Kentucky came back from a 14-point deficit for the victory in overtime
• Feb. 28, 2017 – The Wildcats stormed back from a 19-point first-half hole
• Jan. 5, 2021 – Kentucky rallied back from nine points, including a seven-point halftime deficit