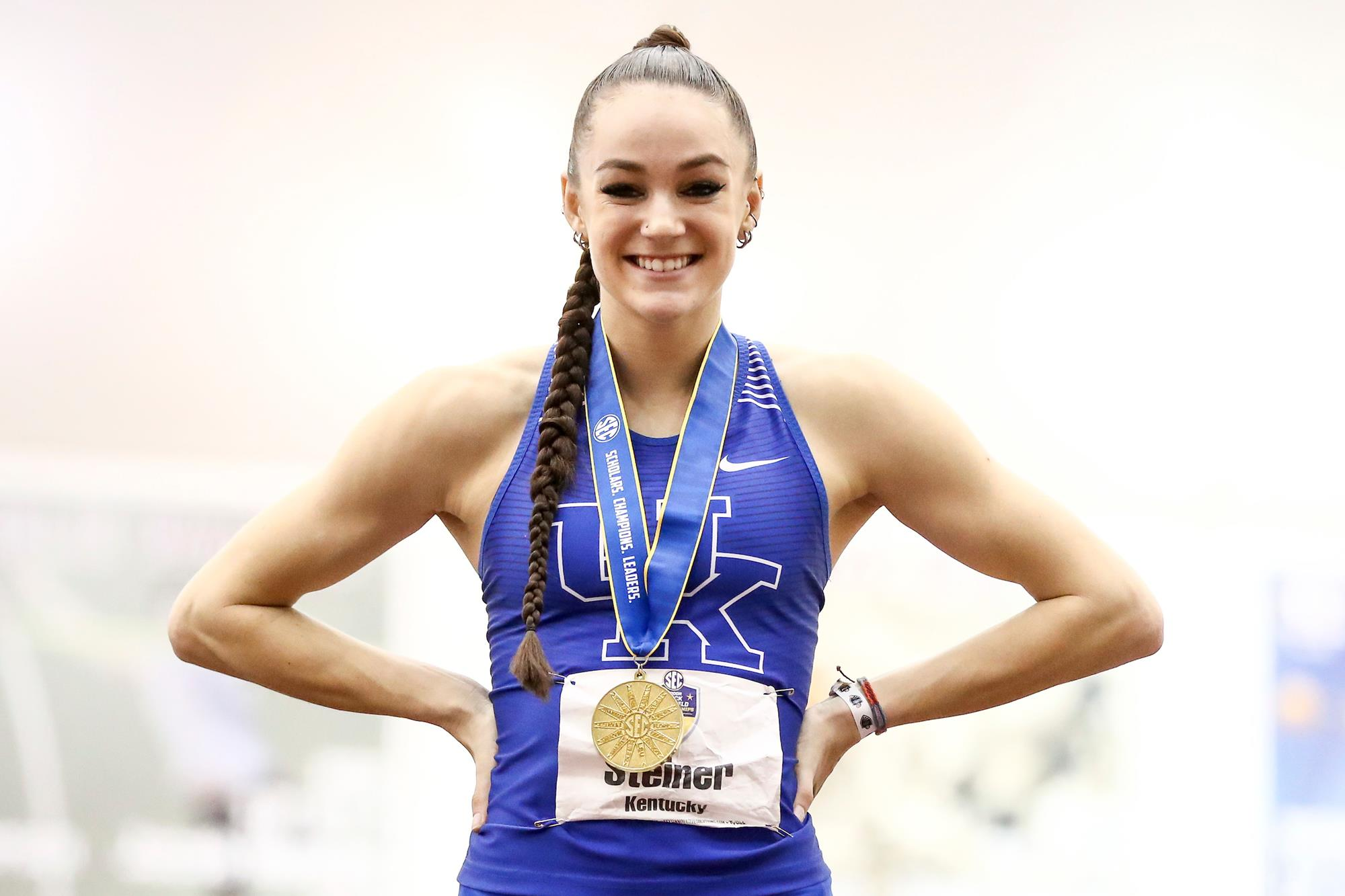 February 10, 2021 - 04:17 PM
Steiner Receiving Votes on The Bowerman Watch List
LEXINGTON, Kentucky – University of Kentucky sprinter Abby Steiner is receiving votes on the Mid-Indoor edition of The Bowerman Watch List, awarded annually to the most outstanding collegiate male and female track and field athlete, announced Wednesday by the United States Track & Field and Cross Country Coaches Association. 
A junior from Dublin, Ohio, Steiner has won five events in the three indoor meets this season.  She is coming off an outstanding weekend at the South Carolina Invitational. 
Steiner swept the sprint double in the 60-meter and 200m dashes and ran a leg on the victorious 4×400-meter relay. Coming into the meet with the nation's best time in the 200, her clocking of 22.69 seconds improved the time further and set the facility record at the South Carolina Indoor Track and Field Complex.  Earlier in the day, Steiner blazed the straightaway with a time of 7.24 seconds to win the 60m. Kentucky capped the day with a win in the 4x400m relay, as Megan Moss, Steiner, Masai Russell and Dajour Miles stormed the oval with a time of 3:32.41. Steiner posted the fastest leg with 51.75 seconds.
For her outstanding performance, Steiner was named Southeastern Conference Co-Female Runner of the Week.
In addition to her nation's best time in the 200, she also holds the SEC's fastest time this year in the 60m, posting a 7.22 at the Wooo Pig Classic on Jan. 22.  She opened the season with two wins at UK's McCravy-Green Invitational on Jan. 15, taking the 200 in 22.83 seconds and as part of the 4×400 relay that timed at 3:35.52. 
The USTFCCA announced a 10-person watch list Thursday and Steiner was among seven additional athletes who are also receiving votes for the watch list.  The Bowerman takes into consideration both the indoor and outdoor seasons and finalists will be announced in June.  Kentucky's most recent finalist was Sydney McLaughlin in 2018.
Steiner and her Wildcat teammates have their final regular-season indoor competition Friday and Saturday.  The Wildcat distance runners will compete in Nashville at the Music City Challenge while the remainder of the squad heads to Clemson's Tiger Paw Invitational. The Wildcats are pointing toward the Southeastern Conference Championships (Feb. 25-27) and the NCAA Championships (March 11-13), both of which will be held at the University of Arkansas.  
Follow along with the Cats on Facebook, Instagram, Twitter and on the web at UKathletics.com.