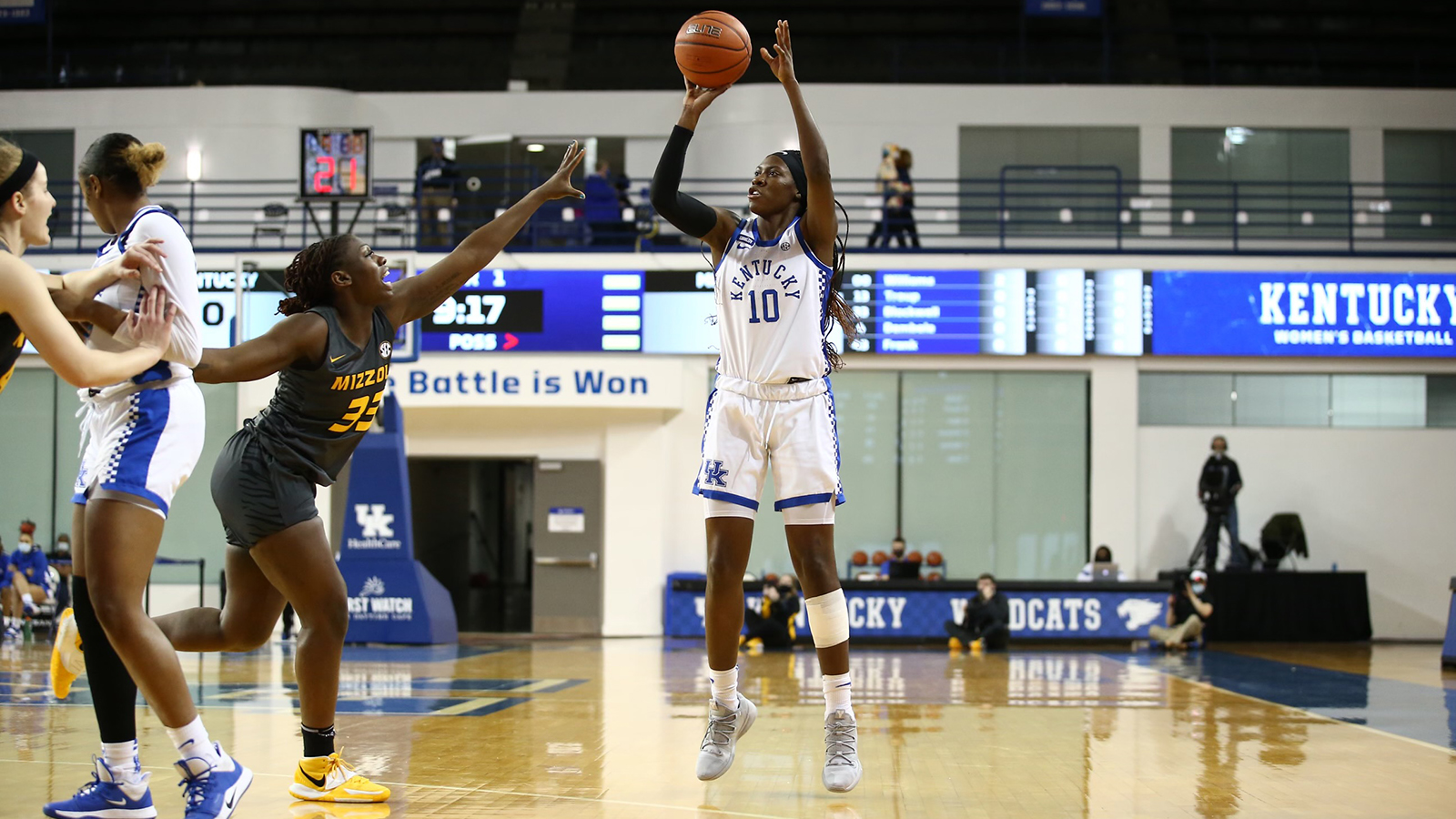 January 31, 2021 - 03:05 PM
No. 15 Kentucky Gets Past Missouri on Sunday
LEXINGTON, Ky. – Rhyne Howard scored 22 points and grabbed 10 rebounds as the 15th-ranked Kentucky women's basketball team held off Missouri 61-55 on Sunday at Memorial Coliseum.
Kentucky (13-4, 6-3 SEC) got 10 points and nine rebounds from Dre'una Edwards and seven points apiece from Robyn Benton and Chasity Patterson.
The Cats made just 22 of 60 (36.7 percent) of their shots in the game, including just three of 13 (23.1 percent) from behind the arc. Meanwhile, Missouri made 20 of 52 (38.5 percent) from the field and just one of 18 (5.6 percent) from behind the arc.
Kentucky's bench came up big in this game, outscoring Missouri's bench 21-6. Kentucky also had a 19-6 advantage in points off turnovers.
Missouri got on the board first via a LaDazhia Williams layup, but Kentucky scored on a Edwards layup and a Blair Green jumper to take an early 4-2 lead.
The game was tied at 2, 4 and 6 before Kentucky got a steal and score from Robyn Benton and a free throw from Howard to lead 9-6 with 3:05 left in the first period. The Cats would get a jumper in the lane from Jazmine Massengill to lead 11-6 but Missouri's Williams scored on a layup to make it 11-8. That was the score after the first quarter.
Just seven seconds into the second quarter, Kentucky extended its lead to five on a Chasity Patterson jump shot. After Missouri cut it to three, Edwards converted a layup to give UK a 15-10 lead.
Missouri would score the next four to cut the UK lead to one, but the Cats answered with baskets from Olivia Owens and Howard to extend the lead to 19-14 with 4:57 to play in the half. Missouri would cut it to 19-16 but Kentucky would close the first half on a 9-2 run to take a 28-18 lead into the break. Kentucky hit just 12 of 32 (37.5 percent) of its shots in the first half, but Missouri made only eight of 28 (28.6 percent) of its field goal attempts.
Kentucky got the second-half scoring started on a three from KeKe McKinney. But Missouri answered by scoring the next six points, all by Williams, to cut the UK lead to 31-24 with 6:56 left in the third quarter. The Cats answered on a layup and subsequent free throw from Howard to lead 34-24 with 6:41 to play in the third.
Later in the third, Howard would convert another old fashioned three-point play to give the Cats a 39-29 lead with 3:47 left in the period. But Missouri mounted a run, outscoring Kentucky 10-3 the rest of the way to cut UK's lead to 42-39 with one quarter to play.
Early in the fourth quarter, Missouri got a pair of free throws from Williams to get within one, 42-41. Kentucky responded with a Benton runner, the first two points in a 6-1 run that gave the Cats a 48-42 lead with 6:40 to play.
After Kentucky took a 50-44 lead on a Patterson layup with 6:03 left, Missouri scored eight in a row, including five straight by Hayley Frank, to lead 52-50 with 3:56 left. Missouri would add an Aijha Blackwell free throw with 3:23 to play to lead 53-50. Kentucky got a pair of Edwards free throws with 3:00 left to cut the lead to 53-52. Then Edwards gave the Cats the lead back on a putback with 2:07 remaining.
Missouri's Williams missed a pair of free throws with 1:43 to play and Howard followed by making a pair of charity tosses with 1:29 to go. Kentucky led 56-53 at that point. But Williams responded with a spinning layup with 1:07 to play, cutting the UK lead to 56-55.
UK's Patterson was fouled with 35.5 seconds left and she made the second of two free throws to give the Cats a 57-55 lead. After Missouri failed to score, Kentucky called timeout to advance the ball into the front court. After the timeout, McKinney was fouled and she nailed both free throws to extend the UK lead to 59-55 with 15.7 seconds to play.
The Kentucky defense stood tall again on the next Missouri possession, holding the Tigers at bay. Missouri's Haley Troup would miss a shot in the lane and Howard would end up with the ball. She was fouled with 0.3 seconds left and she made both free throws to complete the scoring.
Kentucky returns to action on Thursday night, visiting Oxford, Mississippi, to take on Ole Miss. Tipoff is set for 7 p.m. ET and the game can be seen on SEC Network Plus.