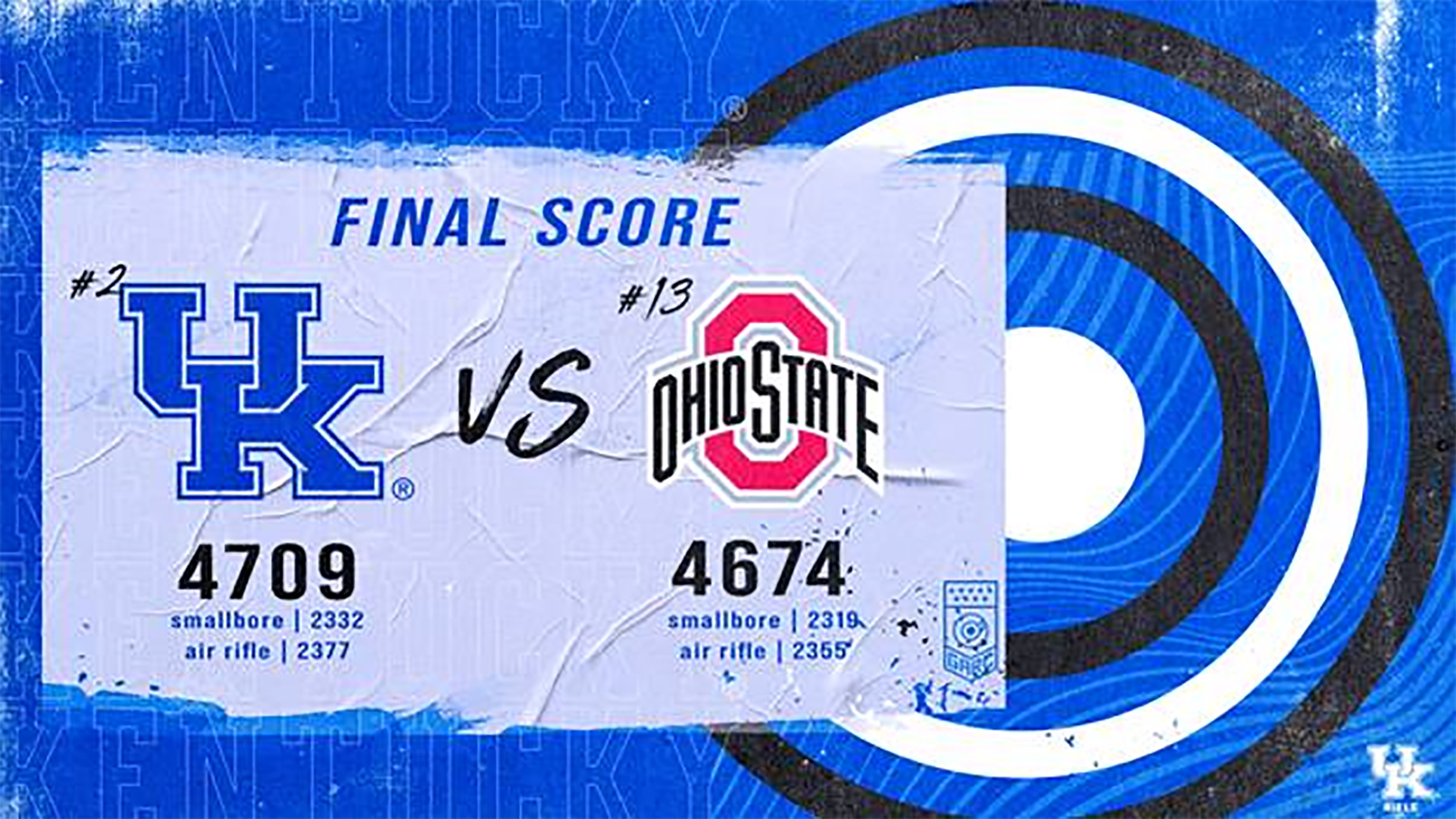 LEXINGTON, Ky. – Completing a challenging stretch of competition, the No. 2-ranked Kentucky rifle team won its fourth-straight match Sunday with a 4709-4674 decision at No. 13 Ohio State, completing a pair of back-to-back weekends with home-and-away victories.
 
UK opened Sunday's event with a score of 2332 in smallbore and held a 13-point lead over the Buckeyes at the conclusion of that discipline.  Among all competitors, sophomore Mary Tucker and junior Will Shaner were first and second with scores of 588 and 587, respectively. Senior Hailee Sigmon was the next Wildcat at 579, followed by junior Richard Clark (578) and sophomore Jaden Thompson (574).
 
UK lengthened its lead in air rifle, 2377-2355.  Along with Tucker and Shaner, who led all shooters with 597 and 596, Thompson tallied 594, Clark had a 590, and Sigmon went for 588. Tucker earned the day's aggregate honor with a total of 1185 and Shaner was second at 1183.
 
Sunday was one of the most challenging days of the season.  Staying in Lexington Saturday night, the Cats had an early morning wake-up and a three-hour bus ride before the match, which was held at the Lt. Hugh W. Wylie Range at Converse Hall.  The Wylie Range also will be the site of the 2021 NCAA Championships in March.
 
Kentucky improved to 12-1 on the year.  Along with last weekend's victories over then-No. 8 Nebraska and then-No. 9 Murray State, and Saturday's home win over No. 8 Memphis, the Wildcats have won four in a row against opponents ranked in the top 13 at the time of the match. 
 
"The match accomplished its mission. It was designed to illuminate certain things and it did," Coach Harry Mullins said. "We knew this (last two weekends) was going to be a grind. This group embraced it, took it with a grain of salt, and did well with the challenge. I would have loved bigger numbers (vs. Memphis and Ohio State), as they put themselves in precarious positions and had to recover, but excited for the way they battled." 
 
Wildcat reserves shot alongside today's starters for additional match experience.  Mitchell Nelson scored 583 in smallbore and 584 in air rifle for an aggregate of 1167. Emmie Sellers posted 569 and 590 for a total of 1159. Mason Hamilton shot smallbore only and had 575. Mason Joachim competed in air rifle and notched 572.
 
"Mary and Will shot well," Mullins said. "Jaden shot a 594 (in air rifle) and Mitchell was over 580 again in smallbore, so we have some good things to take home."
 
Having competed four times in the last 10 days, the team will have a week off from competition before completing the regular season Saturday, February 13, at home vs. West Virginia.
 
"We've drained the battery and need to get recharged," Mullins said.
 
For more information on the Kentucky rifle team, visit UKathletics.com or follow UKRifle on Twitter, Instagram and Facebook.