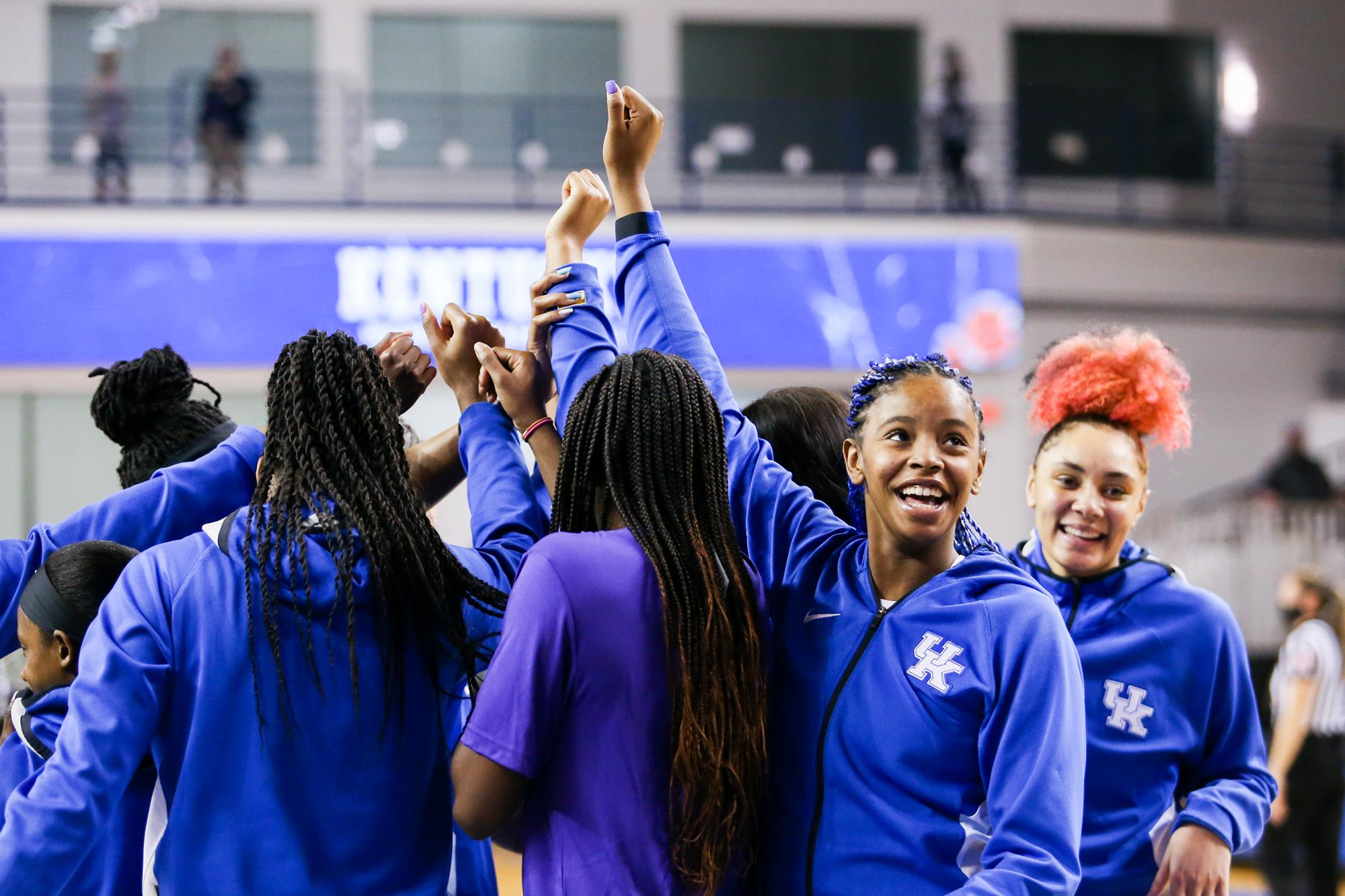 January 30, 2021 - 10:02 AM
No. 15 Kentucky Hosts Missouri In Memorial Coliseum Sunday
LEXINGTON, Ky. – The No. 15 University of Kentucky women's basketball team will host Missouri on Sunday, Jan. 31, for a 1 p.m. ET tip inside Memorial Coliseum. The game will be televised on the SEC Network with Paul Sunderland and Andraya Carter on the call.                   
 
The action can also be seen through WatchESPN on computers, smartphones or tablets. Darren Headrick will have the call on the UK Sports Network on 630AM WLAP in Lexington. Live stats and free live audio will be available online at UKathletics.com.
 
Kentucky is 12-4 this season, including a 5-3 in the Southeastern Conference. After losing on the road at No. 25 Tennessee, 70-53, on Sunday, Jan. 24, Kentucky needed a confidence booster and its last performance against Alabama on Thursday, Jan. 28 may have done just that. Kentucky shot 52.6 percent from the field, its second-highest percentage of the season, and 55.6 percent from long range (10-of-18 3FG), its best percentage of the season. UK tied its season high for assists with 23, and after struggling on the backboards at Tennessee, Kentucky rebounded with a 37-26 edge on the glass.
 
Three Wildcats are averaging double figures this season in Rhyne Howard, Dre'una Edwards and Chasity Patterson. Howard is averaging 19.1 points per game with 6.7 rebounds per game, hitting a team-best 31 3-pointers. Edwards is averaging 11.8 points per game on 51.7 percent
from the field, adding 7.1 rebounds per game. Patterson leads the nation with 61 steals, while she averages 12.9 points per game. Patterson has 55 assists, while Howard has 49 assists.
 
In league play, Howard is averaging 22.1 points per game, 7.0 rebounds per game and hitting 48.7 percent from the field with 30 assists and 10 steals. She ranks fourth in the SEC in 3-point field-goals made and fifth in the SEC in points per game overall.
 
Kentucky leads the all-time series with Missouri, 8-4. The Wildcats have never lost to the Tigers in Lexington, owning an unblemished 5-0 mark over the foe inside Memorial Coliseum.
 
Missouri is 6-5 overall, owning a 2-4 mark in the league. The Tigers are coming off a 61-58 win at Florida, despite only competing with seven players. Aijha Blackwell scored 14 points, rallied 16 rebounds and a block, while Ladazhia Williams scored 16 points, collected eight rebounds and five blocks.
 
Blackwell is averaging a double-double through the conference schedule on 14.9 points per game and 12.5 rebounds per game. Williams closely follows in the scoring category, adding 14.3 points per game and 4.5 rebounds per game. Thee Tigers are averaging double figures through the conference schedule, as Hayley Frank has is contributing about 12.2 points per game.
 
Kentucky has won two of the last three battles with Missouri (Jan. 24, 2019 at home and
Jan. 29, 2020 at Mizzou). Sandwiched in between those two wins, Kentucky last lost to Missouri in the 2019 SEC Tournament quarterfinals, 70-68 in overtime. In the last meeting between the two programs, UK won on the road at Mizzou, 62-47, on Jan. 30, 2020. It marked Rhyne Howard's first game out that season with a fractured finger.
 
For more information on the Kentucky women's basketball team, visit UKathletics.com or follow @KentuckyWBB on Twitter, Instagram and Facebook.