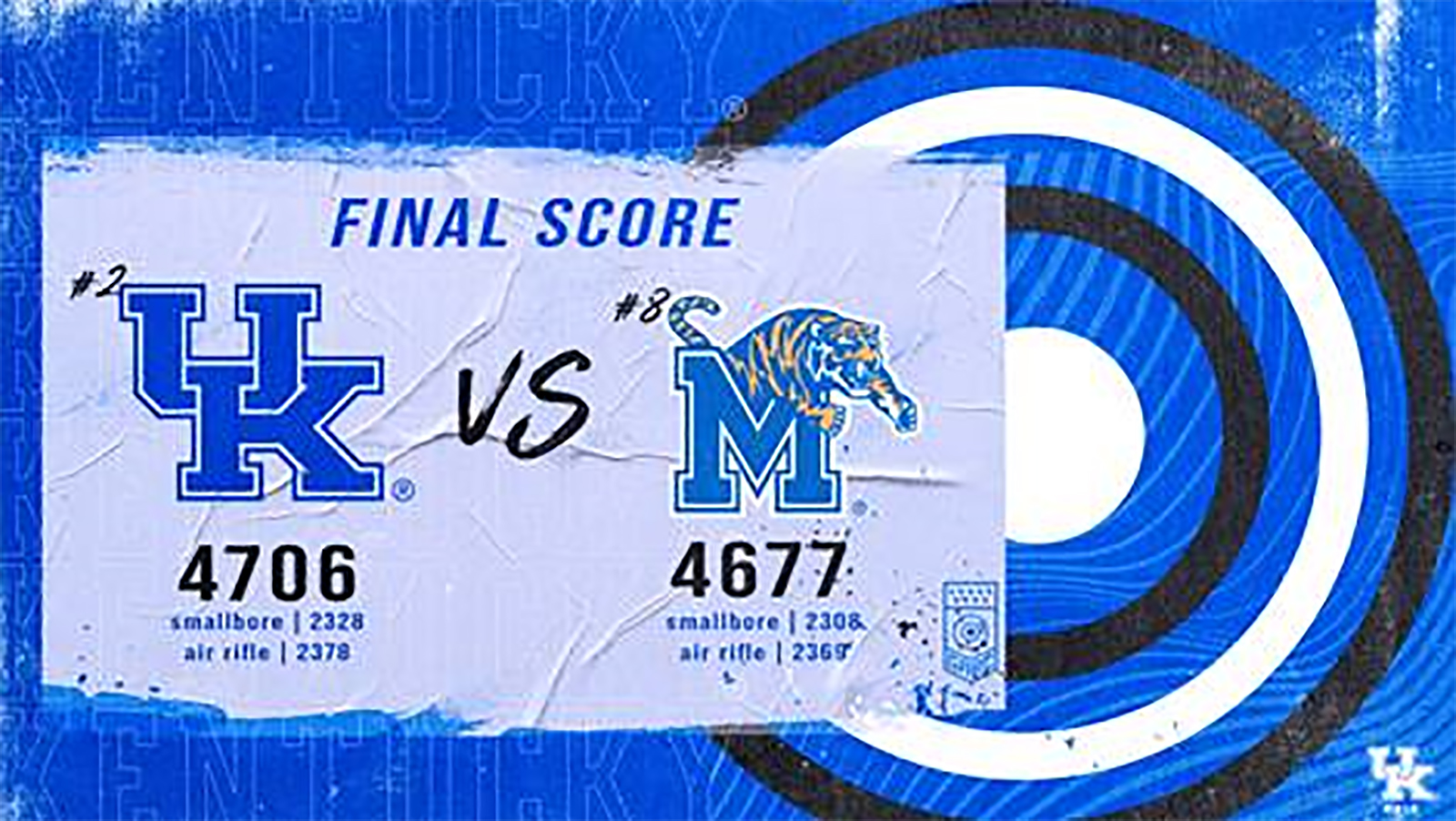 LEXINGTON, Ky. – The No. 2-ranked Kentucky rifle team notched its third-straight win over a top-10 opponent Saturday with a 4706 to 4677 victory over No. 8 Memphis at Barker Hall.
 
Kentucky was led by sophomore Mary Tucker and junior Will Shaner, who led all shooters in both smallbore and air rifle.  Tucker shot 594 and 598 for an aggregate of 1192 while Shaner posted 586 and 587 for an 1183 aggregate.
 
UK opened the day with a score of 2328 in smallbore and held a 20-point lead over the Tigers at the conclusion of the first discipline.  In addition to Tucker and Shaner, junior Richard Clark checked in at 577, followed by senior Hailee Sigmon at 571 and sophomore Jaden Thompson at 570.
 
UK had a close win in air rifle, 2378-2369.  Along with Tucker and Shaner, Thompson tallied 593, Clark had a 590, and Sigmon went for 587.
 
Despite posting its lowest team score of the season, Kentucky improved to 11-1 on the year.  Along with last weekend's victories over then-No. 8 Nebraska and then-No. 9 Murray State, the Wildcats have won three in a row against opponents ranked in the top 10 at the time of the match. 
 
"I'm not excited about the team number but am excited about the work we gave," Coach Harry Mullins said.  "We struggled early, came out a little flat and pushed way too hard to try to recover.
 
"A few years ago, 4706 would have been a pretty good score, and that shows how much our sport has improved. I'm disappointed in that we had a good week of training and we didn't see that today. The great thing is the opportunity to do it again tomorrow and hopefully it will show then."
 
Following the Memphis match, the Wildcats will remain in Lexington before a three-hour bus trip to Columbus early Sunday morning.
 
"It's not the best situation, but staying at home Saturday night is good for Covid precautions," Mullins said. "I'm concerned about a long bus ride immediately before the (Sunday) match but we will take Coach Wood (strength and conditioning coach Steven Wood) to stretch them while we're on the way."
 
Ohio State and Kentucky will compete at the Lt. Hugh W. Wylie Range at Converse Hall, which also will be the site of the 2021 NCAA Championships in March. This will be the first time this season that UK and Ohio State have met. 
 
For more information on the Kentucky rifle team, visit UKathletics.com or follow UKRifle on Twitter, Instagram and Facebook.