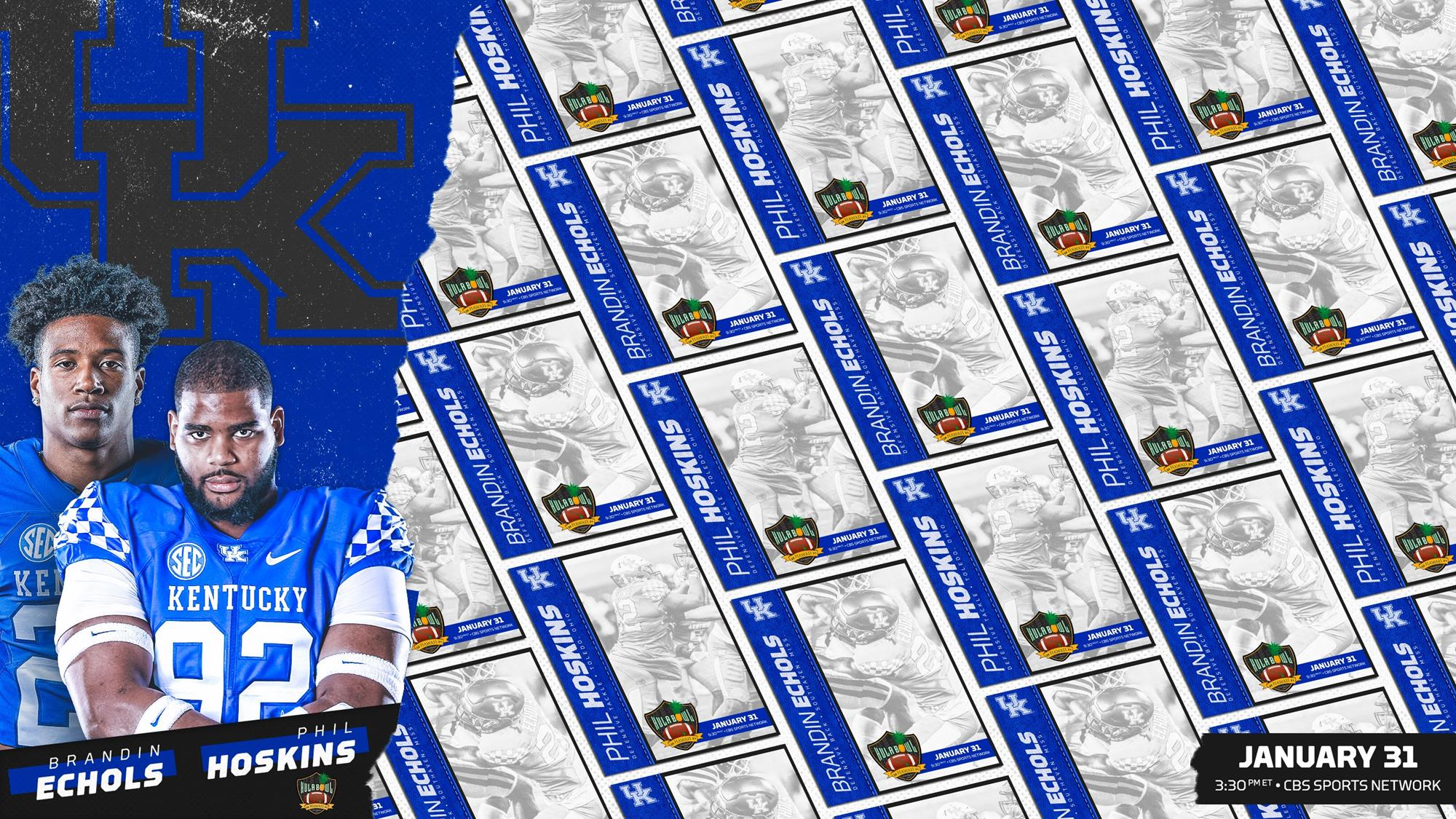 University of Kentucky senior defensive back Brandin Echols and senior defensive tackle Phil Hoskins have accepted invitations to play in the 2021 All-Star Hula Bowl Classic Sunday, Jan. 31 in Honolulu, Hawaii at Aloha Stadium. Kickoff is at 4:30 p.m. HST / 9:30 p.m. EST on the CBS Sports Network.
 
Echols, of Southaven, Mississippi, transferred to Kentucky in 2019 from Northwest Mississippi Community College and made an immediate impact. In two seasons at Kentucky, he played in 24 career games, starting in 22 straight. He totaled 108 tackles, 11 pass breakups, 4.5 tackles for loss, two forced fumbles and an interception, helping the Wildcats advance and win the Belk Bowl (2019) and the TaxSlayer Gator Bowl (2020).
 
In 2020, he ranked fourth on the team in tackles with 54, while also adding 2.0 TFL, two PBU and his first career interception in the win over NC State in the Gator Bowl.
 
Echols graduated in December of 2020 with a degree in community and leadership development. As a junior in 2019, he was a member of the SEC Fall Academic Honor Roll, the First-Year SEC Academic Honor Roll and the Dean's List.
 
Hoskins, a native of Toledo, Ohio, came to Kentucky in 2017 after playing one season at Highland Community College (Kansas). He saw action in 31 career games with 11 starting assignments, all coming in the 2020 season. Overall, he totaled 53 tackles, 7.5 TFL, 4.0 sacks, seven quarterback hurries, one interception, one forced fumble and one fumble recovery for the Wildcats.
 
After missing the 2019 season due to injury, Hoskins received a 6th-year extension waiver to play in 2020. He made the most of his waiver, setting his season-high with 30 tackles, 4.0 TFL, a team-high-tying five QBH and an interception. Hoskins earned his first SEC Defensive Lineman of the Week award following UK's win over South Carolina on Senior Night. On the first possession of the game, on third-and-5, his two-yard TFL forced a field goal that was missed by the Gamecocks. He added four tackles and a quarterback hurry, with his QBH in a series that ended in a punt.
 
Hoskins earned a degree in community leadership and development in May of 2020.
 
The Hula Bowl was established in 1946 as the Hula Bowl All-Star Football Classic game. The top 100 college football players are selected from across the United States, as well as Australia, Japan and Canada. Football players are given the opportunity to perform and impress all 32 NFL scouts and player personnel with their abilities. The football players will have the opportunity to compete with the top college players in the nation at the legendary Aloha Stadium. This All-Star game remains one of the longest-running college football all-star games today. This is the first time the Hula Bowl will be played since 2008. 
 
This year's game will be coached by former NFL coaches Rex Ryan (Team Kai) and Mike Singletary (Team AINA).