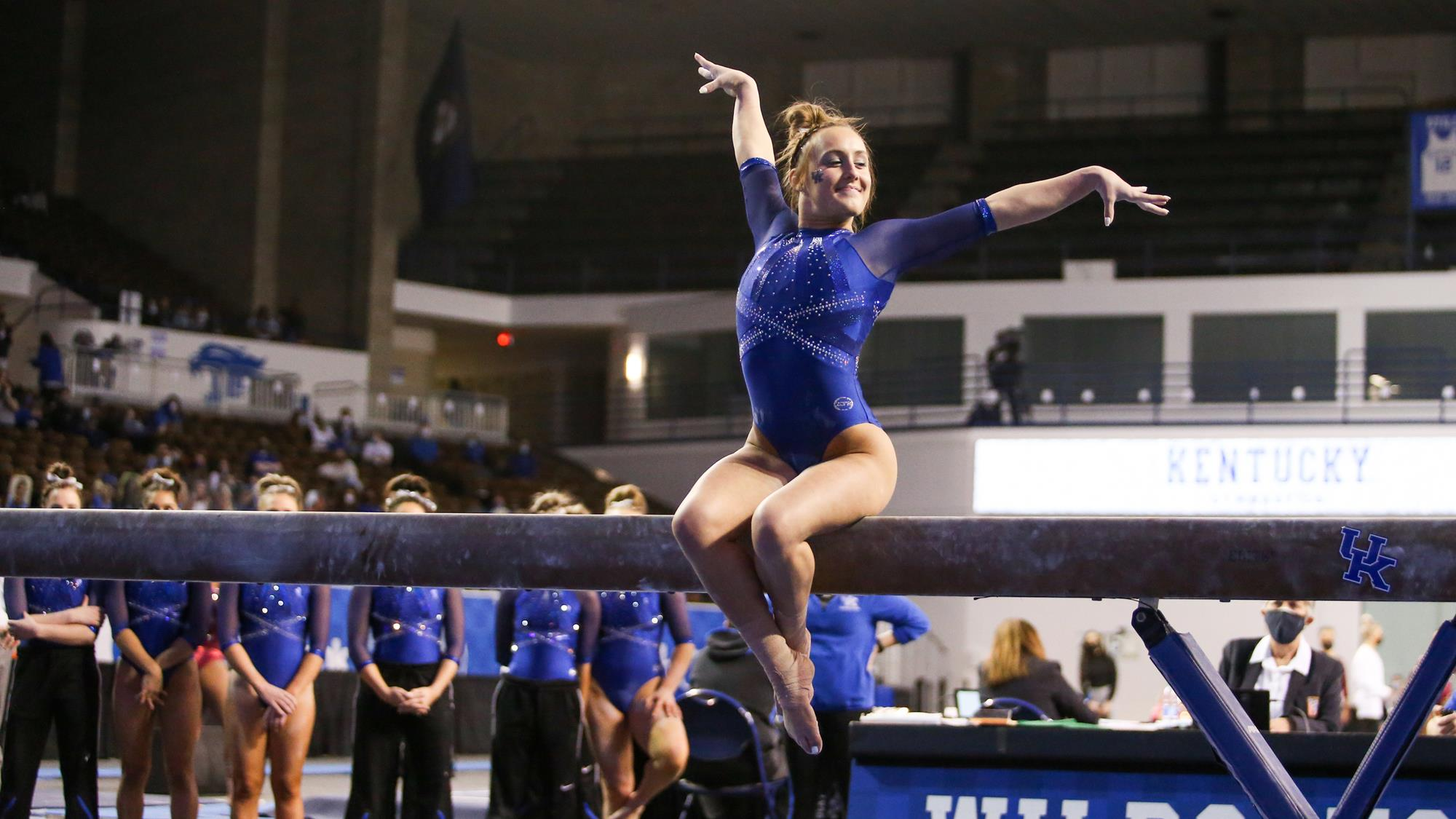 January 29, 2021 - 11:43 PM
Worley, Nixon Shine in Cats' Season-High Performance
LEXINGTON, Ky. – Kentucky sophomore Raena Worley and junior Cally Nixon continued their respective hot starts to the season, leading the 14th-ranked Wildcats (2-2, 2-1 Southeastern Conference) to a season-high performance in a 196.775-196.400 loss to the No. 8 Alabama Crimson Tide (4-0, 3-0 SEC) on Friday at Memorial Coliseum.
 
Nixon continued her season-long reign as vault queen with a fourth consecutive outright first-place finish on the event, while Worley earned both her third straight all-around crown and second floor exercise title in a row.
 
As a team, the Wildcats surpassed the 49-point threshold on every event for the first time this season, producing season highs on balance beam and floor.
 
Kentucky outscored the Crimson Tide—who exceeded 49.000 on just three events—on half of the apparatuses but could not close the gap Alabama created after its first rotation.
 
"We gave up a lot a little at a time, and we can't expect to beat a top-10 team making those types of mistakes throughout the meet," said head coach Tim Garrison. "In short, we need to hit routines from start to finish—not just get through them. We did too much 'getting through' tonight."
 
The evening began with a 49.025 vault rotation, wherein sophomore Raina Albores made her career debut on the event with a 9.700 from the second spot. The next three performers each outscored the last, starting with a 9.800 from freshman Isabella Magnelli, followed by a career-high 9.975 from Worley and capped off by a 9.900 from Nixon, who was awarded the fifth vault title of her career.
 
Alabama jumped ahead by way of a 49.425 rotation on uneven parallel bars that would not be matched by either team for the rest of the competition.
 
When the Cats were afforded their turn on bars, freshman Bailey Bunn led off with a season-high 9.775. Worley provided Kentucky's best score on the event with a career-high 9.900, while sophomore Shealyn Luksik matched her career high for the third time this season and fifth time overall at 9.875.
 
The Tide led 98.350-98.100 with two events remaining.
 
Kentucky bounced back from its early-season struggles on beam, led off by a career-high 9.800 from junior Anna Haigis. Immediately after, Magnelli matched the output for a season high of her own. The Wildcats bookended the go-round with back-to-back 9.825s from Worley and anchor Josie Angeny.
 
With an additional 49.025, Kentucky trailed Bama 147.600-147.125 heading into the final event.
 
The Cats shined on floor, first with Bunn equaling a season-high 9.875 at the top of the rotation. Angeny secured a career-high 9.875 from the No. 4 position, while Worley outscored all performers with a career-high-tying 9.950 in the final routine of the evening. Kentucky totaled 49.275 as a unit.
 
Worley finished with a career-high all-around score of 39.550. Bunn's season-high all-around total of 39.125 was Kentucky's next best, good enough for third overall.
 
"There were definitely some great individual performances, and we're adding difficulty as we progress through the season," said Garrison. "That will pay off once our execution catches up."
 
The Wildcats are scheduled for their first bye of the season next week, returning to action on Friday, Feb. 12, for a home matchup with No. 6 Arkansas (1-3, 1-2 SEC) at 7 p.m. ET.
 
Fans may purchase tickets to 2021 Kentucky gymnastics home meets via Ticketmaster. To purchase a fan cutout of a person or pet, visit UKAthletics.com/FanCutouts. For the latest on the Kentucky gymnastics team, follow @UKGymnastics on Twitter, Facebook and Instagram, as well as on the web at UKAthletics.com.