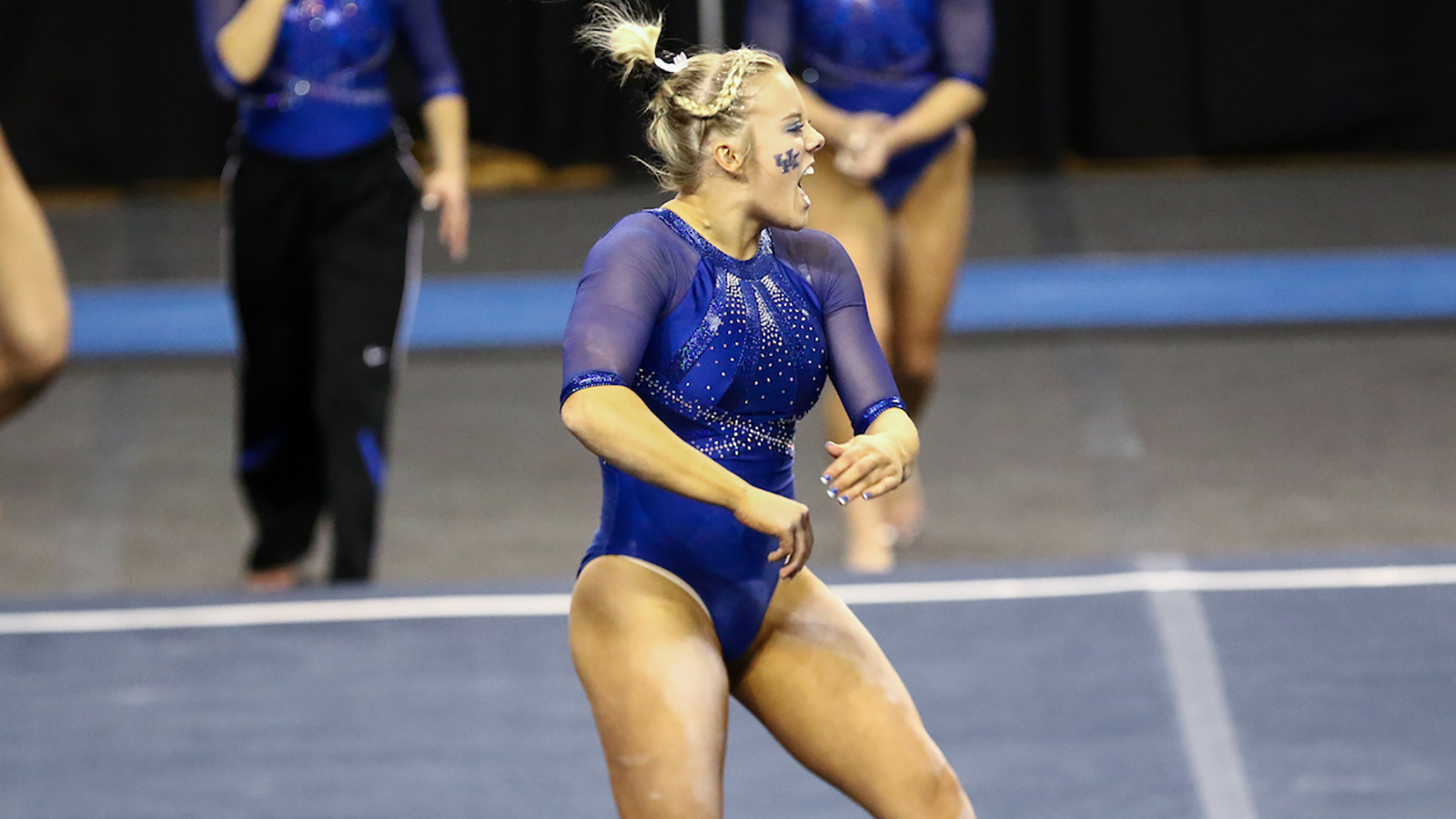 January 29, 2021 - 10:08 PM
Bunn Making Early Impact for UK Gymnastics
Kentucky gymnastics freshman Bailey Bunn had high hopes for herself and her gymnastics career when she arrived in Lexington. And it only took three meets for her to meet one of those goals, although it didn't happen exactly the way it imagined.
Prior to last week's meet against Missouri, Bunn knew she would be competing on the vault and the floor and likely on the bars. Then, fate intervened.
One of her teammates wasn't feeling well and was unable to compete on the balance beam. And that's when Bunn was called into action.
"I didn't even get to warm up," Bunn said. "I had like two minutes to get my mental state together and I went over and did a 30-second touch and was ready to go after that. And it felt so good to compete on beam."
With very little time to prepare, Bunn performed an outstanding routine, scoring a 9.825. And, with her insertion into the beam lineup, Bunn also ended up being one of Kentucky's three all-around performers as the Cats topped Missouri. Bunn scored 39.075 in her first career all-around performance.
As Kentucky returned home to face Alabama on Friday night, there was no doubt that Bunn would be in the lineup in all four rotations. And she was prepared for the opportunity.
"Yeah, it definitely felt different because I knew at the beginning that I was going to be doing all-around," Bunn said. "And I was more confident on bars and beam because I knew I had hit last week. I just wanted to do as good as I could do."
Bunn and the Cats started on the vault, where she scored a 9.750. Then on the bars, Bunn set a new career high score with a 9.775.
On UK's third rotation, Bunn's beam score was a little lower than last week, but still solid at 9.725. And she finished her evening by tying her career high on the floor with a 9.875. That gave her a career-high 39.125 in the all-around, which was third in Friday's meet. Bunn helped the Cats to a season-high score of 196.400.
Bunn is excited that she's already reaching one of her career goals.
"My whole life, I've always wanted to be an all-around collegiate athlete," Bunn said. "I didn't just come here to do gymnastics, I came here to be an all-arounder. And that's what I pushed for all of the preseason"
Bunn has a pair of teammates, Josie Angeny and Reana Worley, who have helped guide her during her first collegiate season.
"I have Josie and Raena Worley to really look up to," Bunn said. "They've really taken me under their wing and shown me the ways."
And what are the things that Angeny and Worley have taught Bunn?
"Josie and Worls have both been like, calm down, you've got this, you do this in practice, you're prepared," Bunn said. "I also had to learn that this is not for myself, it's for the team. Everything I do is for the team. And that was different because I never really had a team. I came from a really small town and I was the only level 10 gymnast. So it felt really good to come here and rely on my team and have them rely on me."
The Greenville, North Carolina, native has realized that her hard work is already paying off, but she's also looking forward.
"I'm really proud of myself because I've worked so hard for this," Bunn said. "I know I can do better than I've already been doing. I just can't wait to see what's next."
Bunn knows that she's living the dream of many young ladies across the country and she appreciates that.
"I'm going to strive to get better each time," Bunn said. "And just have fun out there, honestly because this is my dream. I'm just living the dream, I love it and I can't wait to compete next."
Bunn has a lot of competing ahead of her during her UK career. She's shown great promise already and will just continue to get better as she gains more experience.