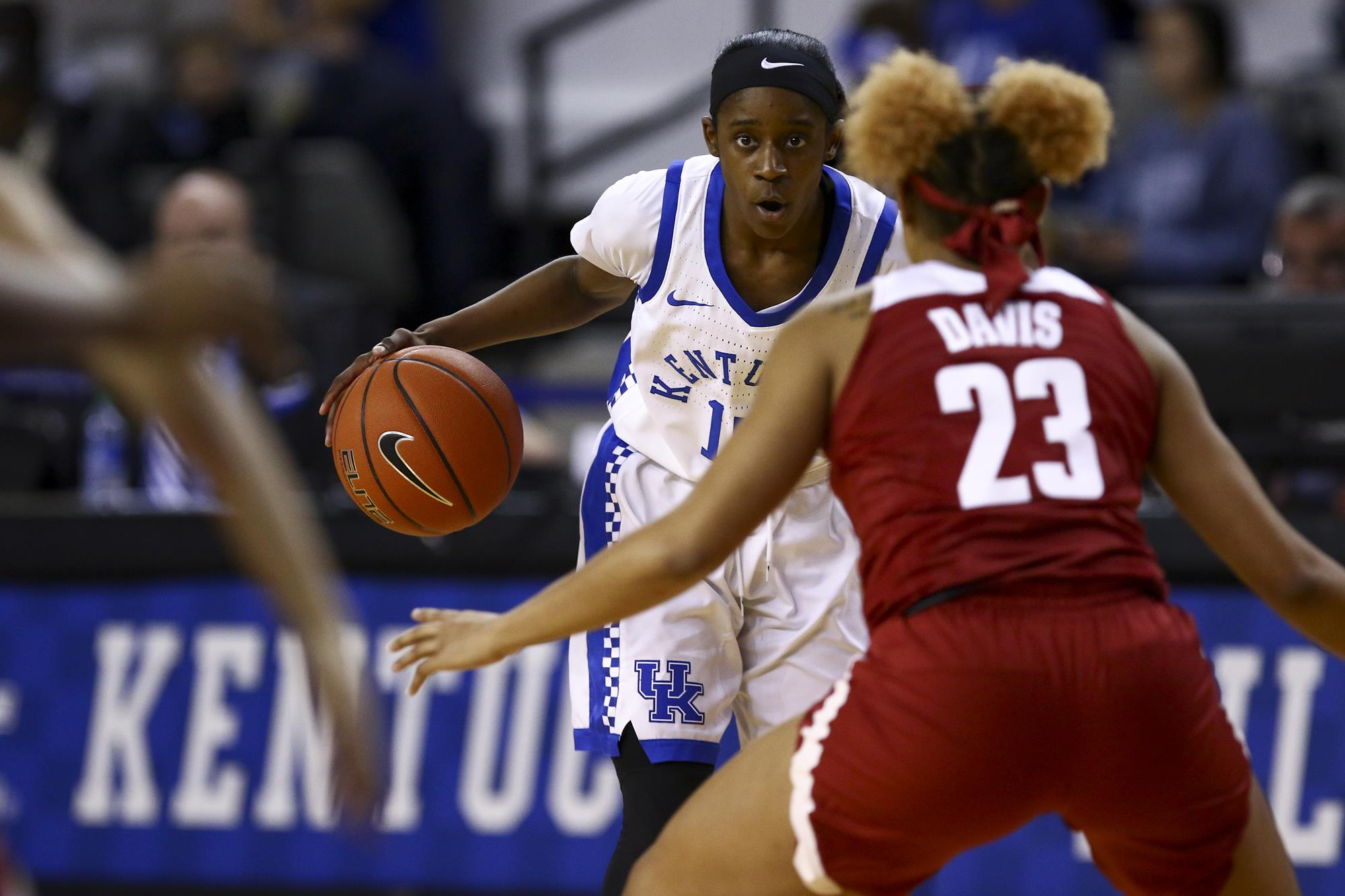 January 27, 2021 - 10:33 AM
No. 15 Kentucky Hosts Alabama Thursday in Rupp Arena
LEXINGTON, Ky. – The No. 15 University of Kentucky women's basketball team will host Alabama on Thursday, Jan. 28, for a 6:30 p.m. ET tip inside Rupp Arena. The game will be televised on the SEC Network with Christy Thomaskutty and Roy Philpott on the call.                        
 
The matchup marks the first of two games the program will host at the downtown venue this season, with the second appearance happening on Thursday, Feb. 11 against Tennessee. Kentucky is 28-19 (.595) all-time in Rupp Arena.
 
The action can also be seen through WatchESPN on computers, smartphones or tablets. Darren Headrick will have the call on the UK Sports Network on 630AM WLAP in Lexington. Live stats and free live audio will be available online at UKathletics.com.
 
Kentucky is 11-4 this season, including a 4-3 in the Southeastern Conference. The Wildcats are coming off a 70-53 loss at No. 25 Tennessee, snapping a three-game win streak over the border foe. Chasity Patterson scored a team-high 15 points, five steals and four assists. Rhyne Howard followed close behind, adding 14 points, three rebounds and three steals.
 
Patterson's defensive effort this season continues to shine, as the guard was selected to the 2020-21 Naismith Women's Defensive Player of the Year Watch List on Tuesday morning. She leads the nation with 60 steals, nine more steals than the second most and 15 more steals than the third most. She is also averaging 10.4 points per game and 2.7 rebounds per game, while dishing out a team-leading 29 assists, through seven league games this season.
 
Howard leads the team with 23.2 points per game and 6.8 rebounds per game in conference action. Overall this season, the junior is shooting 36.7 from the long range, ranking fifth in the SEC. Blair Green is growing in confidence as the schedule progresses, averaging 9.0 points per game in the league on 54.8 percent shooting in the league, while she's hit 10-of-19 3-pointers in the league.
 
The Wildcats lead the Crimson Tide in the all-time series, 33-17, and in Lexington, 15-6. Kentucky has won the last 18 of 20 meetings, including the last nine straight games
 
Alabama sports 12-2 overall record, recording a 5-2 mark in the league. The program's two losses this season include No. 5 South Carolina (77-60) and No. 23 Tennessee (82-56). In the Crimson Tide's last time out, they defeated Auburn at home, 67-55. Just five players scored for the team, as Jordan Lewis and Ariyah Copeland recorded 19 point apiece and Jasmine Walker added 17 points and nine rebounds.
 
Walker leads the team in scoring and rebounds this season, averaging 19.6 points per game and 10.1 rebounds per game. Complimenting her scoring efforts, Lewis is averaging 17.1 points per game and Copeland is averaging 15.0 points per game. In conference action, Alabama is shooting about 70.0 points per game, holding its opponents to 66.7 points per game. The team is committing 15.9 turnovers per game, forcing 13.1 themselves.
 
The Wildcats defeated the Crimson Tide twice last season. In their first meeting, Kentucky defeated Alabama in an 81-71 final score in Tuscaloosa, Alabama, on Jan. 9, 2020. Howard scored a program-record tying 43 points on 14-of-21 shooting and 7-of-11 from long range, adding six rebounds and five steals. The two teams met again on Feb. 6, 2020, when UK defeated UA in Memorial Coliseum, 66-62. Sabrina Haines led the team with 14 points, six rebounds and four assists.
 
For more information on the Kentucky women's basketball team, visit UKathletics.com or follow @KentuckyWBB on Twitter, Instagram and Facebook.