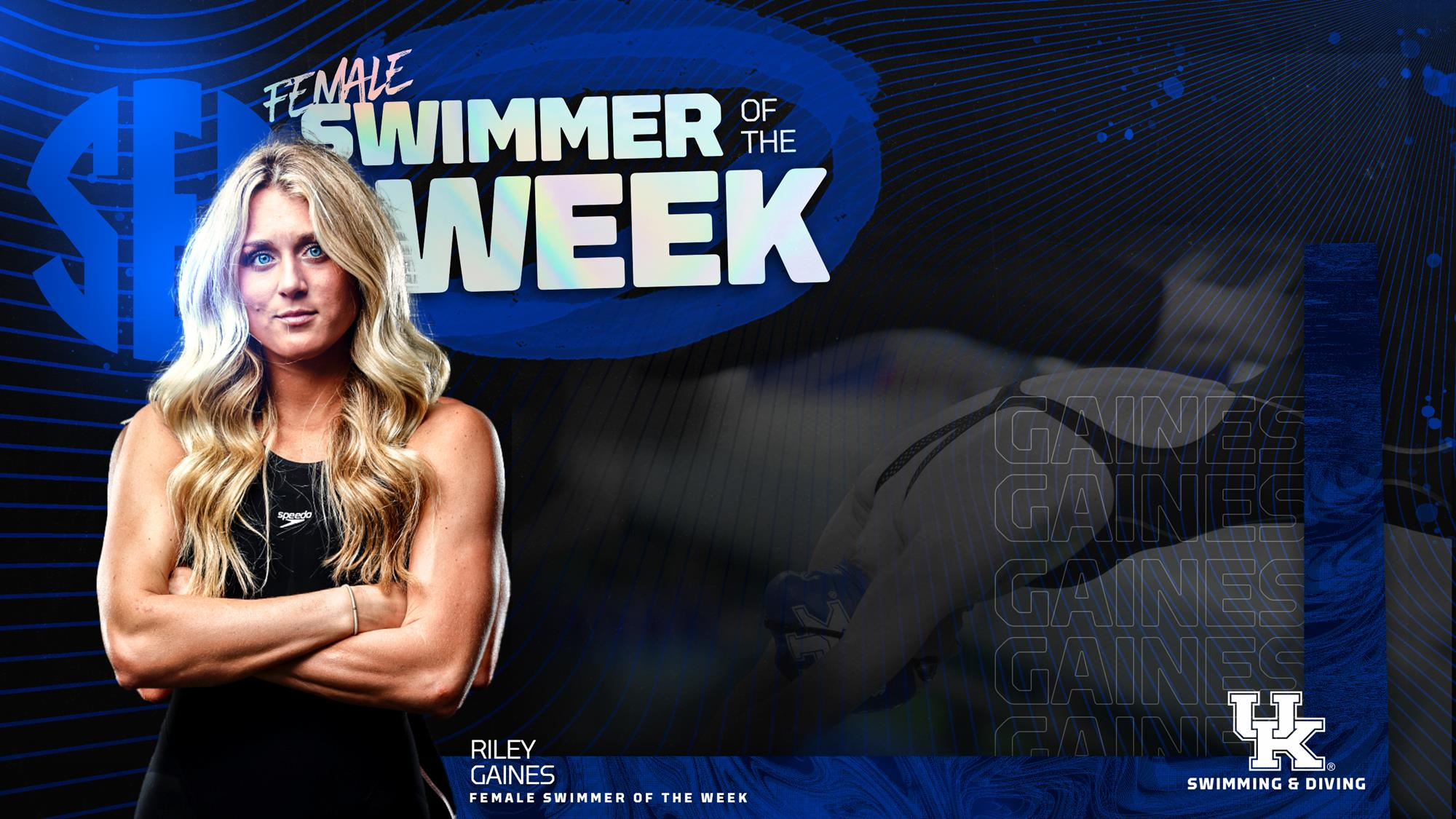 January 26, 2021 - 05:00 PM
Riley Gaines Named SEC Female Swimmer of the Week
BIRMINGHAM, Ala. –  For the first time in her achieving career, Riley Gaines has been named the Southeastern Conference Female Swimmer of the Week after leading the No. 10 University of Kentucky women's swimming and diving team past No. 19 Louisville in a 200.5-99.5 final score last Saturday. It marked the fourth straight season UK has defeated a ranked UofL team.
 
Kentucky won 13 of 16 possible events in the dual meet, earning its largest triumph over Louisville in the Lars Jorgensen era. Gaines won every single event she competed in, including one relay (200 med-r) and three individual races (50, 100, 200 freestyle). In the process, she reset two school records and recorded top-10 times in the nation.
 
200 medley relay, 1:36.75

It broke a four-year-old school record by .01 (1:36.76).
She swam the anchor leg, the freestyle leg, in 21.73.
The relay time is ranked as the fifth-fastest time in the nation.

50 freestyle, 22.52

She set a new personal record, improving by more than two-tenths of a second off her previous personal record (22.77)
She advanced five spots on the program's all-time top-10 performance list in the event, earning the fourth-best time in the event in school history.

100 freestyle, 48.42

She reset her own school record and personal record by .04 (48.46) that she set in mid-November at Mizzou Invitational.
It is tied as the ninth-fastest time in the nation.

200 freestyle, 1:44.06

It is just four-tenths of a second slower than her school record and personal record (1:43.68), the third-fastest time in the nation,which she set in mid-November at the Mizzou Invitational.
 
Kentucky swimming and diving won't take the pool again until mid-February, when the women's team and the diving squad compete in the 2021 Southeastern Conference Championship in Athens, Georgia, and Columbia, Missouri, respectively, February 17-20. Following that, the men's team will compete in Columbia, Missouri, February 24-27.
 
For the latest on the Kentucky swimming and diving program, follow @UKSwimDive on Twitter and on Instagram, on Facebook and on the web at UKathletics.com.