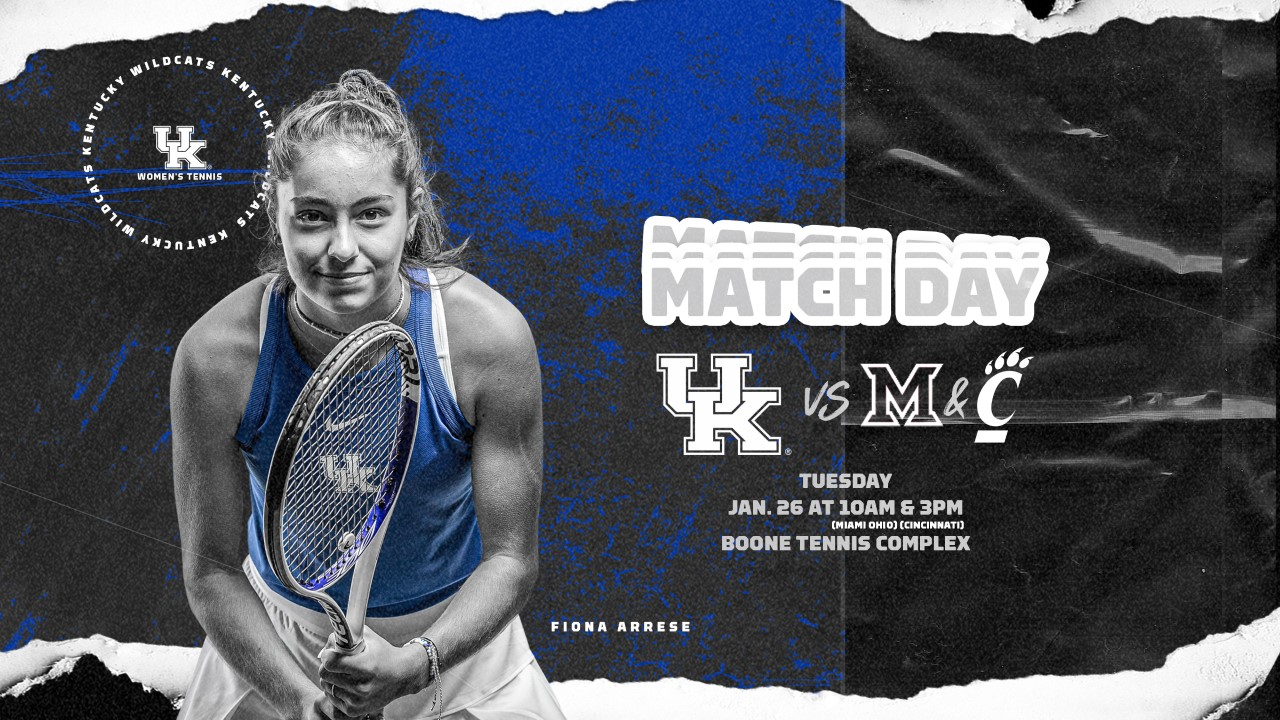 January 25, 2021 - 01:51 PM
Doubleheader: Kentucky Hosts Miami (Ohio), Cincinnati
LEXINGTON, Ky. – The University of Kentucky women's tennis team is primed for a grueling home stretch this week, hosting five matches over the next five days. It will begin on Tuesday, January 26, as Kentucky hosts Miami (Ohio) and Cincinnati at 10 a.m. ET and 3 p.m. ET, respectively, for the team's first doubleheader of the season inside the Hilary J. Boone Tennis Center.
 
Admission to all home tennis matches is free, and fans are encouraged to attend. Capacity at the Hilary J. Boone Tennis Center is limited to 50 spectators, and it will be based on a first come, first serve basis. Face coverings, over the nose and mouth, are required for all fans as they enter, exit and move around the building, and all patrons will be required to take a temperature check upon entry.
 
Free parking options include the three small E-lots adjacent to the facility one hour prior to first serve. Spectators may also pay to park in the Sports Center Garage (PS No. 7) on the corner of Complex Drive and Sport Center Drive. The cost of parking is $2 per hour, with a $16 maximum.
 
Live scoring will be available here.
 
The Wildcats are 2-0 this season, after posting a pair of sweeps over East Tennessee State and Memphis in their opening week. In the process, Kentucky began the season with an unblemished 12-0 record in singles action and a spotless 4-0 record in doubles action.
 
Kentucky sports a deep lineup this season, boasting a 12-member roster, including four players who have returned for an additional season because of the COVID-19 public health threat.
 
Akvile Paražinskaite, a sixth-season veteran, led the team on the first singles court and the first doubles court through the first two dual matches. In singles action last week, she overcame a pair of three-set triumphs, defeating ETSU's top player in a 6-3, 4-6, 6-2 decision and Memphis' top player in a 6-2, 3-6, 6-4 decision. Paired with Fiona Arrese in doubles action, the tandem held their opponents to under five games against the Buccaneers and under two games against the Tigers.
 
That same duo earned a 3-0 record in doubles action during the fall season.
 
Not only did Arrese, a freshman from Barcelona, Spain, record two top doubles triumphs to start the season, but the rookie also earned two singles wins on the fifth court. Joining her efforts, Salsa Aher, a freshman from Pune, India, earned two doubles wins on the third court and two singles wins on the sixth court in her career debut last week.
 
She allowed less than three games per set in each of her singles wins, while she defeated her doubles opponents by less than two games per set.
 
Miami (Ohio) is 1-0 this season, earning its solo win against Youngstown State on Saturday, January 23, 5-2. The Redhawks only dropped two matches during the contest, losing on courts Nos. 4 and 5 in the singles competition. Cincinnati is also 1-0 this season, defeating Northern Illinois over the weekend, 4-3. The Bearcats lost court No. 3 in the doubles competition and courts Nos. 1, 2 and 4 in the singles competition.
 
Kentucky is 22-2 against Miami (Ohio) in the all-time series, while the Wildcats hold a perfect 10-0 mark over the Bearcats all time.
 
For the latest on the Kentucky women's tennis program, follow @UKWomensTennis on Twitter and on Instagram, on Facebook and on the web at UKathletics.com.