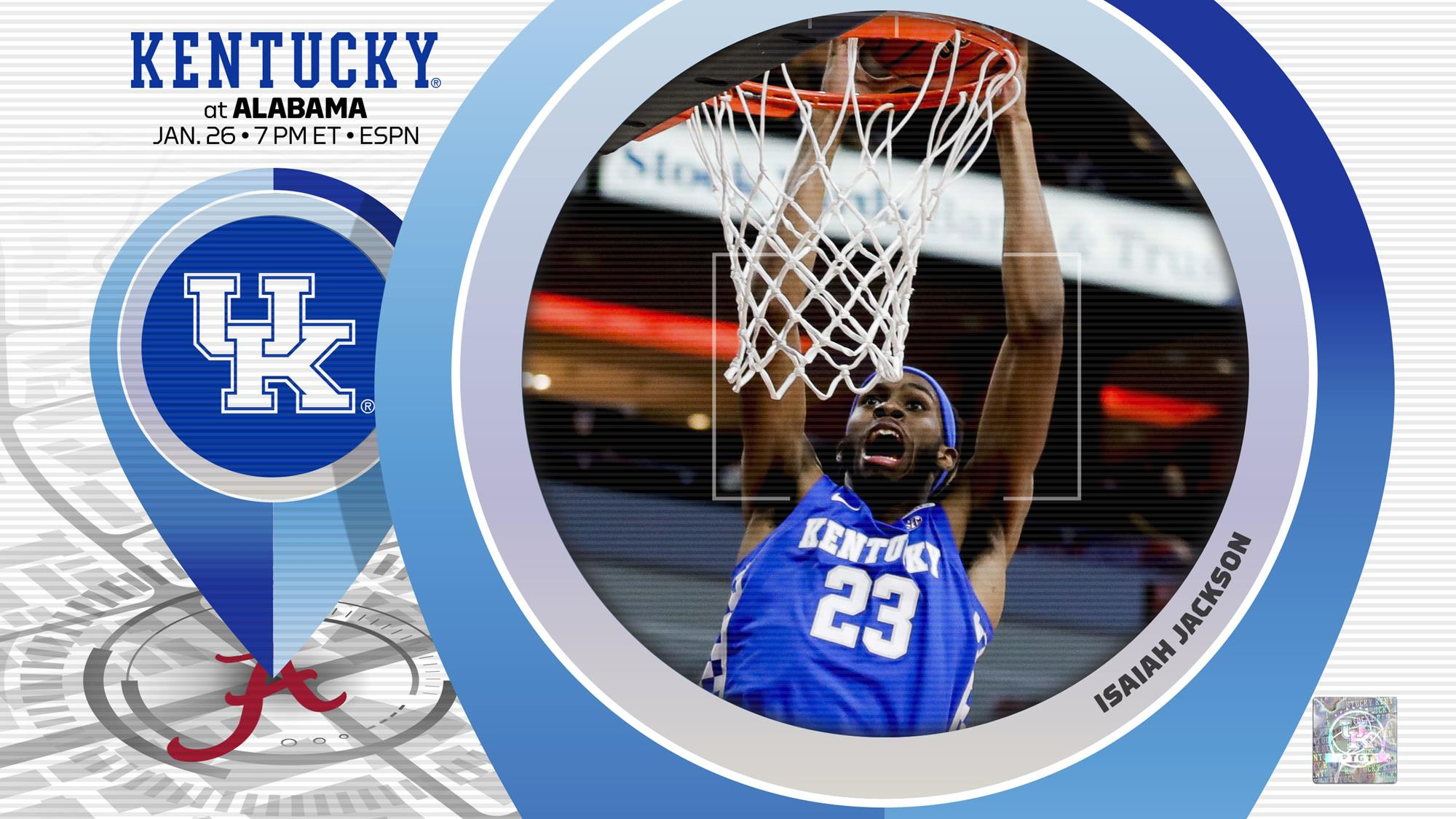 January 25, 2021 - 02:57 PM
Kentucky Gets Another Shot at No. 9 Alabama on Tuesday
When Kentucky played Alabama on January 12, the Cats were hoping to extend a three-game winning streak and to get a leg up in the early Southeastern Conference standings. Instead, the Cats were on the wrong end of an 85-65 result, which became the first of three straight losses.
The Cats get another shot at the Crimson Tide on Tuesday, visiting Coleman Coliseum for a 7 p.m. ET game that will be televised by ESPN. This time around, the Cats are hoping to fix the things that ailed them the first time around against Alabama, according to assistant coach Bruiser Flint.
"Well, everybody is hunting them right now. They're in first place. They're undefeated in the conference," Flint said. "We've just got to play better than we did the last time. We've got to do some things differently. But they're the hot team in the league right now, so we've got to give them our best."
Everyone remembers that the Tide made 14 three-point shots against Kentucky in Rupp Arena. That game is fresh in the memory of UK senior forward Olivier Sarr.
"They made a lot of 3s," Sarr said. "I think we didn't follow the scouting report as much as we should have been and that cost us the game by a lot."
 
Kentucky at Alabama

Wed., Jan. 26 – 7 p.m. ET
Coleman Coliseum
Tuscaloosa, Ala.
Game Notes: UK | UA
UK Athletics App

Coverage

TV: ESPN
Radio: UK Sports Network
Watch
Listen
Live Stats

UK
Stats
UA
5-9
Record
13-3
4-3
Conference Record
8-0
68.1
PPG
81.8
68.1
Opp PPG
70.6
.419
FG%
.439
.404
Opp FG%
.404
39.4
RPG
40.6
.282
3PT FG%
.362
.303
Opp 3PT FG%
.297
11.4
APG
14.6
6.4
SPG
8.9
6.1
BPG
4.0

But Flint pointed to another number, and an intangible, that might have made a bigger difference in the first meeting with Alabama.
"One, they play with a lot more toughness then we play with," Flint said. "The other thing about the game, and it's been our Achilles heel all year, points off turnovers. I want to say they had 28 points off turnovers. If we have that high of a number, it doesn't matter who we're playing."
Alabama is now ranked ninth in the Associated Press poll and is undefeated in SEC play. The Tide have won nine in a row, including all eight of their conference games so far.
The Tide will shoot the three early and often, making 11.2 threes per game. That's something that Flint knows the Cats have to defend better than they did two weeks ago.
"The 3-ball is what they do. They want to shoot a lot of them. They've shot it extremely well," Flint said. "That's one reason why they've gotten away from a lot of teams because they can come down consecutively and just start knocking them down. If you can't keep them pace, then it's a tough struggle. We've got to do a better job of probably chasing them off the 3-point line, but I bet you that's every team they play that talks about that. So, we've got to do a better job of that."
The Cats got their offense going on Saturday, topping LSU 82-69. It was the most points that Kentucky has scored in a game this season and something that Flint hopes the Cats can build on.
"It's all about how we handle the ball," Flint said. "When we handle the ball better and we take care of the ball, we'll score more points. But if you continually throw it away and you've got 19 to 20 turnovers in those games, you're not going to score that many points."
Kentucky hopes a combination of defending the three better and being efficient on offense can be a winning combination on Tuesday in Tuscaloosa.
Boston, Brooks Lead Kentucky Past LSU
There was a point late in the first half of Kentucky's game vs. LSU when the bad habits that have plagued the Wildcats for much of the season tried to resurface.
Enjoying the best two-game stretch of his career, Brandon Boston Jr. was on a fast-break opportunity with Dontaie Allen and elected to try to score it himself by avoiding contact with Javonte Smart and flipping the ball up and under the defender.
He missed it, and John Calipari went, as he described it, "crazy."
"You're not going back to that guy," Calipari said. "That guy has left the building. You're going to be the guy that we keep training you to be. That's who you are."
Of late, Boston has looked more like the player that was billed in the preseason as one of the top freshmen in the country. He scored 18 points for a second straight game as Kentucky defeated LSU 82-69 on Saturday in Rupp Arena.
The victory snapped a three-game losing streak for the Wildcats (5-9, 4-3 Southeastern Conference) and avoided just the third losing skid of four or more consecutive games in the Calipari era.
It's the second straight loss for the Tigers (10-4, 5-3 SEC), who still have a strong résumé for the NCAA Tournament.
"We needed to win a game," Calipari said. "I mean, I'm still disgusted over the last couple. Literally disgusted. But we needed to win this."
Boston was 7 for 17 from the floor with two 3-pointers. His 36 points over the last two games mark the best stretch of his career, and he's scored efficiently during that stretch with 47.1% shooting.
He has dribbled less, attacked more aggressively and – with Saturday's first-half exception – flipped the ball less.
"I always envisioned myself to be the guy that helps the team," Boston said. "Just do everything I can to help my team win obviously when it comes to scoring rebounding, assists and playing defense."
"All of a sudden you look like one of the best players in the country," Calipari said. "The flipsy-doodles that get nothing except a layup down the other end? We're not having that anymore."
To his credit, Boston responded to one of his few bad habits with an equally strong second half. As Kentucky's offense slowed down after the best offensive half of the season, Boston's personal 8-0 run midway through the second half, including a key "and one" where he finished through contact, put the margin back to double digits after LSU had cut UK's lead to five points.
"I just listened to (Calipari), and when I came back out, I got the and one and it was just up from there," Boston said of, perhaps, a key turning point in his development.
Could it also be a sign the collective group is turning a corner? And is it too late for UK's at-large postseason hopes?
Whatever the case may be, Kentucky's offense was as its best of the 2020-21 season on Saturday.
With LSU pressing in the full court and half court for much of the game, the Wildcats took advantage of the spacing. UK took a season-high 26 3-point attempts and continually beat LSU on the break with lob dunks.
The Wildcats' 82 points were a season best, and UK's points (49), assists (13), 3-pointers (six) and 3-point attempts (17) in the first half were all season highs for any half to build a 13-point (49-36) lead at the break, the second largest of the season.
"Today we had nine turnovers and probably four of them or three of them were shot-clock violations," Calipari said. "I'm still all over guys to shoot balls. Guys won't shoot 'em. They have a shot, they pass up a shot and they dribble into a harder shot."
Keion Brooks Jr. enjoyed his best offensive game as a Wildcat, tying career highs in points (15) and rebounds (nine). He scored 13 of his points before halftime.
As Brooks slowed in the second half, Boston continued to roll and Kentucky bigs Olivier Sarr and Isaiah Jackson stepped up. Jackson scored six points and grabbed 13 rebounds after halftime and Sarr scored seven second-half points in less than five minutes.
In just 16 minutes, Jackson finished with 15 rebounds, the most by a Wildcat since Nick Richards hauled in 16 vs. Arkansas on Feb. 26, 2019. Sarr's 13 total points took place in only 12 minutes.
Kentucky also held LSU to 38.5% shooting, the third game in a row and the fourth in the last five the Wildcats have limited the opposition to less than 40% from the floor.
Calipari was happy with the toughness, but in his opinion this one came down to taking care of the ball. After three straight games with 17 or more turnovers, the nine on Saturday helped the offense break out of its slump.
"Everybody was playing for each other instead of themselves," Calipari said. "When you're out there trying to make hero's plays, you're turning it over. … You're playing for you instead of us. There are going to be turnovers."
The Rematch with Alabama
Alabama had put the rest of the league on notice already, but when the Crimson Tide walked out of Rupp Arena on Jan. 12 with an 85-65 win, it put an unofficial stamp on Alabama as Southeastern Conference contenders.
At the same time, the loss was a rude wake-up call for the Wildcats. UK was on a three-game winning streak at the time and appeared to be turning a corner after the 1-6 struggle through nonconference play. The matchup vs. Alabama was for sole possession of first place in the league with Alabama at 4-0 at the time and Kentucky at 3-0.
The two teams went in different directions soon after. After Alabama handed Kentucky its worst home loss since a 23-point defeat to Indiana in Rupp Arena on Dec. 20, 1988, UK lost three straight until the victory Saturday at LSU. Meanwhile, Alabama's stock is at an all-time high. At 8-0 in the SEC, not only is the Crimson Tide three games clear of anyone in the league in the win column, Nate Oats' bunch is being talked about now as a legitimate Final Four contender. Watching Alabama, it's easy to see why.
Alabama employs an up-tempo, 3-point-heavy offense. The Crimson Tide try to beat opponents up the floor with either a good look for a 3-pointer or a shot at the basket. Midrange jumpers are few and far between. UA's average possession length of 14.2 seconds is ranked fourth in the country, according to KenPom.com.
Alabama is fourth in the country in both 3-point field goals made per game (11.2) and total 3-point field goals attempted (494). Those numbers actually go up in conference play, where the Tide is making 13.3 treys a contest. Last week, Alabama made an SEC-record 23 3-pointers vs. LSU.
Five Alabama players have made at least 15 3-pointers and three with 27 or more attempts are shooting at least 41.5% from long range. By comparison, UK has only two players with 15 or more 3-point makes and only one, Dontaie Allen, shooting better than 40% from behind the arc.
The offensive strategy has worked for the Tide. Taking 47.8% of its shots from 3, ranked 13th in the country, and scoring 41.1% of its points from long range, 11th in the nation, Alabama has the 13th-most efficient offense in the country, according to KenPom.com. Led by John Petty Jr., Alabama is averaging 81.8 points per game and 86.8 in SEC play. It's a complete contrast in styles from UK (more on that in a later section).
Kentucky will try to counter with its typically stingy defense (more on that below). UK is ranked 14th nationally in KenPom.com's defensive efficiency and is keeping opponents to 6.6 3-pointers a game on 30.3% shooting. In the game in Lexington, Alabama took 30 3-point shots and made 14, both season highs by a Kentucky opponent. That game did not feature guard Jahvon Quinerly, who averages 12.5 points per contest.
Where Alabama really makes other teams pay is with its other toughness intangibles. Alabama gets to the line frequently (42nd nationally in free-throw attempts), rebounds well (24th in total rebounds per game) and forces turnovers (17th in the country in steals per game).
Even with the loss earlier this month, UK has won 12 of its past 14 games vs. Alabama, including three of four in Tuscaloosa, Alabama. 
"These are the games you want to play to where you know you're not supposed to win the game," John Calipari said after the LSU win. "Now you go and it gets you going, you play. Instead of playing not to lose you play to win. You don't look at the scoreboard."
The Rule of 76
With the way the defense has played this season, Kentucky doesn't have to be great offensively to win. It just can't be poor.
UK is 5-0 this season when scoring at least 76 points but 0-9 when scoring 65 or fewer. In a bit of a statistical oddity, the Wildcats have not scored between 66 and 75 points in a single game this season.