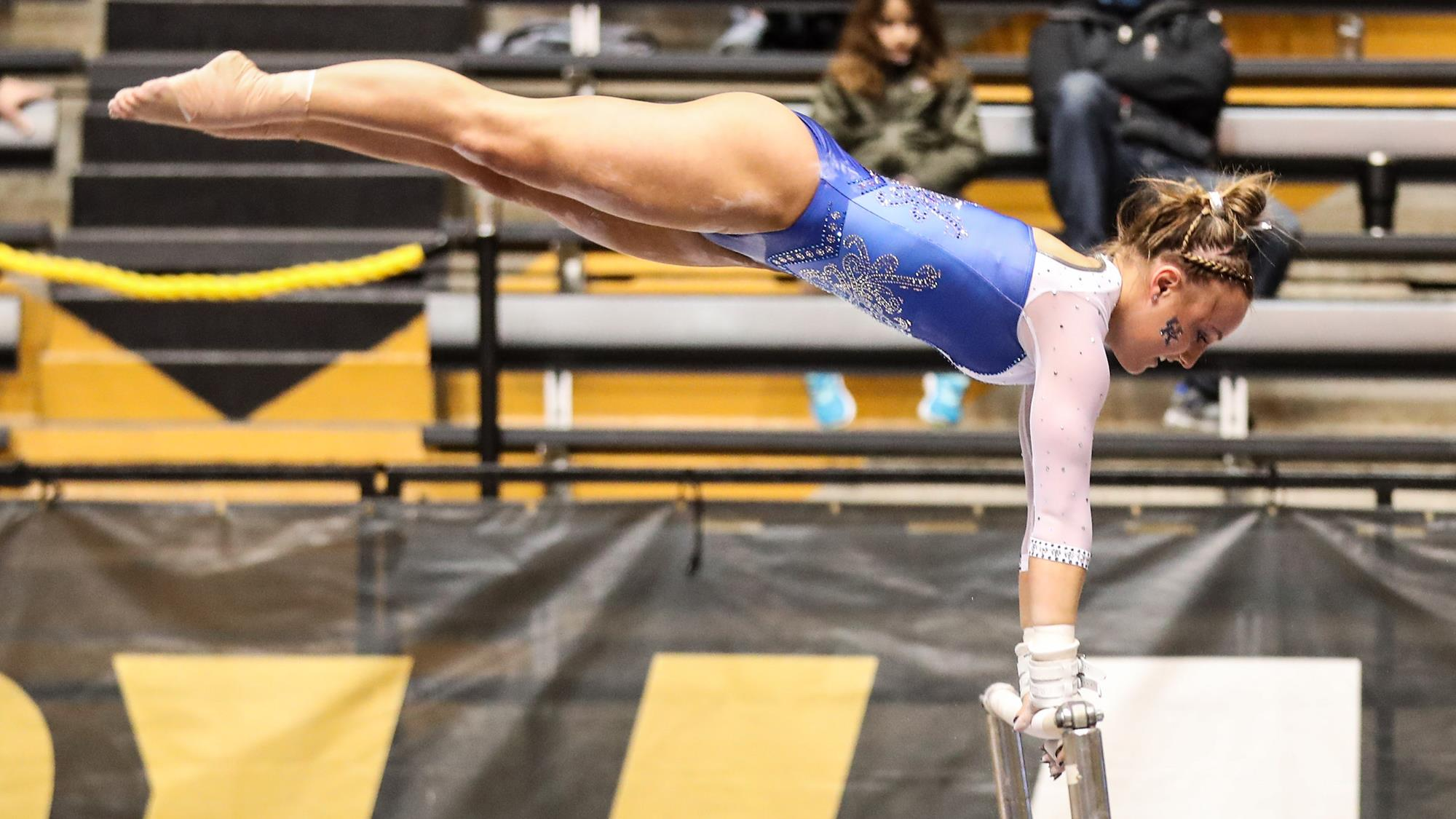 January 23, 2021 - 03:03 AM
Cats Claim SEC Road Opener at Mizzou
COLUMBIA, Mo. – Despite facing adversity both in and out of its control late in the competition, No. 12 Kentucky (2-1, 2-0 Southeastern Conference) persevered with a 195.775-195.350 victory in its official SEC road opener at No. 20 Missouri (0-3, 0-2 SEC) on Friday at the Hearnes Center.
 
The Wildcats claimed four individual event titles in the process, including three by back-to-back all-around meet champion Raena Worley.
 
"I'm enjoying watching the toughness of this group," said head coach Tim Garrison. "That typically pays off in tough meets down the stretch."
 
Kentucky began the night on uneven bars, where Worley ultimately tied with Missouri's Sienna Schreiber for the contest's overall first-place finish on the apparatus with a 9.825 from the third spot in the lineup. Junior all-arounder Josie Angeny anchored the Wildcats with a 9.800, securing a 48.900-48.500 lead for her team after one rotation.
 
Kentucky matched its opening performance when moving on to vault, led by a 9.850 routine from breakout junior Cally Nixon. The Miami native has claimed the individual vault title in each of the Cats' first three meets, despite having accomplished the feat just once as an underclassman. Angeny produced a 9.800 from the anchor spot once more, giving Kentucky a 97.800-97.275 lead at the midway point.
 
Kentucky's best showing came during its floor exercise, despite a number of technical difficulties that had proliferated throughout the night. Freshman Bailey Bunn, leading off her third straight event in her all-around debut, opened with a strong score of 9.850. Anna Haigis, whose junior campaign has gotten off to a red-hot start on the event, followed with her second consecutive floor routine of 9.900 or better.
 
Once the lineup reached sophomore Makenna Clarke, Kentucky was tasked with closing the event accompanied by faint to absent in-arena music. Clarke's choreography was not fazed by the silent backdrop, as the former Arkansas transfer came away with a 9.825. Three routines later, Worley closed the event with a first-place 9.925 finish.
 
Kentucky held a 147.050-146.100 lead heading into its final go-round.
 
The Wildcats' early season-long struggles on balance beam persisted through Friday, bringing what was once a convincing advantage down to the wire. Missouri ultimately matched Kentucky's fruitful floor rotation with a 49.250 of its own, while only Bunn (9.825) was able to score above 9.650 among the first four slots in the Cats' lineup.
 
Kentucky's last two performers were undeterred by the pressure, as a meet-best 9.850 from Worley and a clutch 9.800 anchor from Angeny sealed the wire-to-wire team win.
 
Worley concluded her night with an all-around score of 39.375. Bunn finished third overall with a 39.075, while Angeny ended at 39.050.
 
"On a night full of competition pauses and distracting occurrences, this team stayed tough and came out with an SEC win," Garrison said. "We never take those for granted."
 
Kentucky is next slated to return home for a rematch with No. 10 Alabama, who defeated the Wildcats 196.850-195.825 in a season-opening non-conference matchup in Tuscaloosa, Alabama, on Jan. 8. The Crimson Tide are set to visit Memorial Coliseum on Friday, Jan. 29, at 7 p.m. ET on SEC Network+.
 
Fans may purchase tickets to 2021 Kentucky gymnastics home meets via Ticketmaster. To purchase a fan cutout of a person or pet, visit UKAthletics.com/FanCutouts. For the latest on the Kentucky gymnastics team, follow @UKGymnastics on Twitter, Facebook and Instagram, as well as on the web at UKAthletics.com.