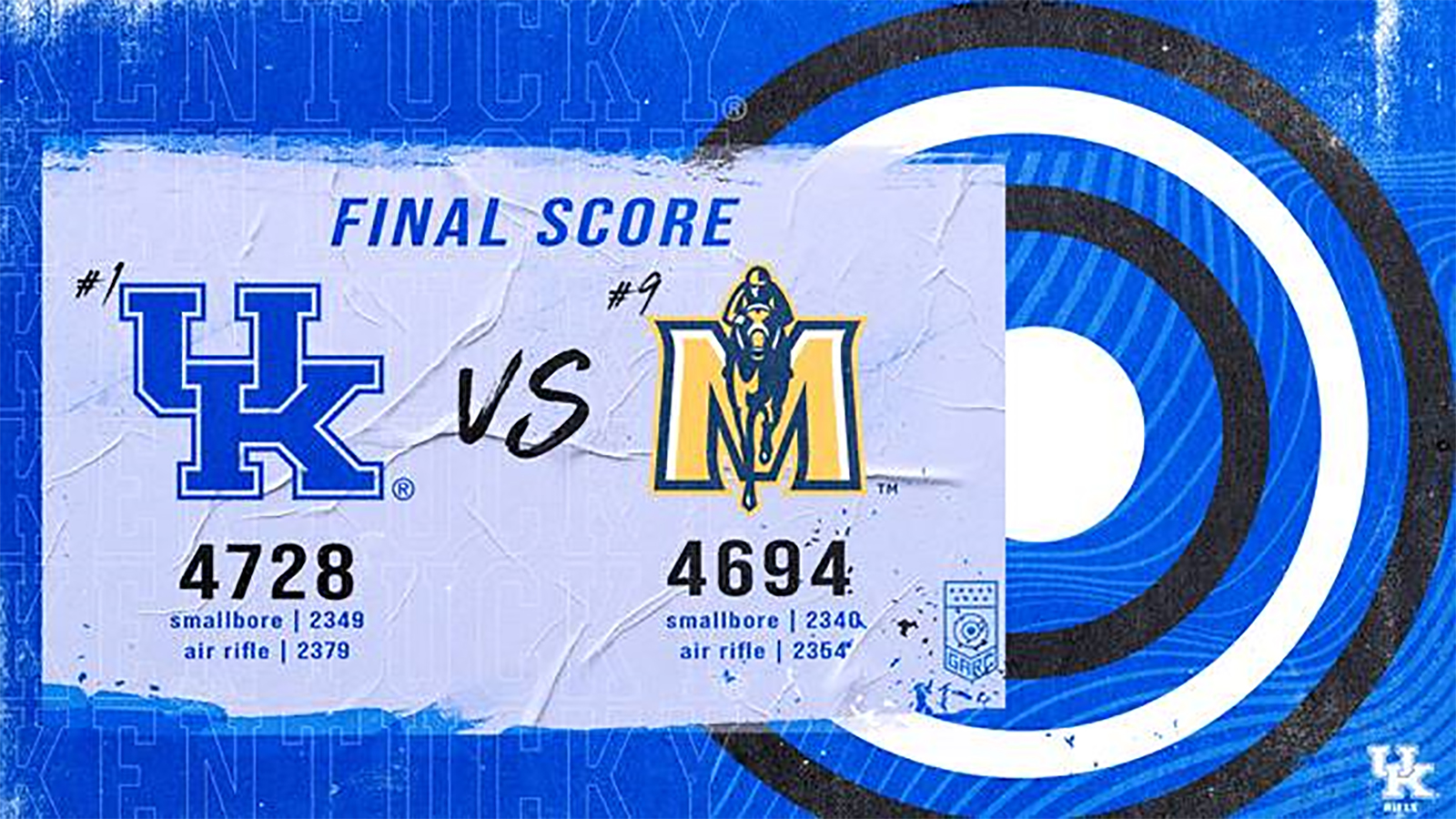 MURRAY, Kentucky – The No. 1-ranked Kentucky rifle team showed its mental toughness and endurance in a 4728-4694 win at No. 9 Murray State on Saturday, completing a duo of victories over top-10 opponents in a span of 29 hours.
 
On Friday, UK defeated No. 8 Nebraska at home and drove across the state to Murray, then had an early morning wakeup Saturday before heading to the Pat Spurgin Rifle Range on the MSU campus.  The Wildcats showed no ill effects from that schedule, and in fact, appeared to grow stronger as the day went on in a sport that demands hours of intense mental and physical concentration and consistency.
 
Kentucky opened by winning the smallbore, 2349-2340, paced by sophomore Mary Tucker's 594 that was the match's top score in that discipline.  Tucker was followed by junior Will Shaner at 589, senior Hailee Sigmon with 584, junior Richard Clark at 582 and soph Jaden Thompson at 573.
 
UK showed no slack in concentration in air rifle; in fact, the Wildcats' 2379 score in that area was one point better than the day before vs. Nebraska. Tucker again led the way with a near-perfect 598 (out of a possible 600).  Not far behind were Shaner at 597, Clark at 594, Thompson at 590 and Sigmon at 589.
 
Tucker and Shaner claimed the top two overall scores of the meet with aggregates of 1192 and 1186, respectively. Next were Clark at 1176, Sigmon (1173), and Thompson (1163).
 
"Under the circumstances, I thought we did a really good job of giving 100 percent," Coach Harry Mullins said. "We had a good match yesterday and then traveled and did a quick turnaround. I felt we handled that well. You always want to do better than the day before but staying consistent is also key.
 
"Mary had a nice day with 1192 and so did Will and the others.  I believe we are tracking on some good things and will keep working at that in training."
 
Kentucky is now 10-1 on the season while Murray State is at 8-3.  UK faces a similar weekend on January 30-31, as the Wildcats host Memphis on Saturday and competes at Ohio State on Sunday.
 
For the latest on the Kentucky rifle team, follow @UKRifle on Twitter, Instagram and Facebook, as well as on the web at UKathletics.com.