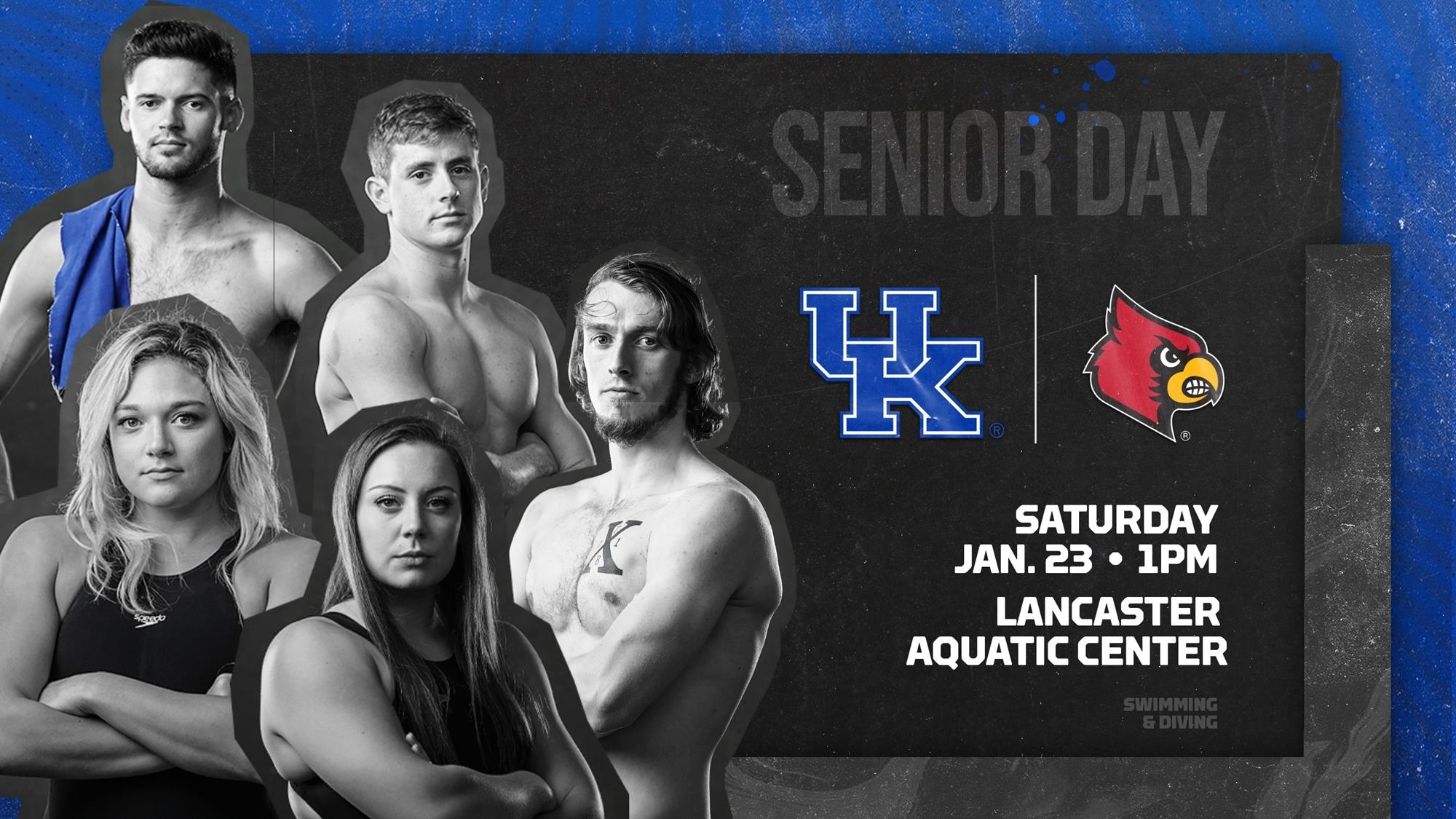 January 22, 2021 - 05:02 PM
Swimming & Diving: Kentucky Hosts Louisville for In-State Showdown
LEXINGTON, Ky. – Three weeks before the Southeastern Conference Championships begin, the RV/No. 10 University of Kentucky men's and women's swimming and diving teams will host No. 8/No. 19 Louisville for its last dual meet of the season and senior day. Hosted at the Lancaster Aquatic Center on Saturday, January 23, the meet is scheduled to begin at 1 p.m. ET, while attendees are encouraged to attend the senior day celebration after the meet concludes.
 
The program has adopted a player guest and coach guest pass list attendance plan for the dual meet. Fans are encouraged to follow along through live results or tune into SEC Network+.
 
Twelve swimmers and divers are graduating from the program at the end of the semester, including eight women (six swimmers, two divers) and four men (three simmers, one diver). Two senior managers, Andrew Holt and Jack McGuinness, will also be recognized for their commitment to the program.
 
Both the men's and the women's teams are coming off losses at No. 13/No. 4 Tennessee late last week, as the men's team took a 216-84 defeat and the women's team recorded a 178.5-121.5 setback. Prior to the meet, the women's team boasted an unblemished season, having already defeated Arkansas, Alabama, Missouri, Tennessee and Vanderbilt earlier in the season.
 
The Kentucky men's team will look to lock up its first triumph of the season on Saturday, including its first win over Louisville since 2019. The group is paced by a pair of distance swimmers in Jakob Clark and Adam Rosipal, who have each already set career-best times in their respected events during the regular season. Mason Wilby leads the men's team in the butterfly events, while Kyle Barker and Daniel Orcutt are pacing the all-purpose events.
 
Chase Lane and Danny Zhang are coming off focused and consistent performances on the springboards at Tennessee, while the two have gone toe-to-toe with each other all season long. Lane holds the team's top score on 1-meter this season at 352.88, while Zhang holds the team's top score on 3-meter this season at 427.28.
 
On the women's side, Kentucky will look to earn its sixth triumph of the season and its fourth straight win over Louisville. The Wildcats boast a well-rounded group, while Beth McNeese leads the distance events, Riley Gaines leads the sprint events, Izzy Gati paces the butterfly events, Caitlin Brooks and Sophie Sorenson carry the backstroke events, while Bailey Bonnett, Gillian Davey and Lauren Poole take care of the breaststroke and medley events.
 
Kyndal Knight, who has already set career-best scores in all three diving events this season, is coming off a strong 3-meter performance at Tennessee. She nearly reset her 3-meter personal best for the second time this season, after finishing in first place on 354.53 points, which was more than 65 points better than second place. In all of her events combined this season, the junior and reigning SEC Champion has won first place six out of nine times and first or second place eight out of nine times.
 
Both the Kentucky men's and women's teams have a strong supporting cast, too, which has proven beneficial in tight races thus far this season.
 
The Louisville program has competed just three times this season – Louisville Invitational, Notre Dame, Missouri – not including a diving-exclusive event at Cincinnati in mid-December. In their last outing, the then-No. 13 Louisville men upset then-No. 8 Missouri in mid-January by a large margin of 199-101. The Louisville-Missouri women's teams competed in a non-scoring dual meet, while UofL collected seven triumphs in all. Two UofL men were acknowledged by their league for swimmer of the week and diver of the week, as Mitchell Whyte won three men's swimming events and Daniel Pinto swept the men's springboard events to push then-No. 13 Louisville past then-No. 8 Missouri.
 
The Cardinal men's team also secured a triumph over Notre Dame this season (152-148), while their women's team fell just short (158-141).
 
For the latest on the Kentucky swimming and diving program, follow @UKSwimDive on Twitter and on Instagram, on Facebook and on the web at UKathletics.com.