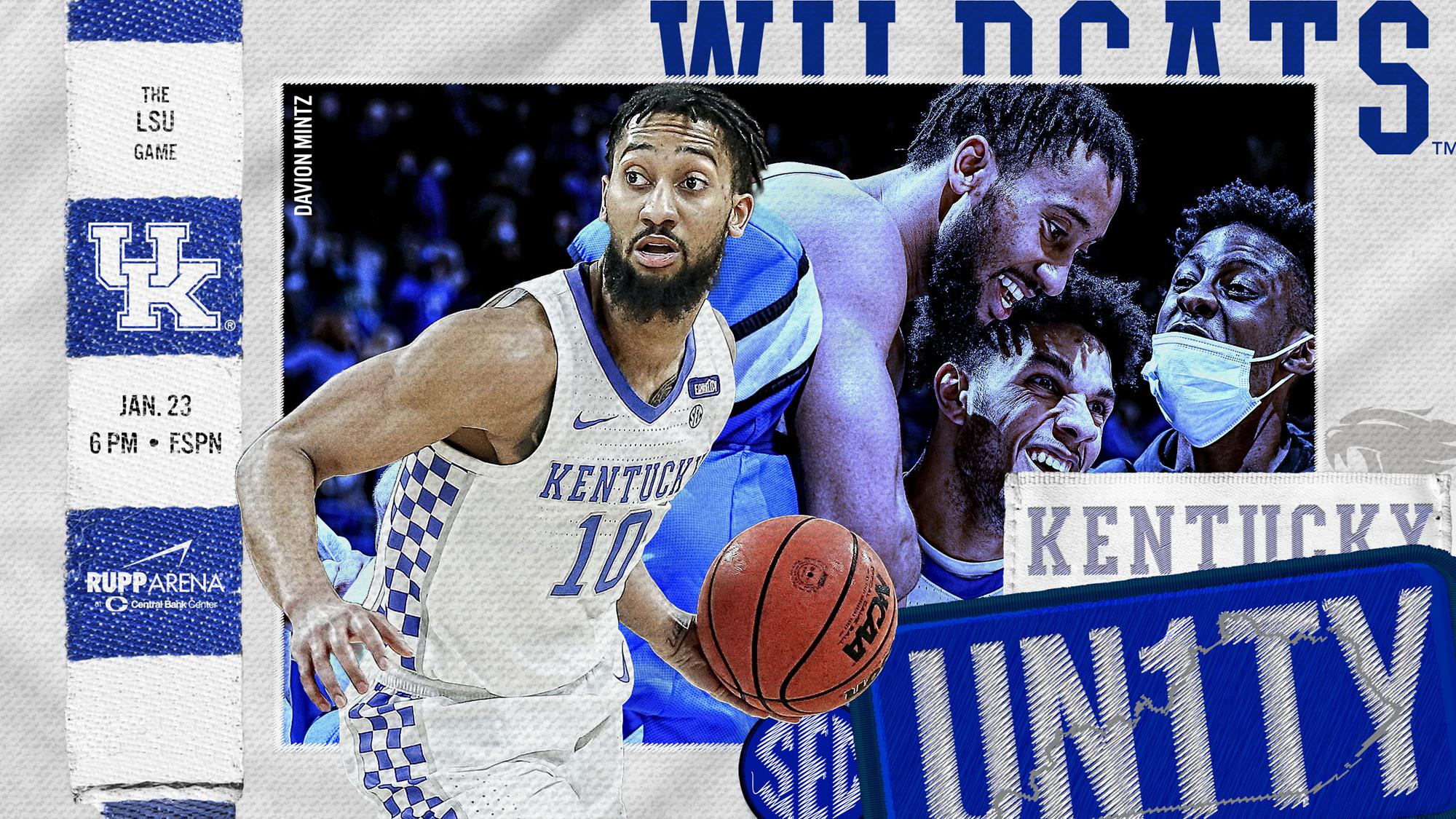 January 22, 2021 - 02:14 PM
Cats Look to Bounce Back on Saturday Against LSU
After opening Southeastern Conference play with three consecutive wins, Kentucky has now lost three in a row in conference play. But none of the three was as difficult as Wednesday night's defeat at Georgia.
The Cats had a late lead and appeared to be on their way to victory before the Bulldogs scored on an inbounds play with one second remaining, claiming a 63-62 win and breaking the Cats' hearts.
Kentucky (4-9, 3-3 SEC) must not let that loss linger, as the Cats welcome LSU (10-3, 5-2) to Rupp Arena on Saturday (6 p.m. ET, ESPN). Assistant coach Joel Justus and the UK staff are tasked with making sure that does not happen.
"When you lose a game, a tough game, I think there's the anger, there's disappointment, it sets in initially," Justus said. "And same thing for coaches. Probably the same thing for fans. Our guys are having to, you know, continue with their resolve. They're having to continue with a fighting mentality of getting better."
Justus and the coaching staff hope that Wednesday's loss can be a moment that the Cats use to build on.
 
Kentucky vs. LSU

Sat., Jan. 23 – 6 p.m. ET
Rupp Arena
Lexington, Ky.
Game Notes: UK | LSU
UK Athletics App

Coverage

TV: ESPN
Radio: UK Sports Network
Watch
Listen
Live Stats

UK
Stats
LSU
4-9
Record
10-3
3-3
Conference Record
5-2
67.0
PPG
85.2
68.1
Opp PPG
73.9
.419
FG%
.480
.406
Opp FG%
.420
38.8
RPG
38.8
.284
3PT FG%
.352
.313
Opp 3PT FG%
.305
11.1
APG
12.6
6.7
SPG
9.5
6.3
BPG
2.4

"With us being an inexperienced team, you know, the only way you become experienced is to go through things like we went through the other night or seasons or games or practices that we've gone through," Justus said. "So, I think our guys are understanding where we are and the biggest thing that we've got to do is to continue to have a clear mental picture of where we want to go both individually, but also as a team."
One of the bright spots in Wednesday's loss was freshman guard Brandon Boston Jr. Coming off the bench for the first time in his UK career, Boston had one of his better games of the season, making more than half of his shots (nine of 17) on his way to 18 points.
For Boston, not being in the starting lineup wasn't a big deal.
"Coming off the bench, I feel like I could see the game before it happens just watching my team go out there and start the game and just cheering them on and bringing the energy when I got on the court," Boston said. "But it really didn't affect me coming off the bench or starting. I still bring the same energy and same confidence with me."
LSU comes into Saturday's game off a 105-75 loss to Alabama. Justus does not think that game is indicative of who the Tigers really are.
"LSU is a strong opponent," Justus said. "They're going to come in and give us their best shot, I know. We'll be ready."
LSU's leading scorer is freshman guard Cameron Thomas, who averages 22 points per game. Thomas has scored 20 or more points nine times this season, the most among all Division I freshmen. Justus knows that the Cats must be able to contain the talented rookie on Saturday.
"I think he's an elite scorer who can score at all three levels," Justus said. "He's very confident and very aggressive on the offensive end. He presents an extreme challenge."
Justus points out that the Cats have played 13 games but that there is still a long way to go in the season.
"I think as we sit here on January 22nd, you know, our story is still being written individually, as well as a team," Justus said. "And that's why it's a story and it's a season. It's not one game. It's not a collection of games. It's an entire season of games."
The next of those games, one in which the Cats hope to get back to their winning ways, happens on Saturday against LSU.
LSU Visits Rupp Arena to Start a Tough Stretch for UK
Up next for Kentucky is LSU. The Tigers enter the matchup with a 10-3 overall record and a 5-2 mark in Southeastern Conference action. LSU has struggled on the road, with two of its losses coming away from home. Cameron Thomas leads the scoring at 22.0 points per game with Trendon Watford contributing 17.1 points per game and 7.1 boards.
Kentucky leads the series 90-27 overall, including a 44-6 mark when the game is played in Lexington, Kentucky. The last time LSU was in Rupp, however, the Tigers earned a 73-71 win with a last-second tip-in in 2018-19, which resulted in them winning the league regular-season title that season. UK won 79-76 last season in Baton Rouge.
The game with the Tigers marks the first of five consecutive games in which UK will take on teams either ranked or receiving votes in both the Associated Press Top 25 and the USA Today Coaches' Poll. UK is 1-5 this season against teams either receiving votes are ranked, with the lone win coming at Florida in a 76-58 dominating performance. Two losses came down to the last possession and were decided by three points or less (Kansas, Louisville).
Defense!
Although Kentucky's record may not reflect it, UK's defense this season has been its strength. The Wildcats are yielding 67.0 points per game, 40.6% shooting by the opposition overall and 31.3% from behind the arc, while averaging 6.3 blocks and 6.7 steals per game.
As of Jan. 20, Kentucky ranked in the top 20 nationally in defensive efficiency, according to KenPom.com. KenPom.com also rates UK's effective field-goal percentage defense (46.2%), two-point field-goal percentage (45.7%) and blocks per game (16.0) among the top 50 in the nation. Kentucky has yielded more than 1.0 points per possession in just four games.
Five times this season, Kentucky has lost despite holding teams to 66 points or less. Under John Calipari, that had only occurred 13 times in 407 games prior to this season — essentially occurring once every 31 games under his direction.
Still Searching
Through 13 games this season, Kentucky has already used seven different starting lineups. John Calipari has continually shaken up the lineup to try and find the right combination of players who play well together and give the Wildcats the best chance at a good start, as well as finding the lineup that finishes games. The most lineups UK has ever started under Calipari has been 10 in both 2019-20 and 2015-16.
According to KenPom.com, UK's minutes continuity at 3.5% is the worst in the country. Part of that can be attributed to Keion Brooks Jr. missing the first nine games of the season, as well as Terrence Clarke's absence over the last six games. Both players have averaged more than 22.5 minutes per game when available.
During Calipari's tenure, eight of his teams have ranged from 21.8% continuity to the highest at 49.6% during the 2014-15 season. This season's rate is currently the lowest in Calipari's 12 seasons, with the 2012-13 team owning the previous low mark at 5.9%.