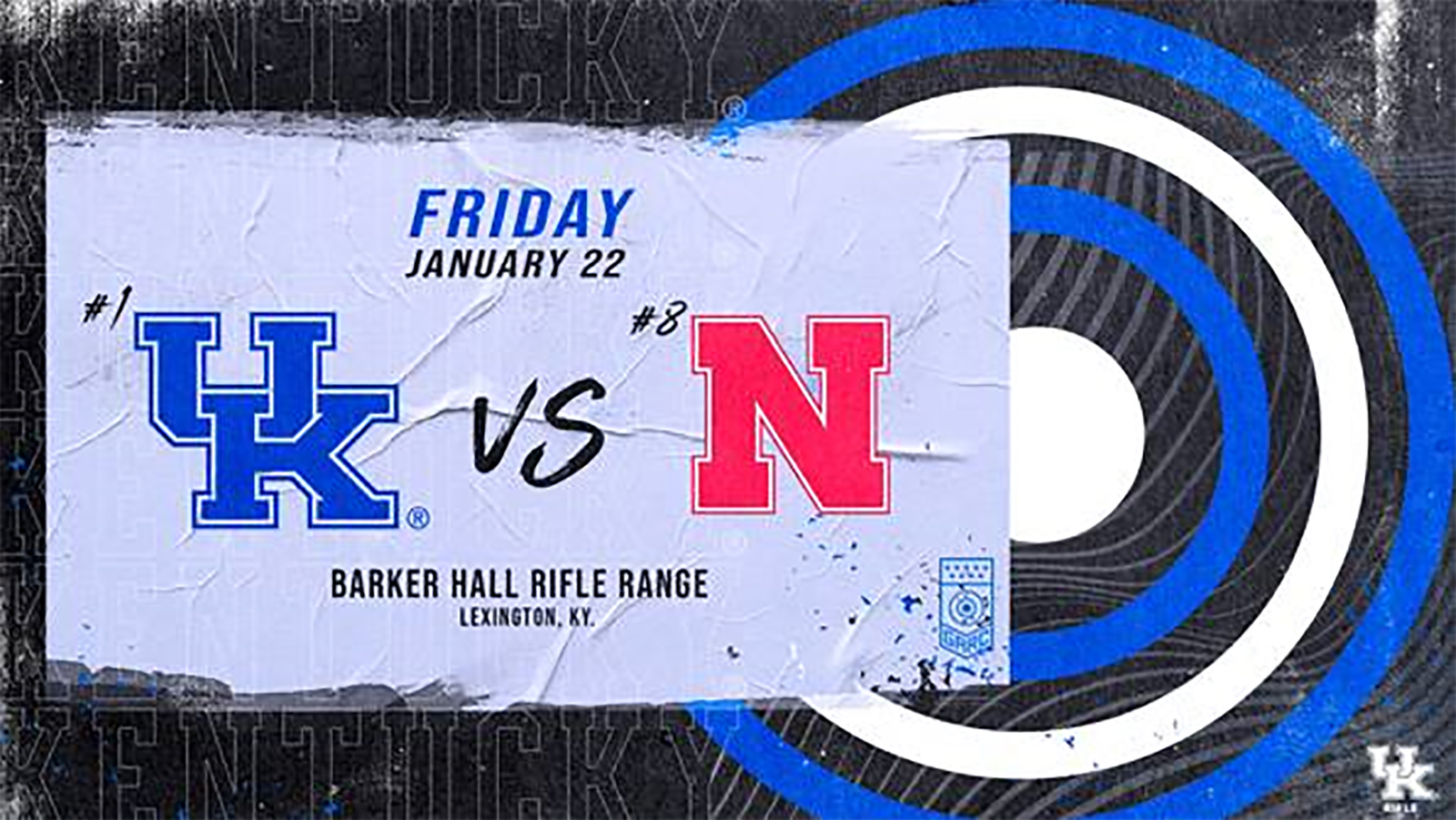 LEXINGTON, Ky. – Coming off the first loss of the season, the No. 1-ranked Kentucky rifle team will play host to No. 8 Nebraska on Friday, followed by a visit to Murray, Kentucky, on Saturday to take on No. 9 Murray State.  
 
"We are very excited to get back to competition after a short week," Coach Harry Mullins said. "Two matches back-to-back, with one of them on the road, is not ideal but we will learn from the experience. The two days of training we had this week showed us a lot of good things that I hope we will see again this weekend."
 
Despite the setback at Ole Miss on Monday, Kentucky is in a three-way tie for the No. 1 Collegiate Rifle Coaches Association ranking with the Rebels and TCU.  The Wildcats, 8-1 on the season, actually lead the nation in scoring average with a 4719.25 aggregate tally. 
 
"Nebraska is a very solid team, as is Murray, so both matches will be a good test for how strong we can be and our ability to adjust," Mullins said. "Coming off a good performance at Ole Miss, yet still taking the loss, will also be a test on how hard we push ourselves to get back in the win column. This is the start of a full eight days, with four matches, that will definitely test our endurance."
 
Nebraska has a 3-1 record, coming off a two-match sweep of Air Force last Saturday and Sunday.  Live targets from Barker Hall will be available online through www.ukathletics.com.
 
Following the Nebraska match, Kentucky will travel to Murray State for Saturday's match. The Racers are 8-2 on the campaign and have won two in a row vs. Ohio State and Jacksonville State.  UK and MSU have faced each other twice this season.  On Nov. 7, UK won 4735-4621 at the Pat Spurgin Rifle Range in Murray.  On Nov. 20, UK hosted the Kentucky Long Rifle Match against Murray State and Morehead State.  UK won the event with a 7057 score, followed by Murray (6975) and Morehead (6931).
 
For more information on the Kentucky rifle team, visit UKathletics.com or follow UKRifle on Twitter, Instagram and Facebook.