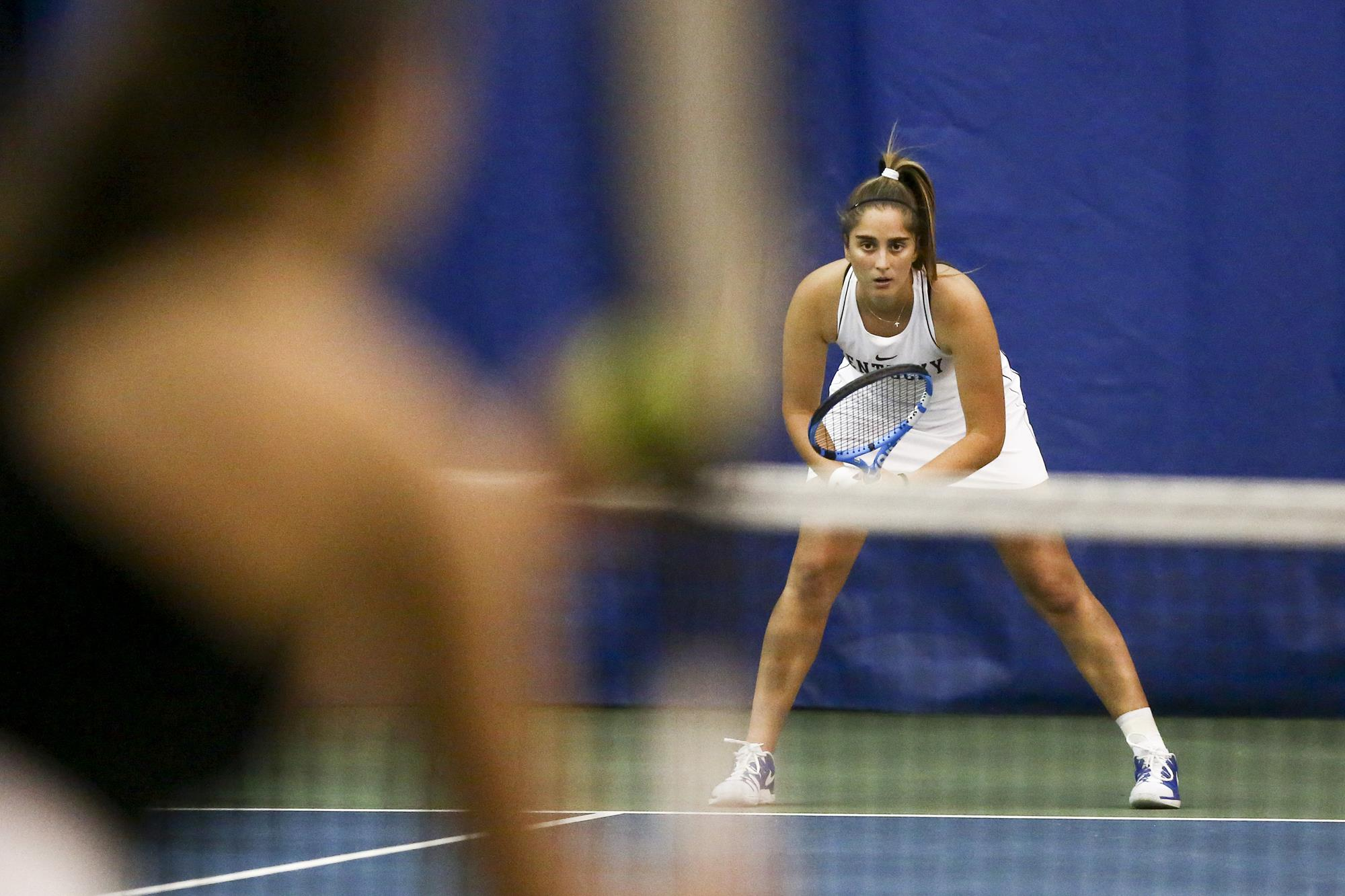 January 20, 2021 - 01:08 PM
UK Women's Tennis Commences 48th Season, Hosts ETSU, Memphis
LEXINGTON, Ky. – The University of Kentucky women's tennis team will begin its 48th season at the end of this week, hosting East Tennessee State on Thursday, January 21 for a 1 p.m. ET first serve and Memphis on Friday, January 22 for a 10 a.m. ET first serve. Both matches are scheduled to take place inside the Hilary J. Boone Tennis Center, and fans are encouraged to attend.
 
Admission to all home tennis matches is free. Capacity at the Hilary J. Boone Tennis Center is limited to 50 spectators, and it will be based on a first come, first serve basis. Face coverings, over the nose and mouth, are required for all fans as they enter, exit and move around the building, and all patrons will be required to take a temperature check upon entry.
 
Free parking options include the three small E-lots adjacent to the facility one hour prior to first serve. Spectators may also pay to park in the Sports Center Garage (PS No. 7) on the corner of Complex Drive and Sport Center Drive. The cost of parking is $2 per hour, with a $16 maximum.
 
Live scoring will be available here.
 
The Wildcats will begin a long-anticipated season on Thursday, hosting 13 straight home contests to begin the season. Last spring, Kentucky earned a 9-6 mark during the shortened schedule, including a 2-2 mark against Southeastern Conference opponents before the season was canceled because of the COVID-19 public health threat. The Wildcats owned a 47-32 singles record and a 20-17 doubles record through 15 total dual matches, paced by Carlota Molina's 9-4 singles record on courts two, three and four and Lesedi Jacobs' and Anastasia Tkachenko's 8-1 doubles record, recorded across all three courts.
 
Kentucky returns all seven of its student-athletes from its 2019-20 season and has added five newcomers to the program, raising the roster total to 12 student-athletes. The additions – Salsa Aher, Fiona Arrese, Amanda Miller, Mina Obradovic and Elizabeth Stevens – represent four countries including India (1), Serbia (1), Spain (1) and United States (2).
 
Granted by the NCAA because of the pandemic, four student-athletes have returned for an additional season – Lesedi Jacobs, Anastasia Tkachenko, Diana Tkachenko and Akvile Paražinskaite.
 
The Wildcats competed in three events last fall, in preparation for a taxing regular season. Limited to conference opponents only, Kentucky got an early look at the league during fall action.
 
Stevens, a freshman from Tigard, Oregon, competed in all three of the fall tournaments. In the second tournament, the Bulldog Invitational, she competed in six matches that weekend, recording the most wins of anyone on Kentucky's team – two singles matches, two doubles matches. The rookie, who was ranked as the top recruit out of Oregon, also managed to deliver a win over an opponent from all three teams competing at the Bulldog Invitational – Florida, Georgia and South Carolina.
 
She also recorded a promising 5-3 doubles record during the fall session.
 
Arrese, a freshman from Barcelona, Spain, had a remarkable fall season in doubles action. She recorded a 4-1 doubles record through just two of the fall tournaments, paired mostly with veteran Paražinskaite.
 
Two Wildcats earned a preseason nod from the Intercollegiate Tennis Association last week, as Jacobs and Anastasia Tkachenko checked in at No. 57 in the ITA Preseason Doubles Rankings. The tandem was paired together during the regular season in 2020, posting an 8-1 record and an undefeated 4-0 mark in the league, playing on the second and third courts. The pair owned a five-match win streak before the season ended due to COVID-19.
 
For the latest on the Kentucky women's tennis program, follow @UKWomensTennis on Twitter and on Instagram, on Facebook and on the web at UKathletics.com.