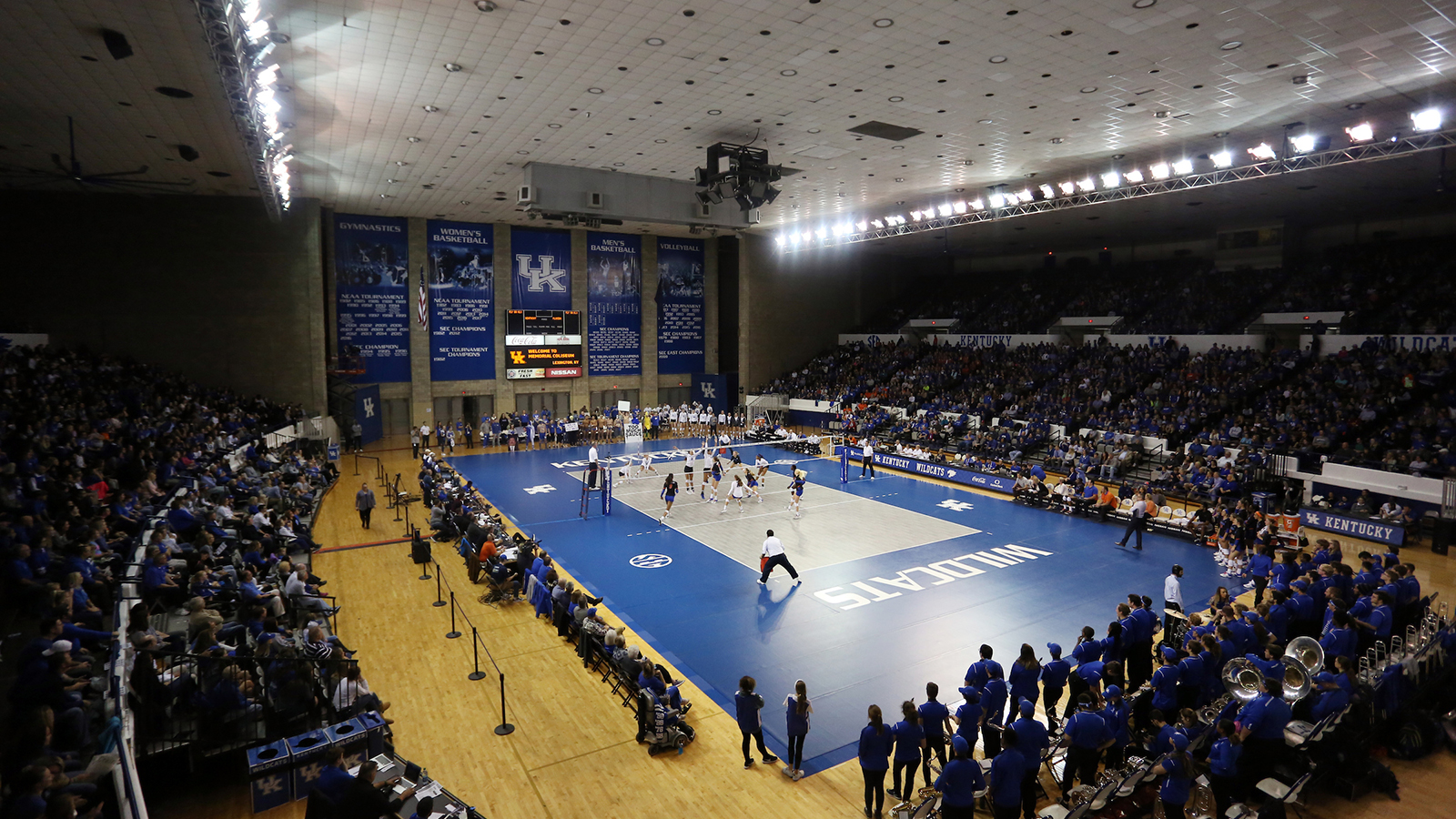 January 20, 2021 - 10:16 AM
UK Volleyball Releases Arena Capacity, Ticket Options for Spring 2021 Season
LEXINGTON, Ky. – In preparation for the return of Kentucky volleyball in the spring, UK Athletics has received reduced capacity guidelines from state health officials for the 2021 season and has designed a distanced seating plan to host fans at Memorial Coliseum in the healthiest manner possible.
The plan is focused on the recommended health and safety protocols for the well-being of all student-athletes, fans and staff.
At this point, the anticipated attendance for this season at Memorial Coliseum is up to 15% of normal arena capacity. All plans are subject to change based on evolving information as well as local, state and national public health developments.
The spring 2021 season schedule, which was released recently, includes home matches against South Carolina (Feb. 20 & 21), LSU (March 5 & 6), Ole Miss (March 12 & 13) and Alabama (March 24 & 25).
GAMEDAY CHANGES
UK Athletics has taken advice from the Commonwealth of Kentucky, UK health officials, the city of Lexington and the Centers for Disease Control and Prevention. In response, UK's plan includes a number of new measures to promote a healthy game-day experience at Memorial Coliseum. These measures include, but are not limited to:
Enhanced cleaning and sanitization procedures throughout the arena prior to and during all events
Mobile ticketing to reduce contact between staff and fans
Requiring face coverings for all fans at all times, with the exception of when fans are actively eating or drinking while sitting in their seats
Requiring fans to keep the proper physical distance
Providing signage in common areas to assist with physical distancing
Locating hand sanitization and washing stations located throughout the arena
Discouraging the bringing of bags of any sort. Only small, clear bags will be admitted

A complete list of the new gameday regulations is available at the UK Athletics Gameday website.
Fans with pre-existing health conditions, or those who are at a greater risk, should consider not attending sporting events at this time. Even with these measures in place, UK Athletics can, in no way, guarantee that fans will not be exposed to COVID-19.
TICKET INFORMATION AND OPTIONS
Tickets for the 2021 UK volleyball spring season will be sold on a single-match only basis.
Available tickets will be physically distanced throughout Memorial Coliseum and ticket holders will be required to stay in assigned seats.
Fans will receive their tickets via mobile delivery and must scan them on a mobile device for entry at Memorial Coliseum.
 
Season ticket holders who are not able to attend matches this season are encouraged to consider a charitable gift in support of UK Athletics and the new Ev'ry Wildcat Fund. This new fund will be used to sustain the mission of UK Athletics, serving our student-athletes, during these unprecedented times. Gifts will directly assist in supporting scholarships for more than 500 UK student-athletes.
Fans also have the chance to purchase fan cutouts that will be displayed inside Memorial Coliseum this season. For more information about purchasing cutouts, visit the fan cutouts website.
 
Current season ticket holders will have a priority window starting Friday, Jan. 22 at 9:00 a.m. to purchase single match tickets. Current season ticket holders will receive an email today with further details. General public sales will begin Monday, Jan. 25 at 9:00 a.m. ET, based on availability. Ticket holders are encouraged to regularly monitor their email for additional updates leading up to the home opener.
All current season ticket holders will have the ability to renew their original seat locations for the 2021 fall season, regardless of their choice in attending matches this spring.
 
For more information on the UK volleyball team, visit https://ukathletics.com/sports/womens-volleyball and follow the team on Twitter, Facebook, Instagram.