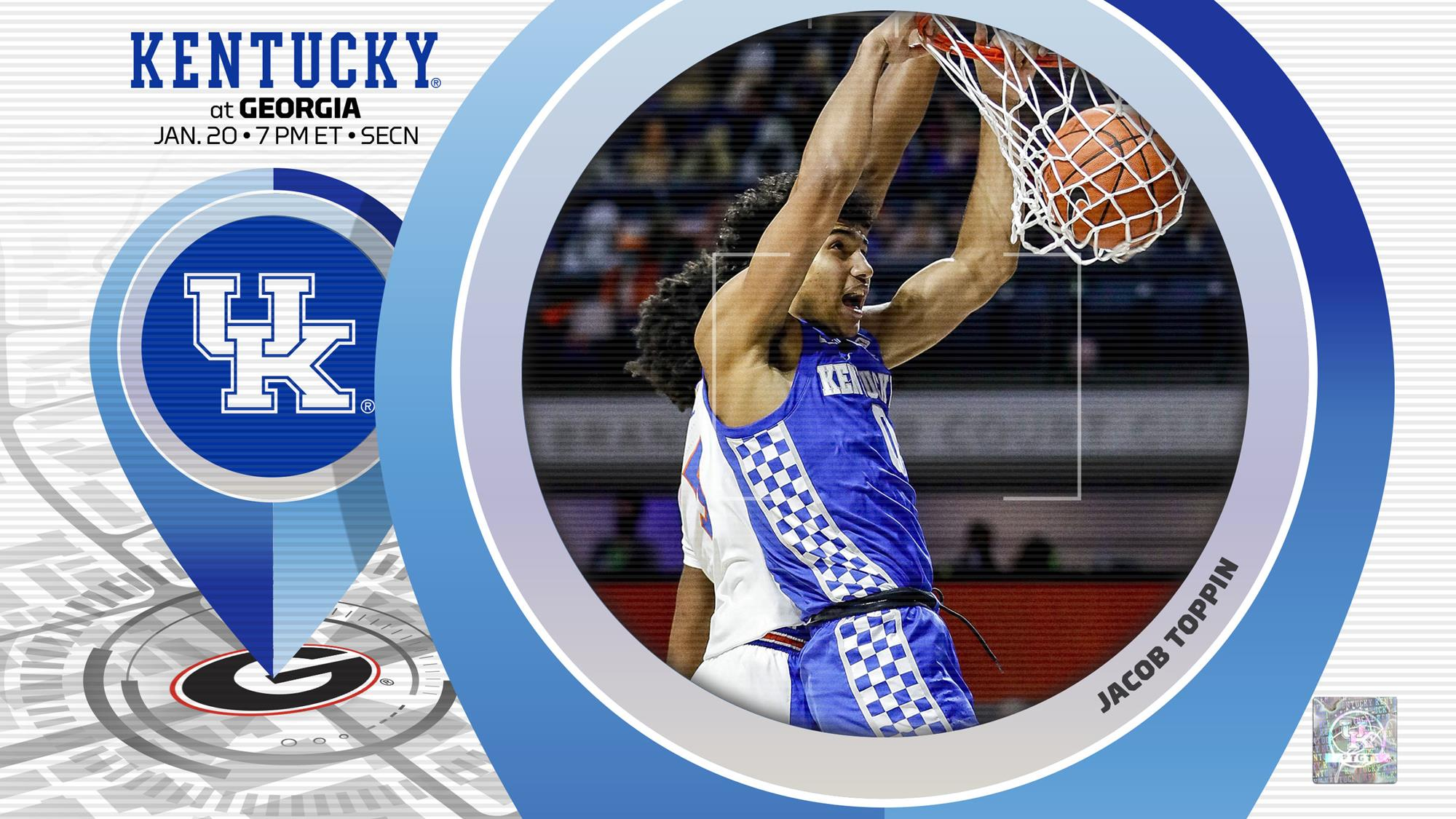 January 19, 2021 - 03:27 PM
Cats Hope 'Tweak' Pays Dividends at Georgia
Throughout his tenure at Kentucky, head coach John Calipari has been known for making little changes in his teams. These have affectionately become known as "tweaks" and Coach Cal appears to be making another one ahead of Wednesday's contest at Georgia.
It's no secret that the Cats have struggled offensively this season. The difficulty for Calipari and his staff is to find a lineup that can score, but that can also defend at the same time.
"We have one group that really guards — .5 points per possession," Calipari said. "So then you would say, 'Why don't you just leave them in the whole time?' OK, that group is scoring .6 points per possession. So now you say, 'Well, you can't leave them in because they can't score.' Well, slightly more than they're giving up, but the game would be 42-41."
On the other hand, Calipari can go with a lineup that really puts the ball in the basket.
"And then there are other lineups that we got to get on the floor more because their points per possession are in that 1.2, 1.3 range, 1.35, which means that's as good as they are in the country," Calipari said. "And then you look back and say, 'All right, how does that group defend and what have they given up?' And so, this is tweaking, analyzing, looking at numbers."
 
Kentucky at Georgia

Wed., Jan. 20 – 7 p.m. ET
Stegeman Coliseum
Athens, Ga.
Game Notes: UK | UGA
UK Athletics App

Coverage

TV: SEC Network
Radio: UK Sports Network
Watch
Listen
Live Stats

UK
Stats
UGA
4-8
Record
8-4
3-2
Conference Record
1-4
67.4
PPG
79.8
68.5
Opp PPG
74.8
.418
FG%
.468
.408
Opp FG%
.442
38.7
RPG
40.3
.297
3PT FG%
.328
.317
Opp 3PT FG%
.321
11.1
APG
15.4
6.8
SPG
8.9
6.3
BPG
2.4

No matter what lineup Calipari uses, he's looking for one thing – consistency.
"Well, it's the most important thing. Like, that's the No. 1 thing that you know within 5% what this young man is going to give," Calipari said. "We're not there yet. We've got a couple guys but not enough. And the only way of getting that is demonstrated performance. How they are in the games is, you know, what do you bring every game? Are you overwhelmed by it? Are you excited about it? Are you focused and engaged? Are you into yourself? I mean, this is all the experience of learning to be a great teammate."
As to why the team has struggled to be consistent, guard Davion Mintz thinks the team is still figuring that out.
"I'm not sure," Mintz said. "Coach, first of all, has to know. I mean, it makes his job easier. He can know what he is expecting. He will know what he's going to get out of every guy before the game even tips off. I'm not sure why we've been having difficulties with consistency. It's one of the parts we really need to pick up."
Georgia enters Wednesday's game with an 8-4 mark overall, including a 1-4 record in league play. The Bulldogs won their last game, at Ole Miss, on Saturday. Calipari knows that Georgia has recently become a better team with the addition of K.D. Johnson.
"Tough game at Georgia," Calipari said. "They played well against Mississippi on the road. They added a new player similar to what Auburn did so they're not the same team now. As a matter of fact, they had Auburn on the ropes and they beat Mississippi, so you know what, we're going into another hard game for us."
Calipari knows that now is the time for his team to take a leap forward.
"We've got to break through at some point. If it's not this week, this Wednesday, then it better be this weekend. Time to break through and make strides."
Perhaps the latest Calipari tweak is the move that brings that breakthrough forward.
Wildcats Have Won 14 Straight vs. Georgia
 
Needing a win after two straight losses, Kentucky will take on a Georgia team it has beaten 14 straight times, including four straight in Athens, Georgia.
 
The 14-game winning streak is currently Kentucky's second-best vs. Southeastern Conference competition. UK has won 15 straight vs. Mississippi State — all 15 games of the John Calipari era — which includes this season's double-overtime win in Starkville, Mississippi.
 
Georgia does have two wins vs. the Wildcats with Calipari at the helm, in 2013 and 2011. Both were at Stegeman Coliseum, where Wednesday's game will be.
 
The Bulldogs are one of Kentucky's most played opponents, with UK owning a dominant 129-26 all-time series edge, including 44-17 in Athens.
 
The Wildcats' 89-79 victory last season at Georgia was one of their most complete performances of the season. UK shot 52.5% from the floor and four players scored in double figures for Kentucky's second-highest point total of the season.
 
Georgia enters the game 8-4 on the season, 1-4 in SEC play. With five players averaging double figures, the Bulldogs are scoring nearly 80 points a game. They are 21st in the country in steals per game.
 
Mr. Jackson is For Real
 
The blocked shots standard at Kentucky starts and stops with Anthony Davis.
 
In 2011-12, en route to nearly every major national player of the year award, the freshman blocked 186 shots, smashing the previous school record held by Andre Riddick and Melvin Turpin and threatening the NCAA Division I mark.
 
Just a year later, Nerlens Noel was on pace to challenge the record before a knee injury ended his season early. And coincidentally, just a season after that, Willie Cauley-Stein put up formidable numbers. They are the only players in school history with 100 or more blocks in a single year. Since those three players left for the pros, Kentucky hasn't had the type of elite rim protection that those three provided.
 
Enter Isaiah Jackson. The freshman forward has the ability to be an elite shot blocker and has shown at times to be just that.
 
In the second game of the season, vs. Kansas, Jackson blocked eight shots, the most for a UK player since Cauley-Stein had nine against Boise State on Dec. 10, 2013. They are also the most ever by a Wildcat against an Associated Press top-10 opponent in program history.
 
After three straight appearances with just one block a game, Jackson has swatted a combined 22 shots over the last six games to give him a total of 37 for the season. That's behind the pace of UK's all-time best rim protectors, but his block percentage is actually better than Davis, Noel and Cauley-Stein.
 
Davis had a 13.8 block percentage during the 2011-12 season, Noel posted a 13.2 in 2012-13 and Cauley-Stein was at 12.3 during 2013-14. Jackson is currently ahead at 15.9%, ranked second in the country (through games on Jan. 16), and his 6.0 blocks per 40 minutes is also ahead of Davis (5.8) and Noel (5.5).
 
Where Jackson needs to improve to catch up to his predecessors, and more importantly, to help UK win, is staying out of foul trouble. Jackson is averaging 5.2 fouls per 40 minutes. By contrast, Davis averaged just 2.4 and Noel was at 3.2.
 
The foul trouble is what has limited Jackson from reaching his dominant potential. He's played more than 21 minutes just once over the last eight games because of foul trouble and has fouled out twice this season.
 
With Jackson's rim protection, UK is third in the country in block percentage at 16.5%.