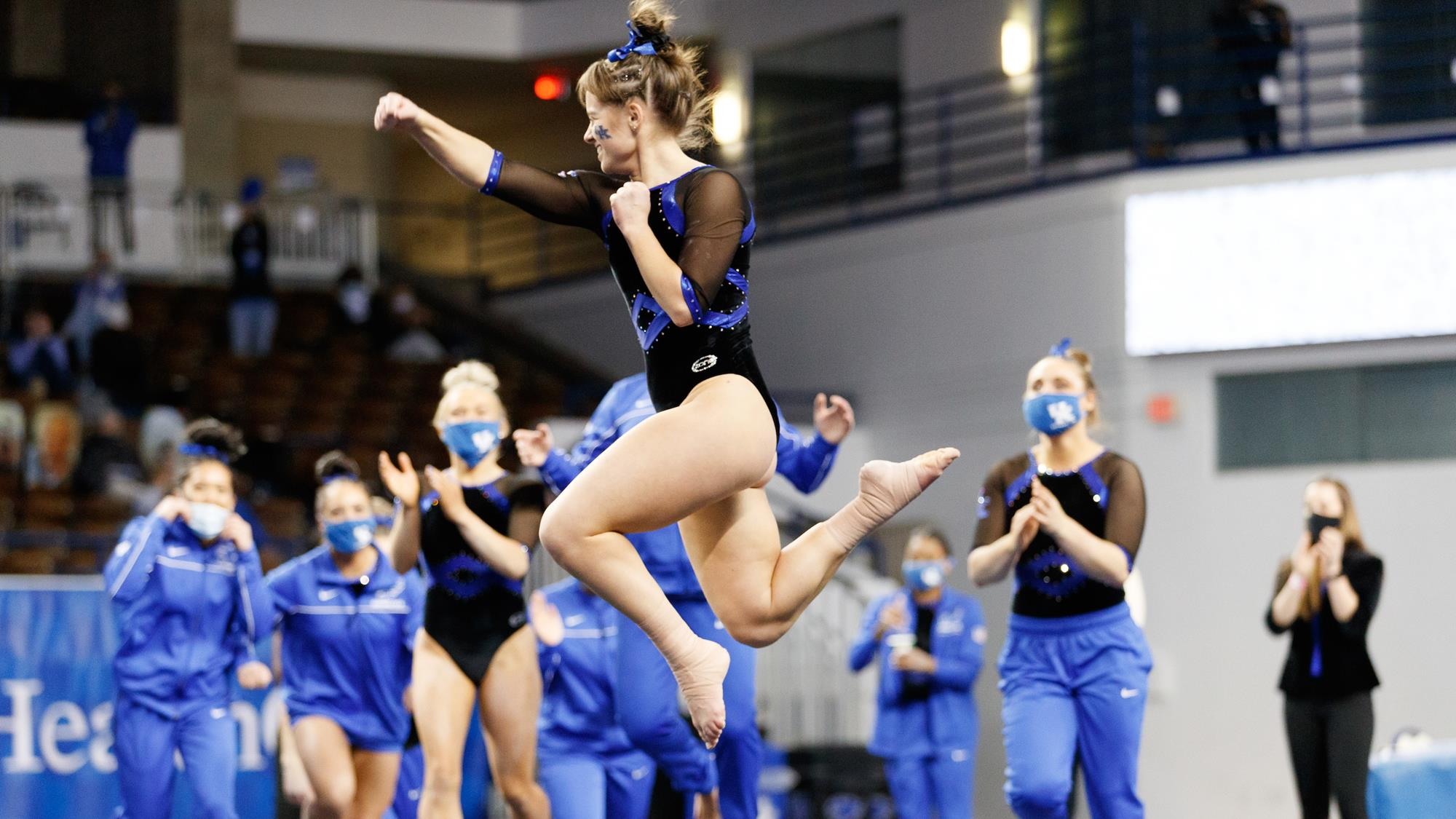 January 16, 2021 - 02:52 AM
No. 8 Kentucky Downs No. 9 Auburn in Home Opener
LEXINGTON, Ky. – No. 8 Kentucky made its 2021 home debut in triumphant fashion, leading No. 9 Auburn from start to finish in a 196.225-194.575 victory Friday night at Memorial Coliseum.
 
The Wildcats swept all five of the competition's individual titles, with Josie Angeny earning two outright first-place finishes and Cally Nixon, Anna Haigis and Raena Worley capturing one apiece.
 
"For the most part, we performed really well," said head coach Tim Garrison. "I'm really excited. I'm excited about this group—and they're a young group. I feel good."
 
Kentucky navigated the night in Olympic order, beginning with a 49.250 vault rotation. Each member of the Wildcats' introductory lineup scored 9.800 or better, led off by a 9.850 from freshman Bailey Bunn. Worley and freshman Isabella Magnelli followed with back-to-back scores of 9.800, while junior Arianna Patterson received a 9.825.
 
Nixon, competing with a 9.950 start value, performed what was ultimately the night's best vault routine to the tune of a career-high 9.925. The Miami product reset a career high on the apparatus for the second consecutive week, earning her second vault crown in a row and third overall.
 
Angeny anchored the Wildcats with a 9.850.
 
Kentucky's momentum carried into uneven bars, where its rotation ended with four straight routines of 9.850 or better. Nixon (9.850) and Worley (9.850) began the trend from the third and fourth spots, respectively, before a career-high-tying 9.875 from sophomore Shealyn Luksik preceded Angeny's second consecutive career-high showing of 9.900 and a second bars title in as many weeks.
 
Kentucky led Auburn 98.475-97.250 at the midway mark.
 
Balance beam proved to be the Cats' chief struggle once again, though a career high from Nixon (9.825) and a strong showing by Worley (9.850) kept the rotation afloat long enough to get to Angeny, who was competing in her third and final anchor spot of the night.
 
The Spring Hill, Tennessee, native came away with a 9.875, good enough to claim her second event win of the meet and fourth career beam title.
 
The Wildcats ended the night as it began, concluding its floor exercise rotation with another 49.250. Bunn led off once more with a 9.875, though it was Haigis who eventually earned her first collegiate victory on any event with a career-high 9.925. Sophomore Makenna Clarke followed up with a career-high 9.875 of her own, while Worley produced the same score during the meet's final routine.
 
Worley was named the contest's all-around champion with a grand total of 39.375, marking the first all-around win of her career.
 
With the team victory, Kentucky improves to 1-1 on the season. Despite having already faced a Southeastern Conference opponent the week prior, the Cats officially move to 1-0 in the SEC at the end of the first week to count toward league standings. Auburn falls to 0-2 (0-1 SEC).
 
Next week, Kentucky is set to hit the road once more for a matchup with No. 14 Missouri (0-2, 0-1 SEC) on Friday, Jan. 22, at 7 p.m. ET, live on SEC Network.
 
Fans may purchase tickets to 2021 Kentucky gymnastics meets via Ticketmaster. To purchase a fan cutout of a person or pet, visit UKAthletics.com/FanCutouts. For the latest on the Kentucky gymnastics team, follow @UKGymnastics on Twitter, Facebook and Instagram, as well as on the web at UKAthletics.com.