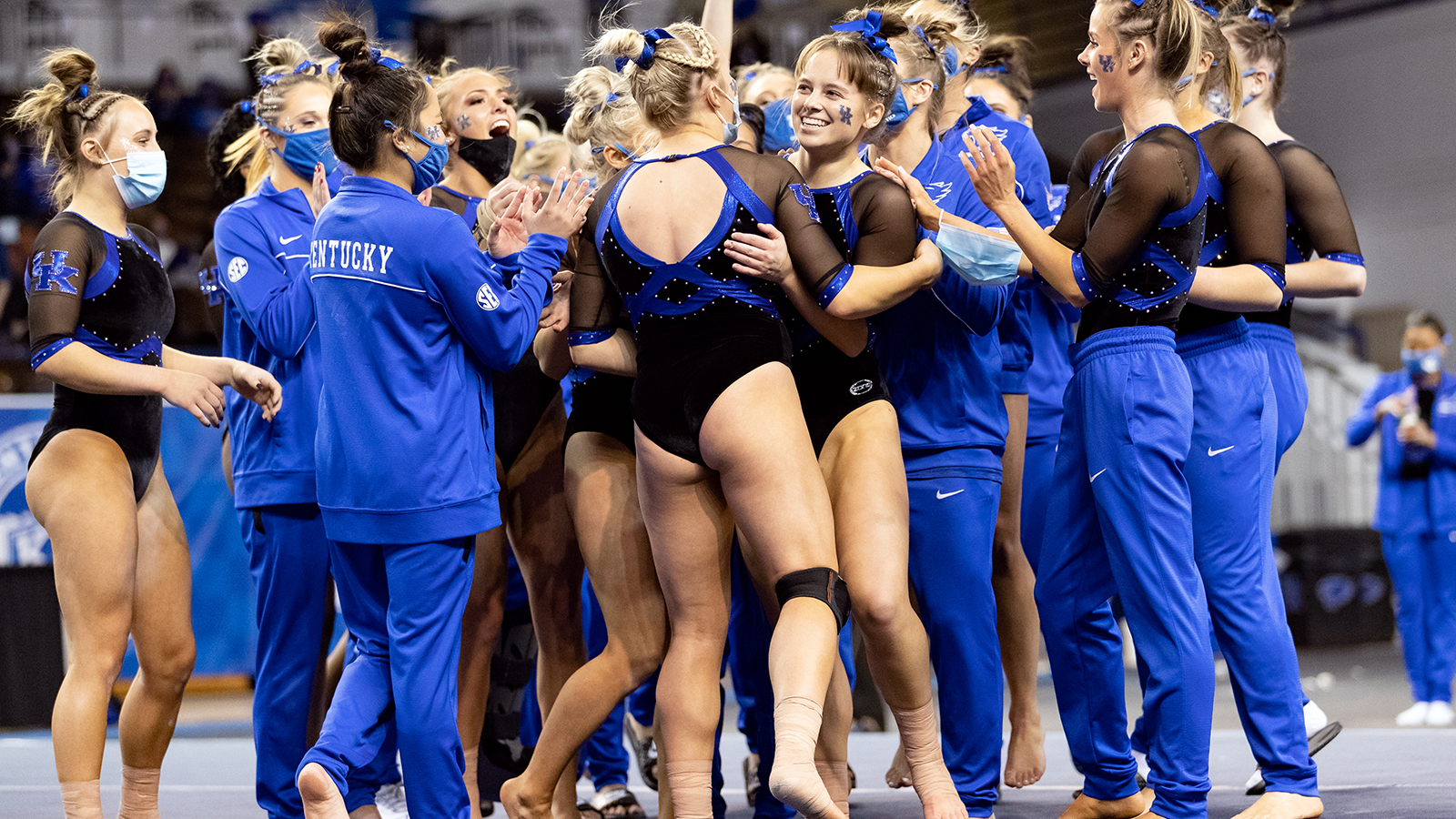 January 15, 2021 - 10:08 PM
Haigis, Worley Lead Total Team Effort in Cats' Victory
The eighth-ranked Kentucky gymnastics squad used a total team effort to top ninth-ranked Auburn on Friday night at Memorial Coliseum.
The Cats used 11 different gymnasts to score a season-high 196.225 and to cruise to an easy win over the Tigers (194.575).
There were a number of highlights in the meet for the Cats, including the first career all-around win for sophomore Raena Worley, who posted a 39.375 to edge out teammate Josie Angeny (39.275).
For Worley, Friday night was all about having fun.
"It was just so much fun to be back on the floor with the team," Worley said. "To be able to enjoy it, without having to think about everything else, was just bliss."
UK head coach Tim Garrison thinks that having fun is a sign that Worley has taken her skills to another level.
"The competition (last season) wasn't as fun for her as it is now," Garrison said. "I think she's gotten herself to a place now that's a comfort level. She's so excited and feels so confident with what he does. She can just let it go and not overthink it. It's fun to see the growth in her."
Worley agreed with her head coach's assessment.
"It definitely does. This year, it feels like a whole different ball game," Worley said. "It definitely gives me more confidence in myself to know that (Garrison) has confidence in me at that level. And knowing that I have the team behind me supporting me, it's great."
As for carrying a bigger role on the team this season, Worley is ready for that challenge.
"It's an honor to carry the team like that," Worley said. "Going through that with Josie and having her by my side, I feel no pressure, just excitement."
Another key factor in Friday night's win was the performance of junior Anna Haigis. The Cincinnati native competed in two events in Friday's meet and set new career highs in both of them.
On the beam, Kentucky needed her performance after a couple of Cats suffered falls. And Haigis delivered with a career-best 9.700.
While she was pleased with her score, Haigis knows there's also room to improve.
"On beam, I'm really happy with how I've been doing and I think I have a pretty bright future ahead of me because there's still some little things I can work on," Haigis said. "The 9.700 was awesome. It was a career high. But the fact that that's my career high means I have so much more I can do to get even better. But I'm excited that I hit the career high I've been wanting."
Then, she delivered a performance that put the meet away. Haigis nailed her floor routine, something that Garrison was happy to see.
"She committed to this floor routine. She has two tumbling passes that she feels good about," Garrison said. "And it's such an entertaining routine to watch. She's huge for us."
When Haigis finished the routine, she knew she had done something special.
"I hit my first pass and I was like good, I've got that one out of the way. Let's keep crushing it," Haigis said. "And I hit that last pass and I honestly almost gave myself the chills. It was so fun."
It was also a moment in which Haigis was able to reflect.
"Honestly, in that moment, it felt like everything I worked towards paid off," Haigis said. "From the minute I started gymnastics, when I was four, to that moment, it felt amazing. It almost felt like a weight had been lifted off my shoulders."
Worley, Haigis, Angeny and a host of others carried Kentucky to the win on Friday. It was truly a team effort for the Cats.