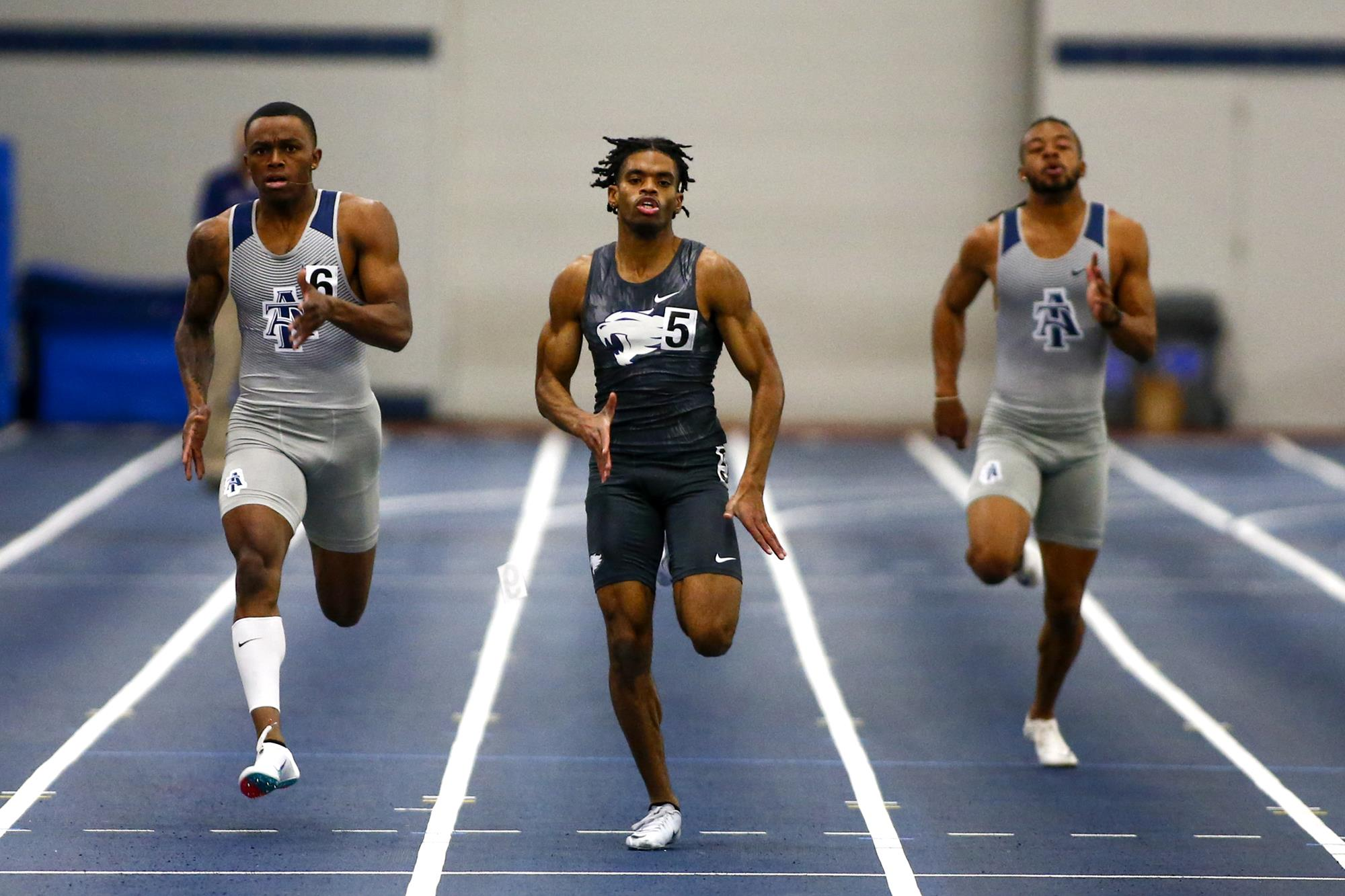 January 15, 2021 - 07:30 PM
Kentucky Brings the Heat in 200 Meters on Day One of McCravy-Green Invitational
LEXINGTON, Ky. – It was cold outside the University of Kentucky's Nutter Field House, but the Wildcat 200-meter runners turned up the heat Friday on the first day of the Rod McCravy-Jim Green Invitational.
Lance Lang, a sophomore from St. Louis, and Abby Steiner, a junior from Dublin, Ohio, burned the track in 20.94 and 22.83 seconds, respectively in the men's and women's 200m dash – the best times in the nation in the relatively young season.  It was Lang's personal best and the sixth-best indoor 200 time in school history. 
Kentucky won four of the 10 events on the day, including the men's shot put and men's high jump.  Josh Sobota, a junior from Knoxville, heaved the sphere 62 feet, 6 inches (19.05m), the fifth-longest put in the current national rankings.  Rahman Minor of Indianapolis, Trey Causey III, a junior from Stockbridge, Ga. both cleared 6'11" (2.11m) and Minor won on the tiebreaker as he had a perfect series, while Causey took two tries to clear the winning height.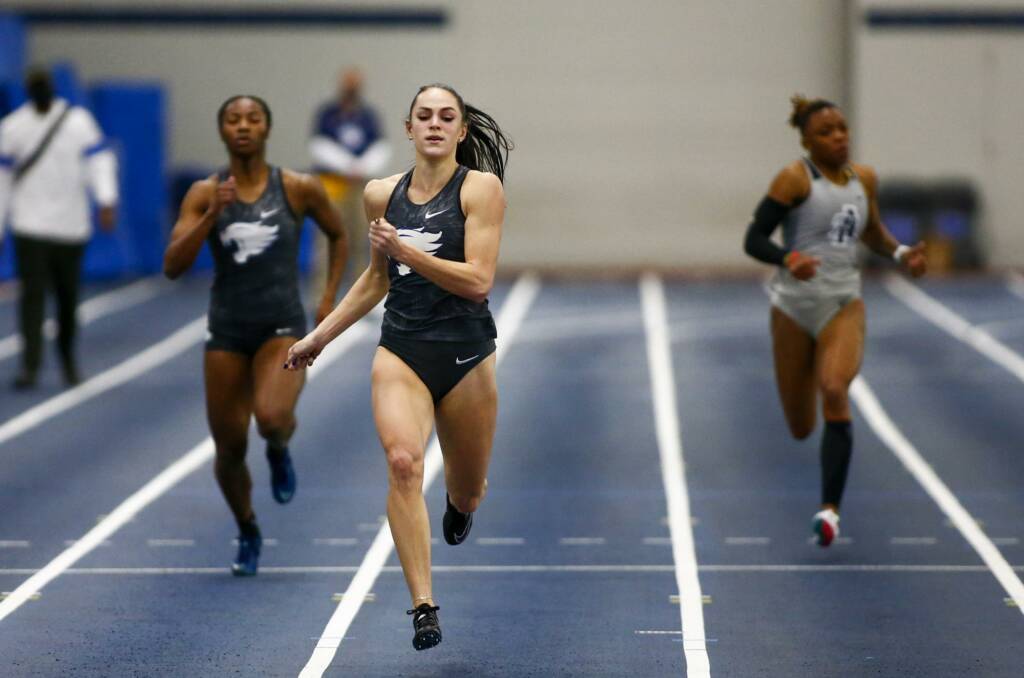 Abby Steiner ran a top 200m time early in the 2021 season
The University of Louisville also won four events Friday, with the University of Cincinnati and North Carolina A&T also claiming one event.
Below are the Kentucky event results for Friday, including notes on personal bests and marks on the all-time Wildcat lists.
 
Time 
Event 
UK entries 
3:00 PM 
Women's Weight Throw 
2. Molly Leppelmeier: 67'8″/20.62m | PB, No. 2 UK all-time
3. Jade Gates: 63'4″/19.30m | No. 5 UK all-time 
3:00 PM 
Men's Long Jump 
3. Robbie Springfield: 24'0.75″/7 
5. Trey Causey III: 23'1.75″/7.05m 
4:00 PM 
Men's Weight Throw 
2. Michael Browning: 59'11″/18.26m 
4:00 PM 
Women's High Jump 
2. Annika Williams: 5'9.75″/1.77m | No. 7 on #UKTF all-time indoor list 
3. Carly Hinkle: 5'7.25″/1.71m 
5:00 PM 
Men's High Jump 
1. Rahman Minor: 6'11″/2.11m 
2. Trey Causey: 6'11″/2.11m 
5:00 PM 
Women's Shot Put 
2. Molly Leppelmeier: 50'1.75″/15.28m 
7. Annika Williams: 37'5.75″/11.42m 
6:00 PM 
Women's Long Jump 
2. Annika Williams: 19'2.75″/5.86m (PB) 
6:00 PM 
Men's Shot Put 
1. Josh Sobota: 62'6″/9.05m | No. 5 on TFRRS DI list entering Friday 
9. Michael Browning: 46'10″/ 14.27m 
6:15 PM 
Women's 200m 
Five Sections 
1. Abby Steiner: 22.83 (No. 1 on DI list entering Friday) 
2. Dajour Miles: 23.89 
7. Kaylyn Heath: 25.00 
6:30 PM 
Men's 200m 
Seven Sections 
1. Lance Lang: 20.94 | PB, No. 1 on DI performance list entering Friday, No. 6 #UKTF all-time indoors 
3. Dwight St. Hillarie: 21.09 
4. Jacob Smith: 21.25 
6. Cameron Council: 21.65 
9. Rodney Heath Jr.: 22:15 
10. Tai Brown: 22.23 
 
The McCravy-Green resumes Saturday with 22 total events beginning at 11 a.m.  Live results are available at https://live.pttiming.com/?mid=2116
The event is named in honor of two former Kentucky track athletes.  Jim Green was the first African-American student-athlete in the Southeastern Conference to win NCAA and Southeastern Conference championships.  He won eight SEC individual events and three individual NCAA titles. Rod McCravy, who had established himself as a leader with great respect and care for others, died in 1987 at the age of 19.
Due to the ongoing COVID-19 pandemic, in order the create the safest possible meet experience, only essential personnel will be permitted inside Nutter Field House.  Those permitted inside the facility include student-athletes, coaches and support personnel; meet officials and Kentucky staff as well as public safety officials and media.
Follow along with the Cats on Facebook, Instagram, Twitter and on the web at UKathletics.com.