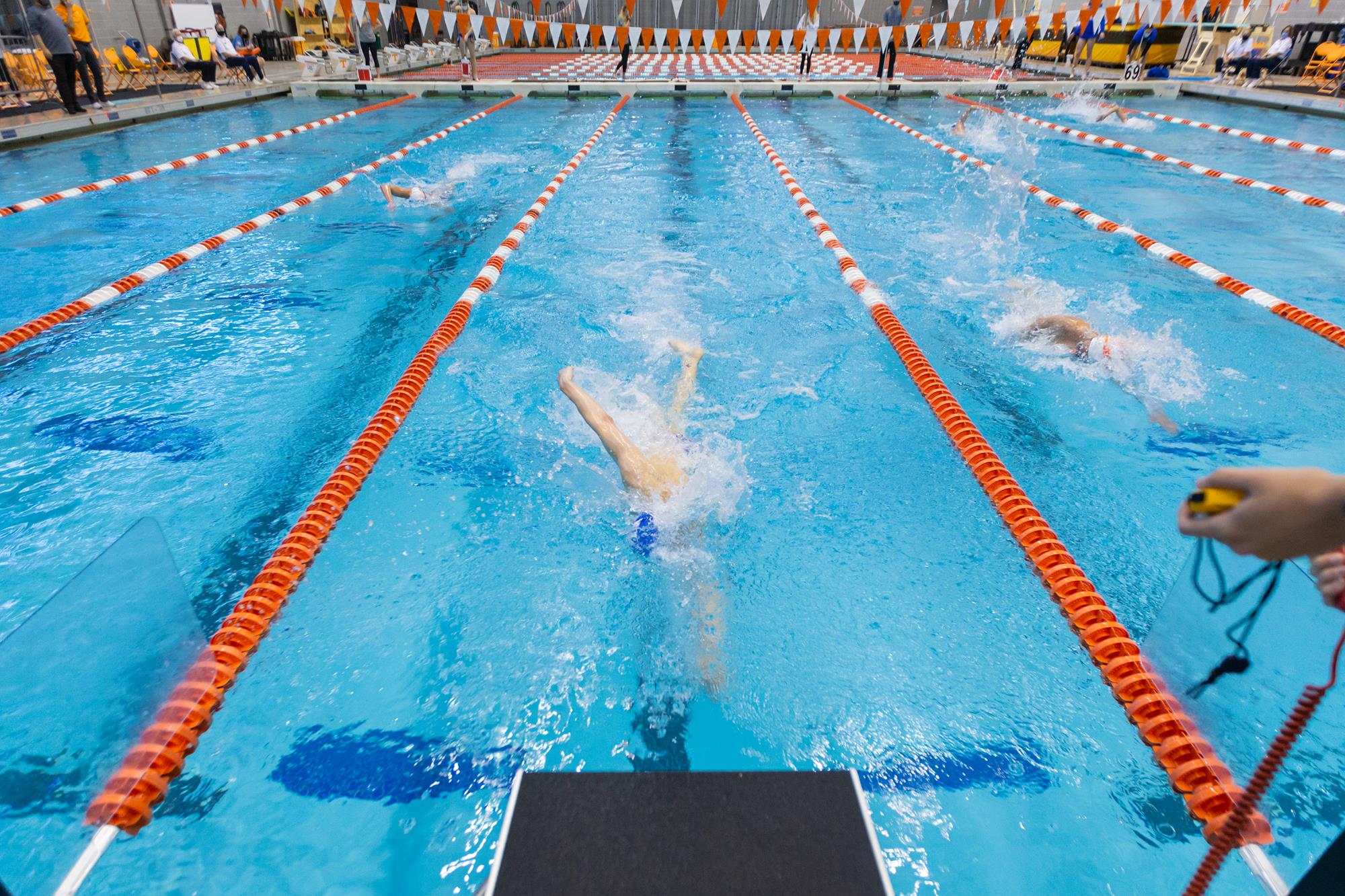 January 15, 2021 - 05:41 PM
RV Kentucky Men's Swimming & Diving Falls to a Suited-Up No. 11 Tennessee Team
KNOXVILLE, Tenn. – Sophomore Jakob Clark rallied a career best in the 1,000 freestyle, as the University of Kentucky men's swimming and diving team lost to a suited-up No. 11 Tennessee team in Knoxville, Tennessee, on Friday evening, 216-84.
 
Jakob Clark had a dominating performance in the 1,000 freestyle, the first individual event of the dual meet, earning a career best and top time of 9:10.20. His time is more than a second faster than his previous career best of 9:11.94, which he earned at the Mizzou Invitational in mid-November. The sophomore's new personal record moved up one spot on the program's all-time top-10 performance list, ranking as the seventh-best performance in school laurels.
 
The 2020 SEC All-Freshman selection followed up that performance with a second place showing in the 500 freestyle, touching the wall in 4:30.11.
 
The diving group swept the 3-meter springboard, earning first, second and third place.
 
Danny Zhang, a junior, paced the Blue and White, earning 379.58 points in the event, his fourth best score this season. Chase Lane, a senior, followed in second place on a mark of 351.00, also his fourth best score this season, while Samuel Duncan, a newcomer, rallied third place on a career high 346.88 points. It was just .68 better than his previous career high, which he also rallied against Tennessee in mid-October. Third place is the newcomer's best finish this season, too.
"First and foremost, I am proud of Chase for the leadership and confidence he displayed today," said head diving coach Ted Hautau. "He has not been able to train a number of his dives for some time now, so he had to do about four or five dives for the first time since late-November. So, I am really impressed with him, and I thought his dives were consistent and steady. 
 
"We were obviously a little tired today, we've been training hard and haven't rested, but the guys bounced back after 1m. They all took advantage of the scoring opportunities on 3m. I am pleased with the way they came together as a group, especially not feeling particularly well, but they still handled business. I noticed them really supporting one another and coming together as a unit. They've been training like that lately, and they competed like that, too. We're pretty evenly matched with Tennessee, and we're thankful they were able to host us this week."  
 
Kyle Barker ran away with the 400 IM, the last individual event of the dual meet. The junior carded a 3:56.99 in the event, nearly a full second faster than the field. He got off to a fast start, swimming the second fastest lead split in 53.37 and the fastest backstroke split in 59.82.
 
Mason Wilby had a competitive performance in the 200 butterfly after a long winter break, earning second place in 1:47.18.
 
In the program's final outing of the regular season, the RV/No. 10 Kentucky swimming and diving teams will host in-state rival No.13/No. 14 Louisville inside the Lancaster Aquatic Center on Saturday, January 23 at 1 p.m. ET. Twelve seniors will be honored in a senior celebration, while capacity is limited to coach and player guests.
 
For the latest on the Kentucky swimming and diving program, follow @UKSwimDive on Twitter and on Instagram, on Facebook and on the web at UKathletics.com.