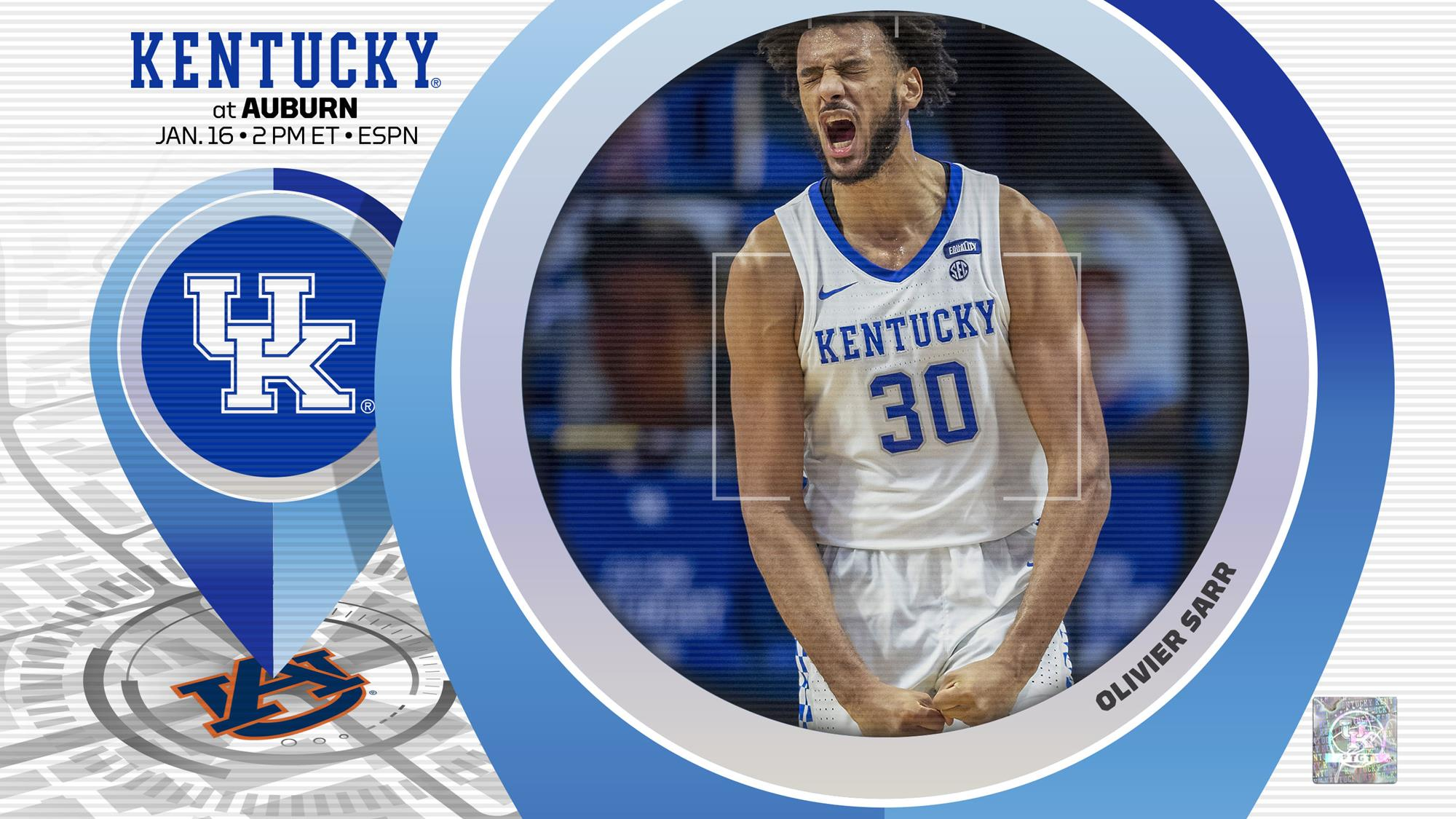 January 15, 2021 - 05:40 PM
Kentucky Looks to Bounce Back at Auburn
After opening Southeastern Conference play with three straight wins, Kentucky lost its first conference game on Tuesday night, falling to Alabama inside Rupp Arena.
The Cats will look to get back on track on Saturday, visiting Auburn to face Bruce Pearl and the Tigers at Auburn Arena (2 p.m. ET, ESPN).
Sophomore forward Jacob Toppin hopes that the Alabama game was just one of those nights and that the Cats will be better on Saturday.
"We all knew that was an off night. It was definitely an off night and that's it," Toppin said. "In practice yesterday, we were all going at each other and making each other better. We took a step back during that game, but now we're taking a few steps forward and we've just got to keep preparing for the next game."
Despite taking a step back, Toppin does not feel that he or the team are under more pressure to win because of how the season has gone.
 
Kentucky at Auburn

Tue., Jan. 16 – 2 p.m. ET
Auburn Arena
Auburn, Ala.
Game Notes: UK | AU
UK Athletics App

Coverage

TV: ESPN
Radio: UK Sports Network
Watch
Listen
Live Stats

UK
Stats
UA
4-7
Record
7-6
3-1
Conference Record
1-4
68.2
PPG
77.2
68.7
Opp PPG
73.9
.420
FG%
.456
.410
Opp FG%
.433
38.7
RPG
38.5
.303
3PT FG%
.335
.328
Opp 3PT FG%
.304
11.5
APG
15.7
6.5
SPG
7.2
6.5
BPG
5.6

"I don't think there's any pressure for us," Toppin said. "We're human beings. We make mistakes. Sometimes we have off nights. Sometimes we have great nights. We've just to deal with those."
Toppin does believe there's a remedy for what went wrong on Tuesday.
"Moving forward, we've got to definitely prepare more for games," Toppin said. "We have to be more focused, and I think that's what we're doing right now. We've very prepared and we've very focused for this next game, because we want to do good and we've just got to make up for that loss that we had."
Auburn is 7-6 overall and 1-4 in the league, but the Tigers have become a different team over the last two games. The addition of guard Sharife Cooper has been a huge difference for Pearl and his team.
Since Cooper's arrival, Auburn has seen its scoring increase from 74.4 points per game to 92.5 points per outing. The Tigers are shooting 51.6 percent from the floor with Cooper in the lineup. They shot 44.4 percent without him. Cooper has scored or assisted on 100 of Auburn's 185 points (54.1 percent) in the last two games.
Calipari has been impressed with Cooper's play.
"He's played two games and they're scoring like 25 points per game more," Calipari said. "They're scoring 15 in transition with him at point, and the reason is, like some of the great guards I've had, that ball hits his hands and it may be out of his hands in a half second up the court. What would that do to people on your team? That means they're flying because if they get a two-step lead, he will throw it."
Historically, Kentucky has dominated the series with Auburn, winning 95 times in 116 meetings. However, over the past few seasons, the series is even at 4-4.
The Cats are hoping that Tuesday's game was just a blip on the radar and that they to get back on the winning side of the ledger on Saturday. It will be another tough task against an Auburn team that is playing much better as of late.
Auburn Up Next
After splitting home contests a season ago and meeting three times in 2018-19, including an overtime thriller for a spot in the 2019 Final Four,the Kentucky-Auburn matchup is evolving into must-see TV.
After the Wildcats won 18 straight from 2001 to 2015, the series is tied 4-4 over the last eight meetings.
Although Kentucky owns an all-time record of 95-21 against the Tigers, including a 31-16 edge in Auburn, the series has been deadlocked forthe last four seasons. Four of those matchups have been decided by seven points or less.
Beginning with a 75-70 Auburn win in January of 2016, the matchup between the two teams have provided some classics. That game saw theTigers rally from a five-point halftime deficit for the win despite UK's Tyler Ulis nearly registering a triple-double with 17 points, 10 rebounds andeight assists. The 2017 matchup endured UK guard De'Aaron Fox fouling out with 7:23 to play and nearly 50 fouls called, but Kentucky rallied towin by 20 points. In 2018, Auburn assembled a 13-2 run to turn a four-point deficit into a 68-61 lead with 3:57 remaining as the No. 10 Tigersheld off a rally by the young Wildcats.
In 2018-19, Kentucky won both regular-season meetings. The first came at Auburn with the No. 12 Wildcats surviving the No. 14 Tigers as TylerHerro scored 10 points over the final 5:23 to stave off a 17-point rally by the home team. In Lexington, UK earned a dominating 80-53 win, but itwould spark quite the run by the Tigers. Auburn went on to win 11 straight games, including a Southeastern Conference Tournament crown andwins over Kansas and North Carolina in the NCAA Tournament to meet the Cats in the Elite Eight. Auburn's winning streak continued as it ralliedfrom a 10-point first-half hole and forced overtime on a Bryce Brown layup with 38 seconds to go. The Tigers pulled away in the extra minutesfor a six-point win to advance to the program's first Final Four, despite 28 points and 13 rebounds from Kentucky's PJ Washington.
Last season, both home squads earned wins, but UK's victory proved significant. A 73-66 win, sparked by 18 points by Immanuel Quickley, powered Kentucky to its sixth SEC regular-season crown under John Calipari.
The Tigers, facing a similar roster haul to Kentucky, are off to a 7-6 start overall and a 1-4 record in league play. The Tigers recently got a big boost as star freshman Sharife Cooper was granted eligibility and scored 26 points in his first collegiate game against rival Alabama. He was named SEC Freshman of the Week for his performance and followed up with 28 points and 12 assists in a win vs. Georgia on Wednesday.
Brooks Making Immediate Impact
As the team's lone returning contributor, Keion Brooks Jr. was looked upon as a leader by the coaching staff and his teammates. However, an injury kept him out of practice and out of the team's lineup over the first nine games of the season.
Brooks made his debut in UK's dominating victory over Florida where he scored 12 points on 6-of-8 shooting, grabbed six rebounds and dished out a game-high four assists in 25 efficient minutes. More importantly, he seemed to be the missing piece behind what's been a struggling UK offense as the Wildcats pulled away from Florida in the second half with three different runs of 10-0 or more.
"He gave us a whole different element to the game," graduate guard Davion Mintz said of Brooks' performance. "Keion was amazing today. It was super fun. I'm speechless, really. It was amazing.
The Wildcats were plus-22 with Brooks on the floor in that victory.
Despite a tougher outing against league-leader Alabama, Brooks contributed 10 points, four rebounds, a block and a steal against the Tide. It marked the second back-to-back double-figure scoring efforts of his career. Dating back to last season when he scored 10 points in UK's improbable 18-point comeback against the Gators, he has three straight double-digit scoring efforts.