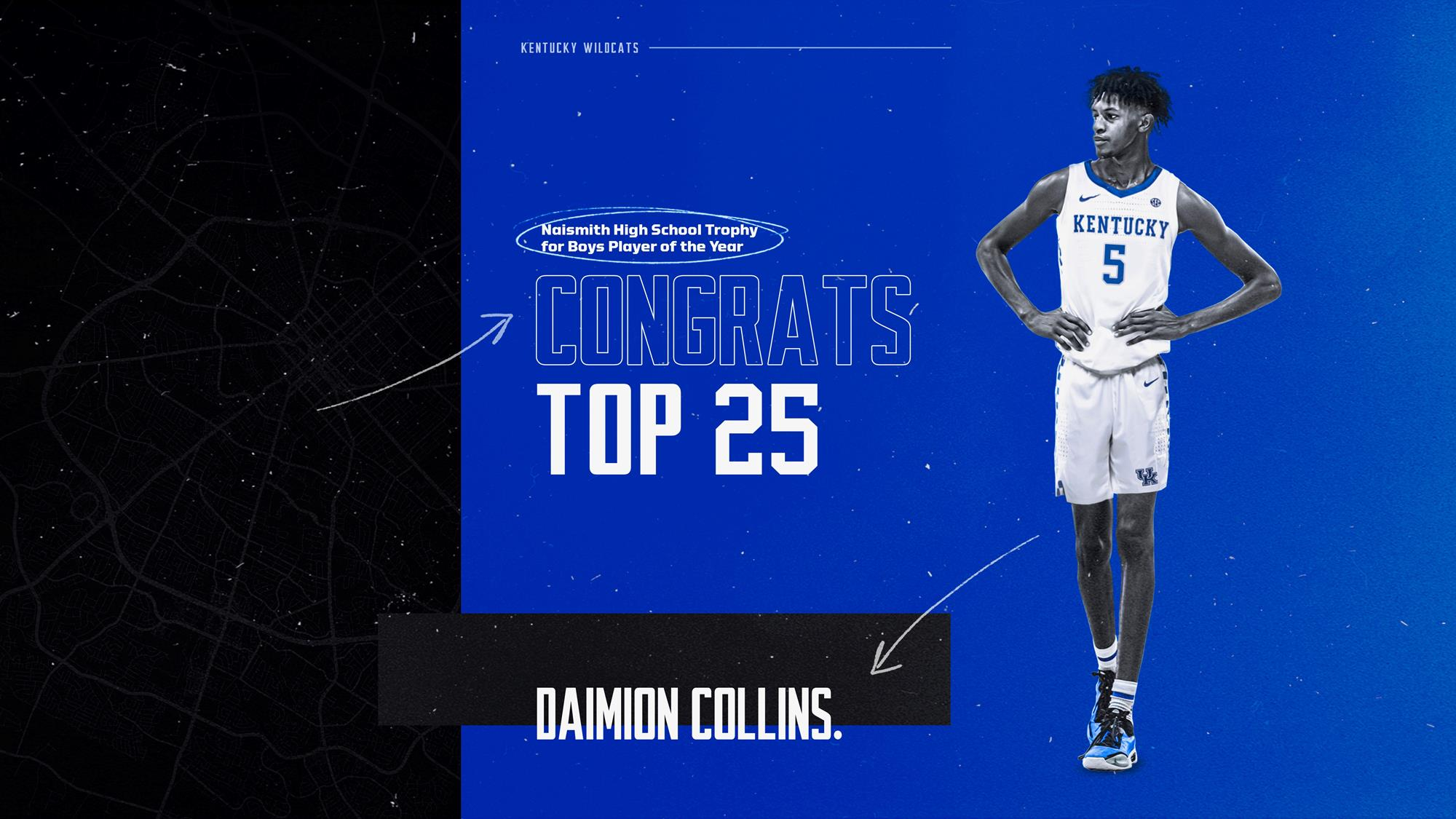 January 15, 2021 - 10:30 AM
Collins Tabbed to Naismith Trophy Midseason Team
ATLANTA – Kentucky men's basketball signee Daimion Collins has been named one of 25 players to the midseason team for the Naismith Trophy High School Player of the Year, awarded annually by the Atlanta Tipoff Club.
 
Collins is a five-star prospect suiting up for Atlanta High School in Atlanta, Texas. Through nine games of his senior season, Collins is averaging 34.3 points, 14.8 rebounds, 7.0 assists and 5.0 blocks per game.
 
Ron Mercer is the lone former Wildcat to win the high school honor after a stellar senior season with Oak Hill Academy in 1995.
 
Upside and a high ceiling are the first two things that come to mind when recruiting analysts talk about Collins, who has shot up the recruiting rankings over the last year. Collins, who has an impressive 7-foot-4-plus wingspan, is an elite rim protector and can impact the game in a multitude of ways.
 
He verbally committed Oct. 31 and signed with the Wildcats during the fall signing period.  
 
"I'm really excited for Daimion and his family to join our program," head coach John Calipari said upon receiving Collins' commitment. "Daimion is an incredible young man with a bright future – someone who has only begun to realize just how good he can be. Our fans know I don't like to make comparisons to our other guys, but Daimion has that type of length, the athleticism and the versatility that have separated our players from others. He wanted to be pushed and to be in a competitive environment to help him reach his full potential. The staff and I cannot wait to help him grow."
 
At 6-9, Collins is explosive and plays above the rim. He finishes with strength and has range offensively. Defensively, Collins is an exceptional shot-blocker who can step out and defend on the perimeter. He averaged 24.6 points, 13.7 rebounds and 7.7 blocks per game as a junior and was named a Third Team All-State selection by the Texas Association of Basketball Coaches.
 
Collins is rated as the No. 10 overall player in the 2021 class by Rivals. He's ranked as the No. 11 overall player by 247 Sports and the No. 17 player by ESPN.
 
"I wanted to go somewhere that has developed players that have similar skills as me," Collins said. "I felt that Kentucky was the only place for me."
 
The current Wildcats return to action on Saturday at Auburn. Tip is set for 2 p.m. ET on ESPN.
 
For the latest on the Kentucky men's basketball team, follow @KentuckyMBB on Twitter, Facebook, Instagram and TikTok, and on the web at UKathletics.com.