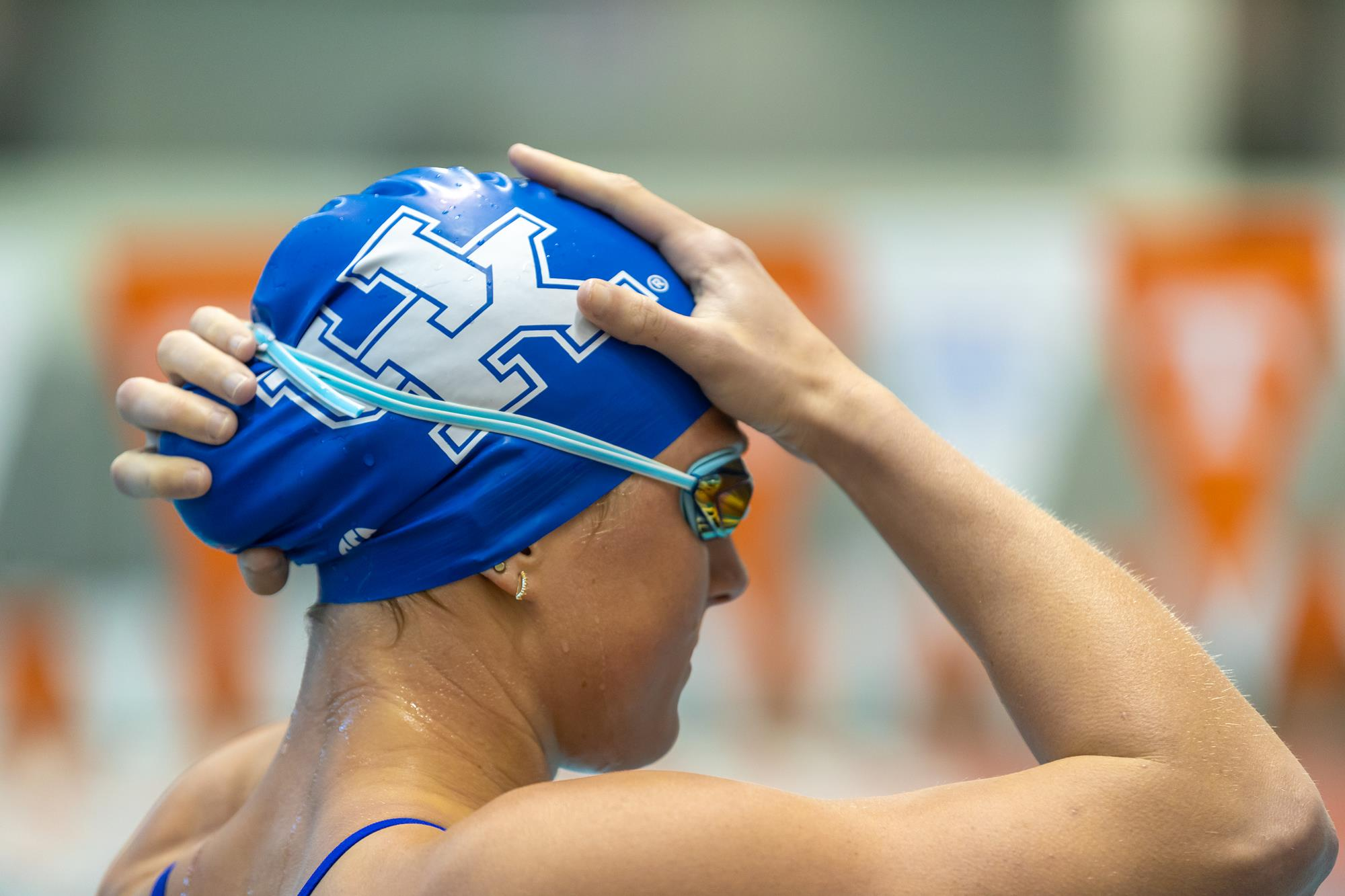 January 14, 2021 - 06:46 PM
No. 10 Kentucky Women's Swimming & Diving Drops at No. 5 Tennessee
KNOXVILLE, Tenn. – The No. 10 University of Kentucky women's swimming and diving team lost its first dual meet of the season on Thursday afternoon, losing to the reigning Southeastern Conference Champions, No. 5 Tennessee, in Knoxville, Tennessee. The Wildcats trailed the Lady Volunteers by less than 10 points for most of the meet, losing in the end in a 178.5-121.5 final score.
 
"Tennessee was the better team today, so credit to them," said head coach Lars Jorgensen. "We just didn't have enough people step up today, and in races we won, we didn't have enough depth. I hope we will take this as a learning experience in preparation for the conference championships."
 
Kentucky came into the dual meet owning an unblemished 5-0 record, having defeated Alabama, Arkansas, Missouri, Tennessee and Vanderbilt already this season, which began in mid-October. The team will meet one more program, No. 14 Louisville, next week at home, before embarking on a two-month postseason stretch in February and March.
 
The Wildcats earned seven triumphs in the dual meet, while their border foe claimed nine triumphs. The teams split the two relay events and the two diving events, claiming one triumph apiece in those contests.
 
First Place Finishes
Riley Gaines
100 freestyle
49.74
200 freestyle
1:46.81
Caitlin Brooks
100 backstroke
53.27
Izzy Gati
200 butterfly
2:00.45
Kyndal Knight
3-meter springboard
354.53
Sophie Sorenson
200 backstroke
1:56.91
Caitlin Brooks
Bailey Bonnett
Izzy Gati
Riley Gaines
200 medley relay
1:39.41
 
 
Riley Gaines had a strong meet, earning the top time in both the 100 and 200 freestyle events and against a program known for its dominant presence in those events. The junior paced a field of orange caps, touching the wall in the 100 freestyle in 49.74 and in the 200 freestyle in 1:46.81. Gaines also helped the 200 med-r team to the top time in the first event of the meet, swimming the fastest anchor split in 22.35 for a group time of 1:39.41.
Kyndal Knight had a near career performance on the 3-meter springboard. She finished in first place on 354.53 points, more than 65 points better than second place and less than two points from her career best, which she set at Alabama in mid-December (355.58). The junior has now won first place six out of nine times, and first or second place eight out of nine times, this season.
"Kyndal had some high quality dives today on 3m," said head diving coach Ted Hautau. "She is getting more comfortable with her list of dives where we have added some degree of difficulty.  Even when she has some slight misses she is starting to  put up some high scores and that is a very good sign. Morgan Southall returned from foot surgery in October and was allowed to do some limited dives at the beginning of this week.  She did an excellent job competing a lower degree of difficulty list of dives on 1m today. She was consistent and I think she is gaining strength and proprioception so we are hopeful she can make a run at getting her full competition list back.   
"Our takeoffs as a team were inconsistent today and it cost us a lot of scoring opportunities.  We were not good in training this week on the 1m board and it showed up in the competition. I hope that is a wake up call for our younger and less experienced athletes. They have to have a higher standard for themselves in training so they can step in and capture those third and fourth place finishes when the opportunity presents."
Anna Havens Rice, a freshman, stepped up in the 200 butterfly, posting her best time in the event since becoming a Kentucky Wildcat. The freshman touched the wall in 2:00.66, less than a tenth of second from her career best, to finish in third place. Teammate and junior Izzy Gati paced the field, finishing in the top spot on a time stamp of 2:00.45, after she helped the 200 med-r team a dominant performance.
 
Caitlin Brooks kept her streak alive in the 100 backstroke, earning the top time in 53.27. Brooks, a sophomore, has won every 100 backstroke final she has competed in this season, including against Tennessee twice this season. Sophie Sorenson, a junior, came up big in the 200 backstroke, earning the top time in 1:56.91.
 
Tomorrow, the RV Kentucky men's swimming and diving team will square off with No. 11 Tennessee at 3 p.m. ET inside the Allan Jones Aquatic Center. The two teams met in late October, as the Kentucky men dropped to a suited-up Tennessee team, 194.5-105.5.
 
For the latest on the Kentucky swimming and diving program, follow @UKSwimDive on Twitter and on Instagram, on Facebook and on the web at UKathletics.com.