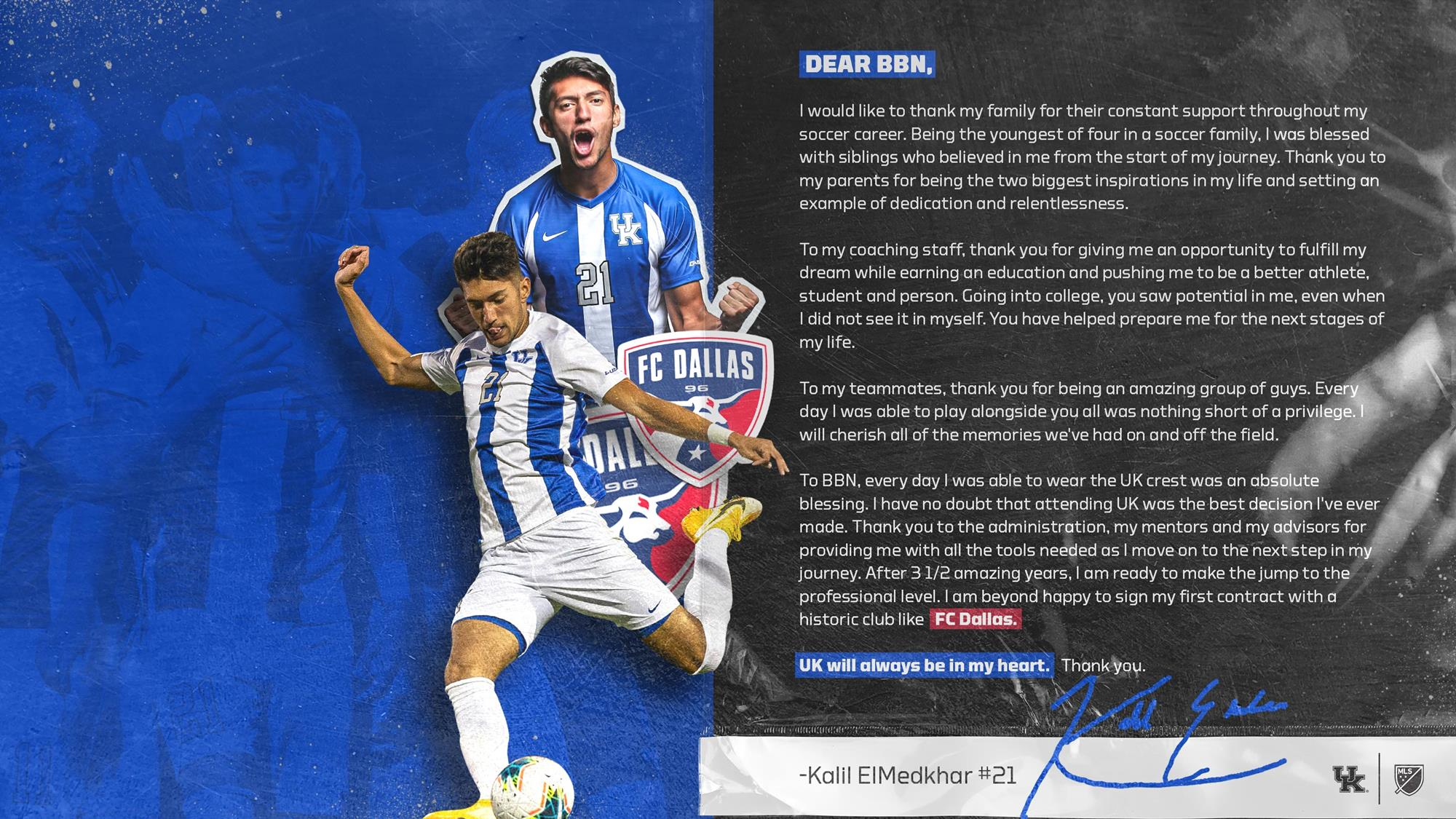 January 14, 2021 - 01:29 PM
Kalil ElMedkhar Signs with FC Dallas
LEXINGTON, Ky. – Kentucky men's soccer senior Kalil ElMedkhar will forgo his remaining collegiate eligibility this spring to embark on a professional career with MLS' FC Dallas, as announced by the club on Thursday.
 
FC Dallas inked ElMedkhar to a two-year contract, acquiring his Homegrown Rights from the Philadelphia Union in exchange for $50,000.
 
The Homegrown Player Rule is an MLS program that allows teams to sign local players from their own development academies directly to first-team rosters. ElMedkhar—a Middletown, Delaware, native—graduated from Philadelphia's YSC Academy in 2017.
"I'm very excited for Kalil," said Kentucky head coach Johan Cedergren. "It's funny how quickly time goes. Something that we talked about, even in the recruiting process with him, was that he would come to Kentucky, we would do things together that had never been done before and then he would leave and hopefully have a long and productive pro career. We know the FC Dallas organization really well. I think he will be a great fit there. He's definitely one of the best attacking players that I've ever worked with here at Kentucky. I'm incredibly proud of him and excited to see how he does and how he can help FC Dallas in regards to winning championships. It's been a very, very productive college career for Kalil."
At Kentucky, ElMedkhar was a key contributor to one of the most successful four-year stretches in school history. The 6-foot-2 midfielder earned his first combination of back-to-back United Soccer Coaches All-Southeast Region and All-Conference USA first-team appearances during the Wildcats' program-best 19-2-1 Elite Eight run that included C-USA regular season and postseason tournament championships in 2018.
 
In six matches last fall, ElMedkhar led the team outright with eight points and three goals, tying for the lead in assists with two. Anchoring the Wildcats to a No. 3 national ranking, ElMedkhar polished off his team's unblemished homestand with the game-winning goal versus UAB in the final installment of the abbreviated non-conference slate on Oct. 17.
 
The decorated winger ends his college career with 50 starts in 66 appearances and 61 points by way of 20 goals and 21 assists, landing nearly 63% of 115 attempts on target. With no shortage of clutch moments, ElMedkhar notched seven game-winning goals and converted a perfect 2-for-2 in penalty kicks.
 
For the latest on the Kentucky men's soccer team, follow @UKMensSoccer on Twitter, Facebook and Instagram, as well as on the web at UKAthletics.com.